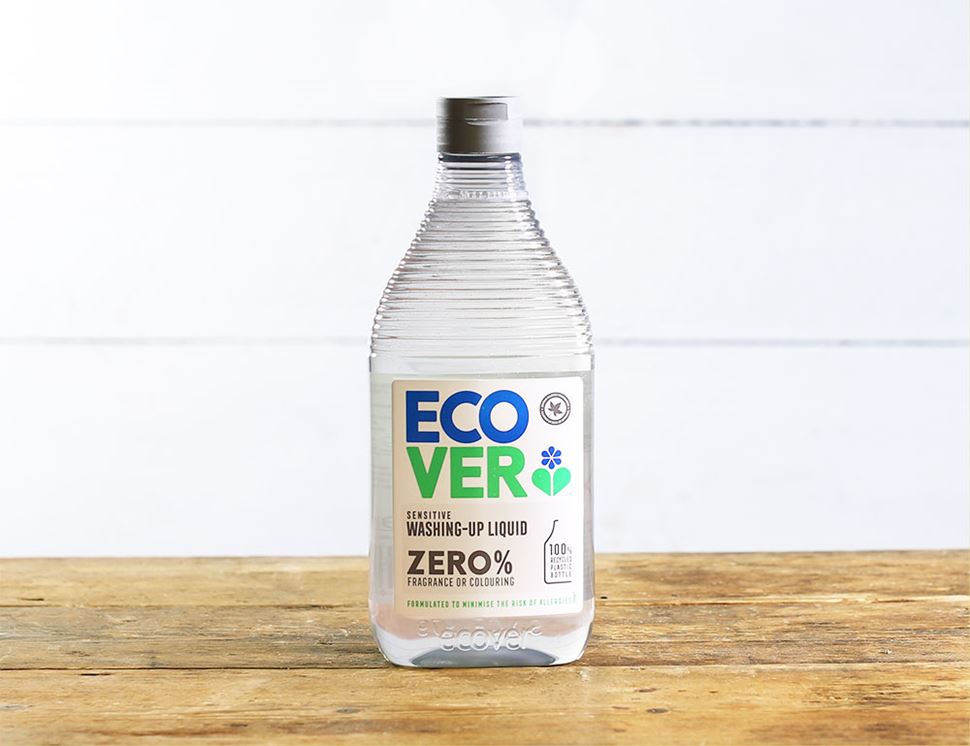 Washing Up Liquid, Zero, Ecover (450ml)
There's zero fragrance and zero colouring in Ecover's Zero Washing Up Liquid but plenty of reasons to make it your go to if you have allergies. The special formula is rigorously dermatologically tested to help minimise any aggravation to sensitive skin or allergies. Zero Washing Up Liquid still uses the same eco-friendly, plant-based ingredients that you know and love from Ecover. Time to think of a new excuse for skipping doing the dishes…


Ecover combine excellent cleaning results with the very highest environmental and ethical credentials. Their products have been developed to harness the considerable cleaning power of natural ingredients, rather than relying on the petrochemical agents used in many cleaning products. Unnecessary chemicals such as foaming agents are also avoided. Because they are free from artificial fragrances and all known toxins, Ecover products are particularly kind to sensitive skin. They are also Leaping Bunny Approved (a Cruelty Free International certification).
5-15%: Anionic Surfactants , Non-ionic Surfactants. Other: Water, Lactic Acid, Sodium Chloride, Alcohol denat., Citric Acid, Sodium Citrate


Store in a cold dry place

Recommended dosage for 5L:3ml.
Food contact material: PET (plastic) (Recyclable)
Lid/Cap: PET (plastic) (Recyclable)
Contains BPA: No
You might also like to try...