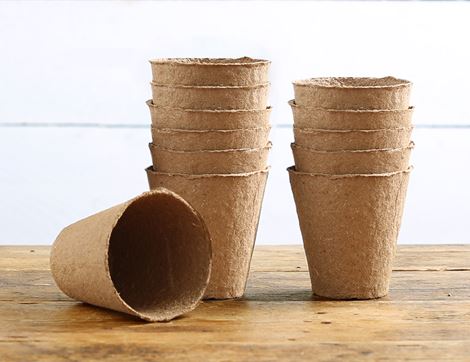 Recycled Biodegradable Pulp Plant Pots, 8cm (12 pack)
With every Pulp-tec pot, you can make your garden even greener and more planet-friendly. This pack of 12 Recycled Biodegradable Pulp Plant Pots are moulded out of a recycled paper compound that's both compostable and weather-resistant. There's no need to worry about plastic pollution with these hardy pulp pots, and their 8cm height makes them perfect for raising smaller plants and cuttings and potting on seedlings.


Since 1928, Pulp-Tec have been leading the charge in creating innovative alternatives to single-use plastics. Their eco-friendly packaging solutions are made from 100% recycled waste paper, so they're completely recyclable, biodegradable and compostable.


Once your plant is ready to be transplanted on, just soak it in water first and then pop the whole pot into the soil. It will break down and will be less of a shock to the root system of your plant. If treated carefully, you could transplant out of the pot, dry it out and reuse it a couple more times.
The pulp is made entirely from recycled cardboard, and before too long, some of our own waste cardboard from our old boxes will be turned into plant pots too. They will arrive with absolutely no packaging whatsoever.
You might also like to try...