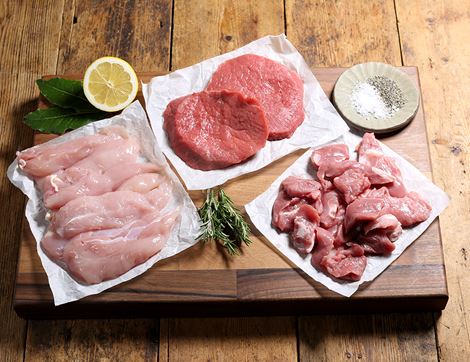 Quick 'n' Simple Meat Box, Organic
On occasion we may be left short of certain cuts of meat. If that ever happens, we'll be sure to pop something similar into your box. Our photos don't show the actual quantities or contents

You're back home, you're stood in your kitchen and you need a meal that's quick and simple. Well, we suppose you might be interested in our Quick and Simple Meat Box then! Each week we'll send three cuts of organic meat you can cook in under 30 minutes.

No boning, no hour-long marinating, just speedy, straightforward, home-cooked food using chicken and two of either beef, pork or lamb. You'll even save a few bob by ordering by the box, so you can enjoy convenience without any extra cost. Simple really.

Please refer to your checkout page for this week's box contents.
Monday 27th September
Monday 4th October
Beef Strips, Organic, Eversfield Organic (300g)
These succulent organic beef strips make a fine addition to any stir-fry. Naturally flavoursome and tender, they're quick to cook and a cut above the rest.
Diced Chicken Breast, Organic (300g avg)
This diced chicken breast is as tender as it gets. All the prep's been taken care of. They're ready to be thrown in to a stir-fry or popped onto skewers to make some lovely shish kebabs.
Country of Origin - England
Organic Pork Loin Steak, Boneless (350g min, pack of 2)
Pork loin steaks are lean and wonderfully flavoursome. They're versatility is what makes them so interesting. Roast, grill, or fry them, and get creative with some marinades, honey and BBQ sauce two of the staples.
Country of Origin - England
Chicken Breast Fillets, Boneless, Skin-on, Organic, (380g avg, pack of 2)
Wonderfully lean, tender and juicy, our organic chicken breast fillets are some of the best around, and we're not just saying that. They come from Chris Labdon's award-winning farm in Devonshire. They're brilliantly versatile too. Stuff them with cheese or ham, cover them in breadcrumbs to give them a satisfying crunch, or cut them up into bite-size chunks for stews and curries. And with the skin on, you'll get that little bit of extra flavour along with it all too.
Gammon Steaks, Organic, Abel & Cole (400g)
Gammon is the meat from the hind legs of a pig. Unlike ham, gammon is cured before being cut, making the flavour more mellow and less salty. Gammon's ideal for grilling or pan-frying, partnered with caramelised fresh pineapple. It loves a bit of honey glazing too. Delicious. 
Country of Origin - England
Lamb Meatballs, Organic (336g)
Allergen information: Abel & Cole handles celery, celeriac and nuts on site. Due to our packing process and re-use of boxes there is a risk of cross-contamination from these, and all other allergens.
You might also like to try...