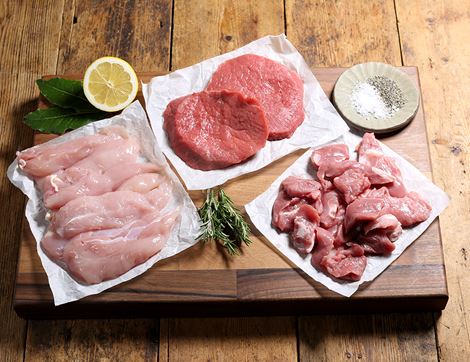 Quick 'n' Simple Meat Box, Organic
Weekly chancing box of 3 organic meat cuts
Enjoy a weekly, organic meat box delivery with our Quick 'n' Simple Meat Box, packed with three delicious cuts of high-welfare, organic meat that you can cook in under 30 minutes. You'll receive chicken and two cuts of beef, pork or lamb, perfect for speedy, straight-forward home cooking, with no need to remove bones or spend hours marinating.

All of the meat in our organic meat subscription boxes comes from trusted farms with exceptionally high welfare standards, where animals can roam freely and are treated with care and respect. Our organic, British pork is from Daylesford, where Carole Bamford has been committed to sustainable, organic farming for more than 35 years. Our grass-fed beef and lamb comes from Daylesford and Eversfield Organic's Mark Bury (with the help of his son Hamish and daughter Anna) at Ellacott Farm in Devon. Our organic, British chicken is raised on Chris Labdon's award-winning Devonshire farm.

You'll even save when choosing our meat subscription boxes compared to buying individual cuts, and your weekly box will be delivered sustainably to your door.

Sometimes, we may be short of certain cuts of meat. If that ever happens, we'll be sure to pop something similar into your box.
Monday 24th January
Monday 31st January
Chicken Thighs Boneless, Organic (550g avg, pack of 4)
Our organic chicken thighs stay wonderfully moist and juicy throughout cooking, so they're definitely the way forward if you're looking for something a bit more flavourful. These are especially great, coming from Chris Labdon's award-winning Devonshire farm. And they're versatile too. Try them in a tagine, in a stir-fry, or in tray bakes. Either way, these'll definitely hit all the right spots.
Minute Steaks, Organic, Eversfield Organic (300g)
These organic minute steaks are thinly cut and as the name suggests, you don't have to cook them for any longer than a minute on each side. Drizzle with a bit of olive oil, sprinkle over some salt and pepper, and they'll then be good to go. Very good, in fact. Use these as the steak in your steak sandwich. Really. Trust us.
Country of Origin - England
Pork Escalopes, Organic, Abel & Cole (325g, pack of 2)
Pork escalopes are super lean and especially tender as they've been thinned out. They're best left whole, and best pan-fried or grilled. Cover them in breadcrumbs and you can have yourself a beautiful schnitzel meal.
Country of Origin - England
Beefburgers, Organic, Eversfield Organic (460g, pack of 4)
These grass-fed beef burgers are great for the BBQ, oven grill or you can just pan-fry them. Try with a melted slice of cheese on top, a soft roll, crisp lettuce, fat tomato slices and a dab of chutney or mayo. Delicious!

Ingredients: Organic Beef (98%)*, Kibbled Onion (1%)*, Ascorbic Acid E300, Salt, Black Pepper* * = produced to organic standards
Chicken Breast Fillets, Boneless & Skinless, Organic, (340g avg, pack of 2)
Our organic chicken breast fillets are everything you'd want in a cut like this: they're lean, tender, and wonderfully juicy. Oh, and they come from Chris Labdon's award-winning farm in Devonshire, so you know this is as good as it gets. Whether you bake, pan-fry or roast them, you'll have yourself a mighty fine meal.
Pork Leg Steaks, Organic (350g)
Allergen information: Abel & Cole handles celery, celeriac and nuts on site. Due to our packing process and re-use of boxes there is a risk of cross-contamination from these, and all other allergens.
You might also like to try...