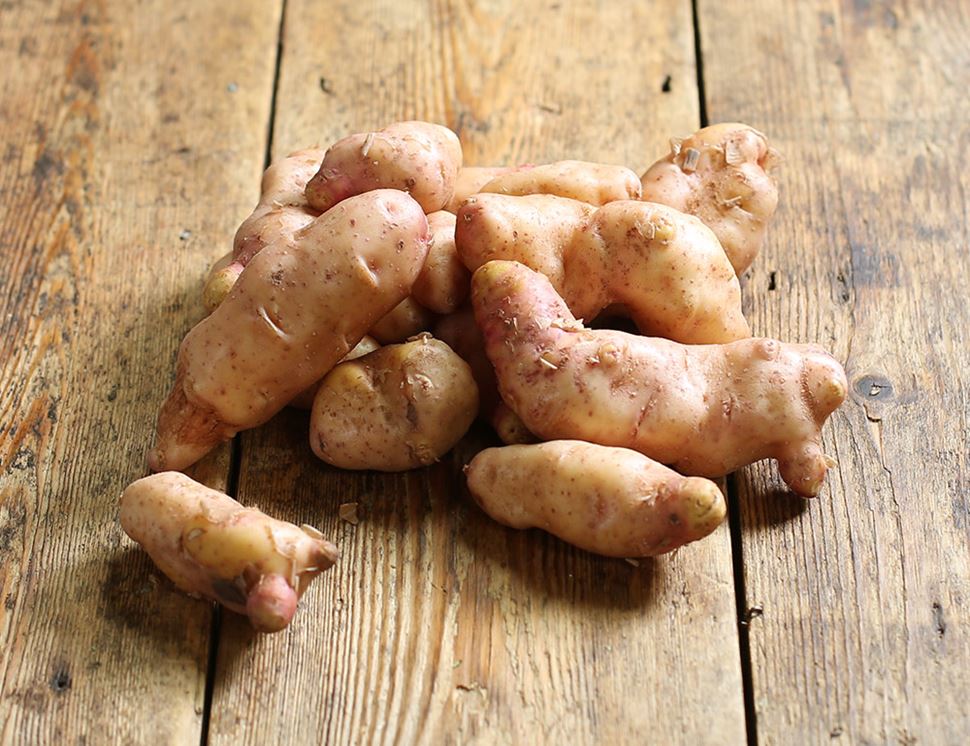 Pink Fir Apple Potatoes, Organic (700g)
Organic Pink Fir Apple potatoes are a very special breed. Because of their famous knobbly shape, they're picked by hand, and they have a glorious nutty taste making them a great addition for more hearty summer salads.

Country of Origin - UK
Class - Minimum Class 2
These heritage potatoes are grown on Jeremy Helme's Pool Hullock farm, just on the Welsh borders, by the village of Llandinabo. It's a little family farm (Jeremy built the family home in the old barn), where Jeremy also grows our more weird and wonderful things (including fennel, squash and Jerusalem artichokes). As a variety pink firs have been acknowledged by the Royal Horticultural Society, making it into the AGM list in the Fruit and Vegetable Category (Award of Garden Merit list). A real special spud they are. They're particularly sensitive and delicate, bred for taste rather than hardiness, so Jeremy and his helping hands tend to them with a potato digger (a conventional harvester wouldn't do them any good) and a lot of love and care. These are Jeremy's favourite variety of potato, he thinks the flavour doesn't get much better, so all the attention they need and deserve is definitely worthwhile.
Turn it into one of these
You might also like to try...