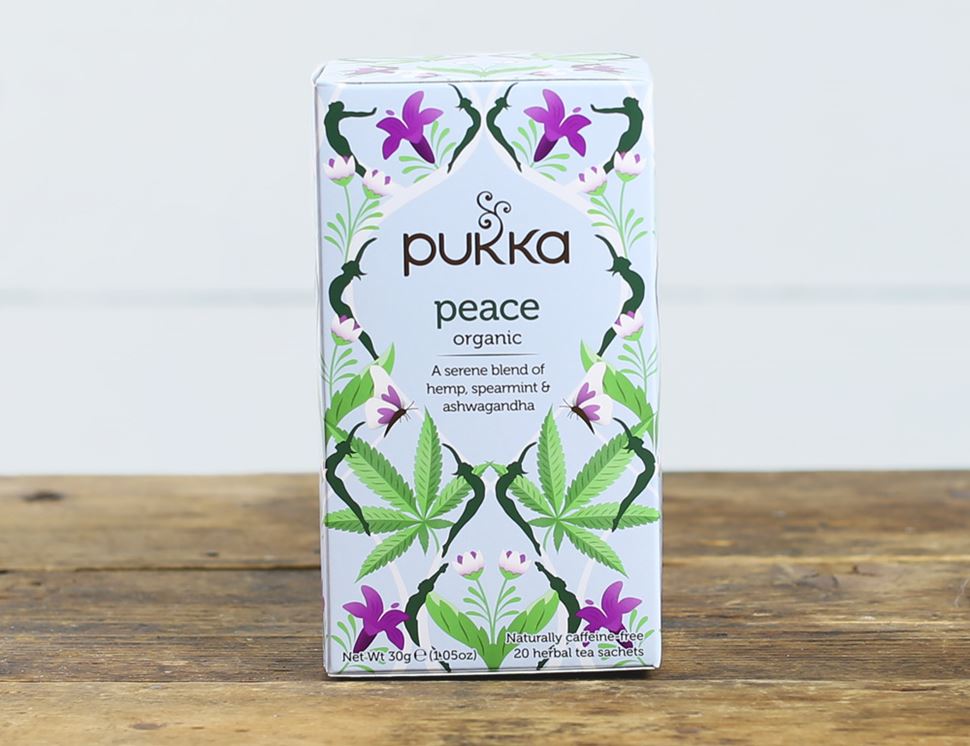 Peace Tea, Organic, Pukka (20 bags)
Slow down, breathe deeply and allow your body and mind to discover a world of magical herbal gifts. Pukka's Peace Tea is the perfect antidote to our fast-paced world. Each bag is tucked into a recyclable envelope to help retain its ethically sourced, 100% organic herbs. With organic chamomile flowers, spearmint, hemp and ashwagandha, you can enjoy a cup of true tranquillity and allow all your worries and stresses to simply drift away.
In 2002, Tim Westwall put an ad in a local magazine, asking, 'Do you want to grow business in a healthy way?' He only got one reply, from Sebastian Pole. Sebastian is a qualified practitioner in Ayurveda (the ancient Indian art of living wisely), Chinese and Western herbal medicine. They set up business in Tim's spare room, making delicious teas from organic herbs with a focus on wellbeing. Pukka have grown their business by making sure their herbs are from organic and sustainable sources.
Chamomile flower*, spearmint leaf (36%)*, licorice root*, lavender flower*, hemp (Cannabis sativa) (6%)*, ashwagandha root (4%)*

May contain traces of gluten.

*= Produced to organic standards
Store in dry place away from direct sunlight below 30°C.
Food contact material: Tea bag - 100% unbleached, non-heat sealable tissue comprised of a special blend of abaca and selected unbleached cellulosic fibres (food waste)
String - Organic Cotton (food waste)
Tag - Card (recyclable)
Envelope - Either 60gsm paper laminated with 20gsm PE (general waste) or 70gsm paper with an ultra-thin plastic aqueous coating (Compostable or Recyclable)
Sleeves/wraps/seals: Tea sachets (recycable)
Contains BPA: No
You might also like to try...