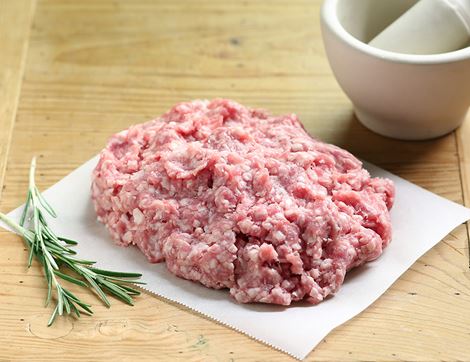 Lamb Mince, Organic, Abel & Cole (400g)
To make the juiciest meatballs and the richest moussaka, you need Eversfield Organics' top-quality Lamb Mince. There's nothing quite like this beautifully lean meat, sourced from delicious cuts of organic lamb. Eversfield provide a natural, healthy lifestyle for their livestock, raising them on lush, organic pasture all through their lives. Never supplementing the feed with synthetic foodstuffs. Their sheep are free to graze and pursue a normal life, growing at a slower, more natural pace. This helps build a natural amount of meat on the animal that adds mouth-watering taste to your favourite dishes. Layer your shepherd's pies with this unbeatable flavour for a taste of organic farming at its best.

Country of Origin - England
Eversfield Organic is the lifelong dream of Mark and Emily Bury along with Mark's daughter, Anna, and son, Hamish. Mark always strived to provide his family with the finest quality food produced in an honest and natural way with animal welfare at its heart and wanted this to be available to all. Kick-starting it all, Mark bought the farm 15 years ago and spent two back-breaking years planting over 30,000 trees, reinstating miles of hedgerows and laying fencing to nurture the land back to its natural state after years of intensive farming. Once the trees had taken root and the natural flora was flourishing once again, wildlife in the area began to return and the soil was rejuvenated. After months of toil, the farm was finally granted organic status in 2004. Eversfield's main priority is quality; from the health of the soil and lustre of the pasture, the high quality of care for their animals, and their skilled team of butchers who use traditional methods in Eversfield's own state-of-the-art, fully EU licensed butchery on the farm.
Our lean lamb mince comes in a pack that weighs approximately 500g. This is enough to feed 2-4 people.

Lamb should be kept in the fridge, although it can be frozen on the day of purchase.

We guarantee that your order of meat and fish will have at least 3 days before its expiry date, including the day of your delivery. All of our fish and meat can be frozen unless otherwise stated.
Food Contact Material: PLASTIC - Other (Not Currently Recyclable)Labels: PAPER/CARD (Recyclable - Widely recyclable)Contais BPA: No - does not contain BPA
You might also like to try...