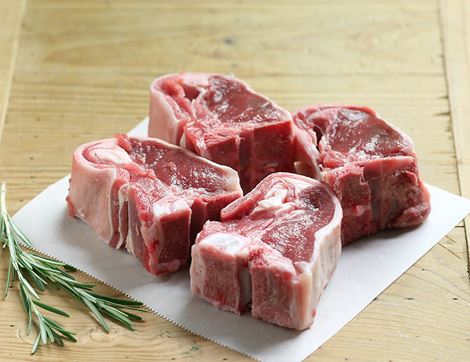 Lamb Loin Chops, Organic, Eversfield Organic (450g, pack of 4)
Eversfield Organics' award-winning Lamb Loin Chops are a cut above the rest, packed with natural flavour and a delightfully tender texture. Eversfield achieve this standout quality by creating a healthy, natural lifestyle for their animals. Their herds spend long days grazing on organic pasture, with no alternatives or synthetic supplements needed when there's plenty of grass to go around. This high-welfare approach leads to some top-quality meat and Eversfield's Lamb Loin Chops set the gold standard. They're the Winner of the BOOM Award 2017: Best in Category Organic Lamb, Pork, Goat & Other Meat and a GOLD Award Winner for the Taste of Devon. Serve up these rich-tasting cuts with a blob of mint jelly and tuck into an award-winning, tip top chop.

Country of Origin - England
Eversfield Organic is the lifelong dream of Mark and Emily Bury along with Mark's daughter, Anna, and son, Hamish. Mark always strived to provide his family with the finest quality food produced in an honest and natural way with animal welfare at its heart and wanted this to be available to all. Kick-starting it all, Mark bought the farm 15 years ago and spent two back-breaking years planting over 30,000 trees, reinstating miles of hedgerows and laying fencing to nurture the land back to its natural state after years of intensive farming. Once the trees had taken root and the natural flora was flourishing once again, wildlife in the area began to return and the soil was rejuvenated. After months of toil, the farm was finally granted organic status in 2004. Eversfield's main priority is quality; from the health of the soil and lustre of the pasture, the high quality of care for their animals, and their skilled team of butchers who use traditional methods in Eversfield's own state-of-the-art, fully EU licensed butchery on the farm.
Lamb is a good source of protein, iron and B vitamins. Protein is essential to the growth, repair and maintenance of body cells. B vitamins also fulfil an important role in maintenance of cells. Iron is essential to the formation of red blood cells.
Each pack of lamb loin chops weighs around 450g and contains 4 chops. We guarantee that your order of meat and fish will have at least 3 days before its expiry date, including the day of your delivery. All of our meat and fish can be frozen. Lamb chops and cutlets are perfect grilled with a little gravy and mint sauce. Make sure the grill is hot, then cook them until they brown on the outside. The centre should still be moist and tender. Lamb neck fillet and diced leg can be used in stews or currys, including Lancashire hotpot and Irish stews. Lamb should be kept in the fridge, although it can be frozen on the day of purchase.
Food Contact Material: PLASTIC - aPET/rPET/cPET, non-black (Recyclable - Widely recyclable)Sleeves/Wraps/Seals: PLASTIC - LDPE, non-black (Recyclable - Check local facilities)Labels: PAPER/CARD (Recyclable - Widely recyclable)Contais BPA: No - does not contain BPA
You might also like to try...