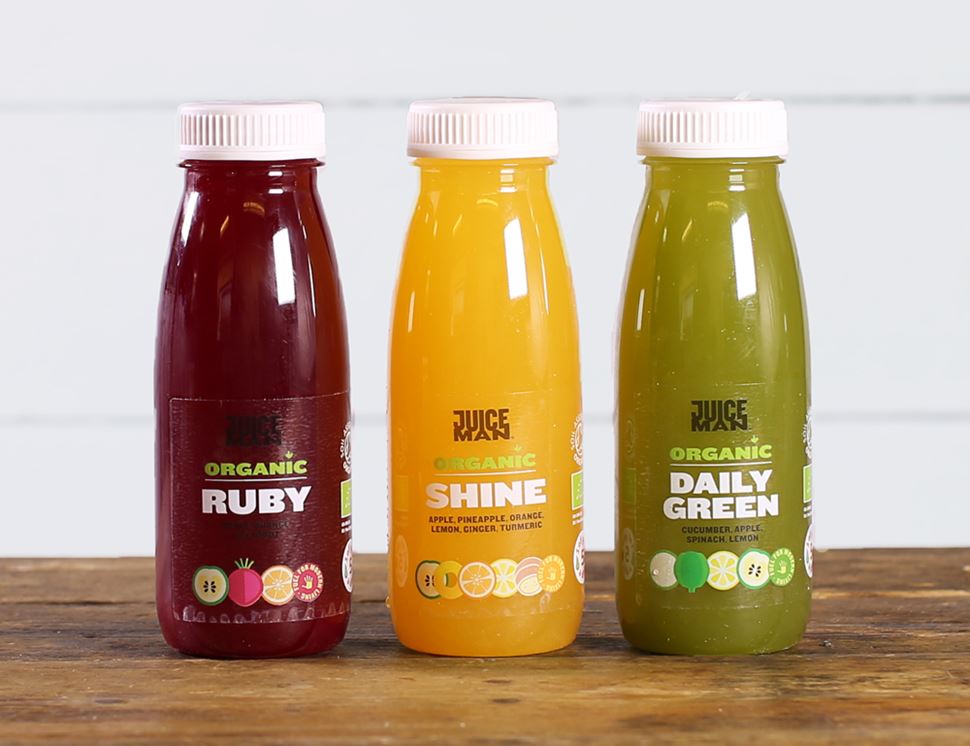 One of Each (Daily Green, Ruby, Shine 3 x 250ml), Organic, Juiceman
If variety be the spice of life, this juice bundle is one spicy customer indeed! Get your daily greens, a fiery ruby beauty of orange, apple and beetroot, and sunshine-in-a-bottle pineapple and ginger. Each one is expertly formulated and cold-pressed to preserve the goodness in every last drop.

If you're looking for a new squeeze, you're sure to find your favourite among Juiceman's vitamin-packed and full-flavour organic elixirs.
Andrew Cooper is a busy ol' bean. Not content with being an international model and actor, he's also fast becoming an expert in the UK on all things juicing. They don't call him Juiceman for nothing after all (he's This Morning's resident juice-guru and everything). We've teamed up with this enterprising chap to offer you a range of spectacularly wholesome organic juices and nut milks; cold pressed to preserve the best of the top notch ingredients and bottled by hand in Kent.
Daily Green, Organic, Juiceman (250ml)
Cucumber* (40%), Apple* (40%), Spinach* (14%), Lemon* (3%), Ginger* (3%)

Ruby, Organic, Juiceman (250ml)
Apple (60%)*, Orange (20%)*, Beetroot(20%)*

Shine, Organic, Juiceman (250ml)
Apple (50.5%)*, Pineapple (30%)*, Orange (17%)*, Lemon (1%)*, Ginger (1%)*, Turmeric (0.5%)*

May contain traces of nuts and celery.

*= produced to organic standards
Daily Green, Organic, Juiceman (250ml)
Nutritional Information per 100g/ml 
Energy (kJ): 50.3
Energy (kcal): 12.3 
Protein (g): 1.1
Carbohydrate (g): 1.4 
of which sugars (g): 1.3
Fat (g): 0.3
of which saturates (g): 0.1
Salt (g): 0.1

Ruby, Organic, Juiceman (250ml)
Nutritional Information per 100g/ml
Energy (kJ): 146
Energy (kcal): 34
Protein (g): 0.5
Carbohydrate (g): 8.7
of which sugars (g): 8.7
Fat (g): 0.0
of which saturates (g): 0.0
Salt (g): 0.1

Shine, Organic, Juiceman (250ml)
Nutritional Information per 100g/ml
Energy (kJ): 164
Energy (kcal): 38
Protein (g): 0.3
Carbohydrate (g): 9.8
of which sugars (g): 9.5
Fat (g): 0.0
of which saturates (g): 0.0
Salt (g): 0.0


Keep refrigerated. Once opened consume within 24 hours
Food contact material: PET (Recyclable)
Lid/Cap: PET (Recyclable)
Contains BPA: No