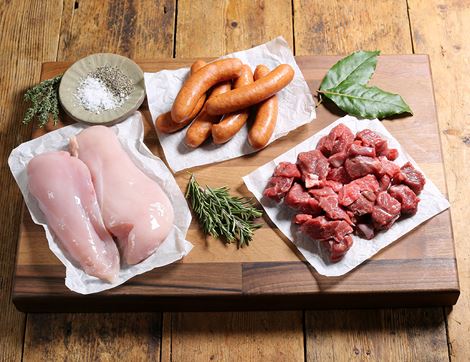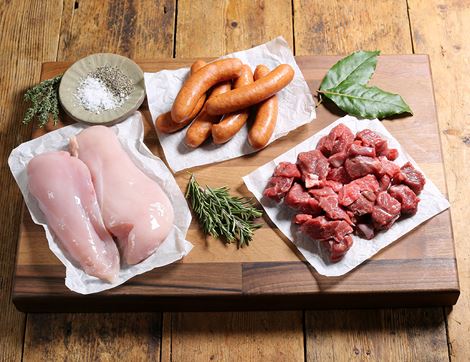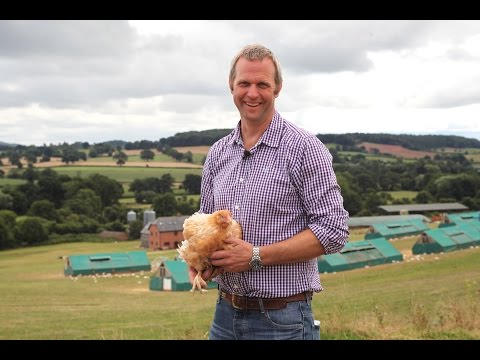 Enjoy a weekly organic meat box delivery with our Marvellous Meat Box, packed with three delicious, changing cuts of free-range, high-welfare meat.

All of the meat in our organic meat subscription boxes comes from trusted farms with exceptionally high welfare standards, where animals can roam freely, and are treated with care and respect. Our organic, British pork, beef and lamb is from Daylesford, where Carole Bamford has been committed to sustainable, organic farming for more than 35 years. Our organic, British chicken is raised on Chris Labdon's award-winning Devonshire farm.

We guarantee that you'll always have three days, including delivery day, before the expiry dates on your meat, and everything is suitable for freezing. You'll even save when choosing our organic meat boxes compared to buying individual cuts, and your weekly box will be delivered sustainably to your door.

Sometimes, we may be short of certain cuts of meat. If that ever happens, we'll be sure to pop something similar into your box.
Monday 23rd May
Monday 30th May
Diced Chicken Breast, Organic (300g avg)
This diced chicken breast is as tender as it gets. All the prep's been taken care of. They're ready to be thrown in to a stir-fry or popped onto skewers to make some lovely shish kebabs.
Country of Origin - England
MB92 - Stewing Steak, Diced, Organic, Daylesford (400g)
Pork Mince, Organic, Abel & Cole (400g)
Pork mince is much softer and lighter than beef or lamb and it's wonderfully rich. We've all had it in a lasagne but take advantage of its versatility. You could make everything from your own burgers to Chinese dumplings to Swedish meatballs with the lovely stuff.
Country of Origin - England
Beef Burgers, Organic (340g)
beef *92%, seasoning* (breadcrumbs* (wheat flour*, calcium carbonate, iron, niacin, thiamin), water, salt, yeast), sea salt, dehydrated onion*, antioxidant (ascorbic acid), onion powder*, cracked black pepper* and ground nutmeg*.
Chicken, Half, Organic (850g avg)
Pork Escalopes, Organic, Abel & Cole (325g, pack of 2)
Pork escalopes are super lean and especially tender as they've been thinned out. They're best left whole, and best pan-fried or grilled. Cover them in breadcrumbs and you can have yourself a beautiful schnitzel meal.
Country of Origin - England
Allergen information: Abel & Cole handles celery, celeriac, peanuts and nuts on site. Due to our packing process and re-use of boxes there is a risk of cross-contamination from these, and all other allergens.
On occasion we may be left short of certain meat and fish. If that ever happens, we'll be sure to pop something similar into your box.
You might also like to try...