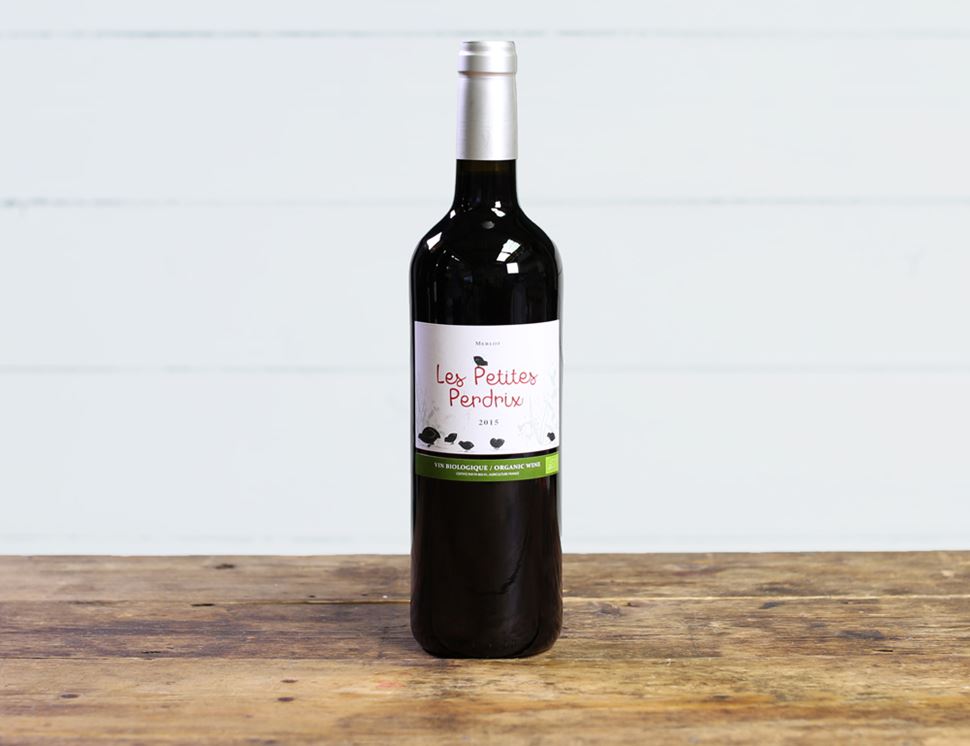 Les Petites Perdrix Merlot - Cabernet Sauvignon, 2015, Organic (75cl)
£8.93
£10.50
(£8.93 per 75cl)
Red wines don't get much better than this. This ruby red wine is a very attractive mix of Cab Sauv and Merlot, which gives it a rich fruity character, consisting of plums, blackcurrants and strawberry, that sit soft and long on the palate. It's brilliantly versatile that can be drunk with pizza, pasta and barbecued white meat. Drink within two to three years.

Grape: Cabernet Sauvignon, Merlot
Region: Bergerac & southwest France, France
Vineyard: Château Grinou
Vintage: 2015
Type: Medium-bodied red
ABV: 12.5%
'Les Petites Perdrix' (baby partridges) range is so called because the 'young partridges' love roaming and feeding between the vines at this excellent organic estate. 'Conventionally' farmed vineyards use herbicides, pesticides and fertilisers to keep weeds and insects away from the grapes. But at Chateau Grinou they have planted numerous species such as oat, barley, peas, vetch and clover to naturally fertilise the soils. This takes the insects away from the grapes and encourages animals such as beetles, rabbits, deer, and of course baby partridges, to come and feed in this organic environment.

The vineyards have been here since 1053 when monks from the local monastery farmed the land. The estate became Chateau Grinou in the early 20th century when Guy Cuisset took over the family estate and began bottling his own wines under the Grinou name. His goal has always been to make the best possible wines through innovative and sustainable winemaking. The results include multiple national and international awards.
Grapes*, Yeast.

Allergen information: Contains sulphites.

* = produced to organic standards.

ABV: 12.5%
Store in a cool, dark place. Once opened, keep refrigerated and sealed, and consume with 2 days
You might also like to try...