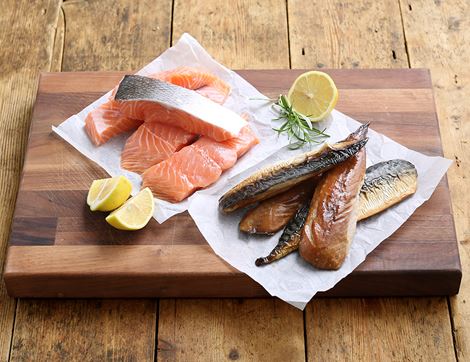 Enjoy a weekly fish box delivery with our Large Fantastic Fish Box, filled with two double portions of sustainably sourced cuts, perfect for feeding four. Each week, you'll enjoy two different fish favourites, from classics like salmon and cod fillets, to more unusual catches like plaice and fish pie mix.

All of our fish and seafood is responsibly sourced and independently graded 1-3 by the Marine Conservation Society (MCS). This means that the stocks the fish come from are in good health, and that the fishers use sustainable, ocean-friendly methods to catch and land their stock.

You'll even save by choosing a fresh fish box, rather than buying your fish individually, and your fish subscription box will be delivered sustainably to your door.

To make sure you get the best, most sustainably-sourced fish, we may have to send you a different fish to the ones listed. Sometimes, the selection may include shellfish, such as crab (crustaceans).
Monday 24th January
Monday 31st January
2 x Haddock fillets (260g min)
Haddock is a white fish, ideal for battering and frying, but equally delicious roasted or steamed.
2 x Plaice fillets, Celtic Coast (320g min)
Plaice is delicious grilled, with a little lemon juice. It comes filleted with the light skin on, to hold it together during cooking.
Our plaice is demersal otter trawled, and comes from Cornwall/Devon. It has an MCS rating of 2. Caution: Although every care has been taken to remove bones, some may remain.
2 x Smoked Salmon, Organic, Severn & Wye Smokery (100g)
Looking for show-stopping quality salmon? Glenarm Organic Salmon sustainably farm this fresh, organic salmon in Northern Ireland, which is smoked by Severn & Wye – an advocate of traditional, artisanal curing and smoking methods. In fact, they've been perfecting their methods for over 40 years. The salmon is smoked over oak wood chips and shavings, then matured for at least three days. What makes this salmon all the more special is the cut. The 'D-Cut', which goes from back to belly, ensures that every bite is evenly smoked, with the same succulent, creamy, melt-in-the-mouth texture. The result? Slices of rich, flavoursome meat and a strong, smoky outer layer, every time.
Cod Fillets, pack of 4, Abel & Cole (520g)
Allergen information: Abel & Cole handles celery, celeriac and nuts on site. Due to our packing process and re-use of boxes there is a risk of cross-contamination from these, and all other allergens.
You might also like to try...