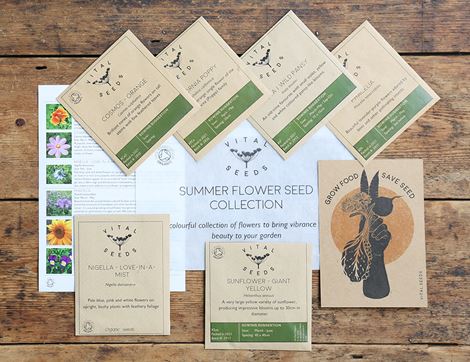 Flower Seed Selection, Organic, Vital Seeds (6 packs)
Brighten up your summer flower beds, pots and planters with Vital Seeds' Flower Seed Selection. There's a spectrum of colourful blooms just waiting to burst forth with this organic collection of California poppy, cosmos, nigella, phacelia, wild pansy and sunflower seeds. Vital Seeds are proud to supply naturally pollinated, self-seeding plants whose seeds can be collected year after year to spread their colours more and more. Check the handy sowing tips on the back of your packet for all the green-fingered details you'll need for beautiful blossoms wherever these seeds are sown.


Vital Seeds is a small independent seed company based in Devon producing and selling organic and open-pollinated seeds. Unlike hybrid varieties it is possible to save seed from these varieties year after and they can adapt to your local climate and soil conditions over time. Vital Seeds are committed to educating gardeners and growers about how to save their own seed in the hope of creating a more resilient food system."
Abel & Cole handles celery, celeriac and nuts on site. Due to our packing process and re-use of boxes there is a risk of cross-contamination from these, and all other allergens.
While we do everything we can to ensure the information on this page is correct, ingredients, nutritional and dietary information are subject to change. So along with the information on our website, we always recommend that you read each label carefully before enjoying your items
Sowing

Firstly, fill a seed tray or shallow punnet with compost until about ¾ full, then press down to create a firm soil. Poke a few holes in the bottom for drainage if there aren't any already.

Next, sow your seeds. With smaller seeds, simply scatter them thinly across the surface. For larger ones, make sure to space them out by around an inch. Lightly press the seeds down so they make good contact with the compost.

Cover the seeds with a thin layer of compost and label your trays so you know what is growing in each one. Lolly sticks or a strip of card from your recycling work great for this.

Stand the punnet in a tray of water or in your sink until the tray feels heavier with the water weight.

Move to a warm, sunny windowsill to germinate and keep the compost moist. After around 10 days you should begin to see the first sprouts emerging.

Potting On

Once each seedling has grown two seed leaves and two 'true' leaves, you can 'prick them out' and move into their own pots.

Push a pencil into the compost and then under where the seedling's roots are. Hold onto one of the 'true' leaves and gently tease the plant out as you pull the compost loose, taking care not to damage the roots.

Pop the plant into a new pot of compost and add more compost around the plant. Pat the soil down to firm it up. Don't press too hard so as not to damage the roots.

Give the re-potted plant some water, and leave somewhere sheltered, sunny and frost-free.

Once the plant is about the height of its pot, you can plant out into your garden, allotment or containers.
You might also like to try...