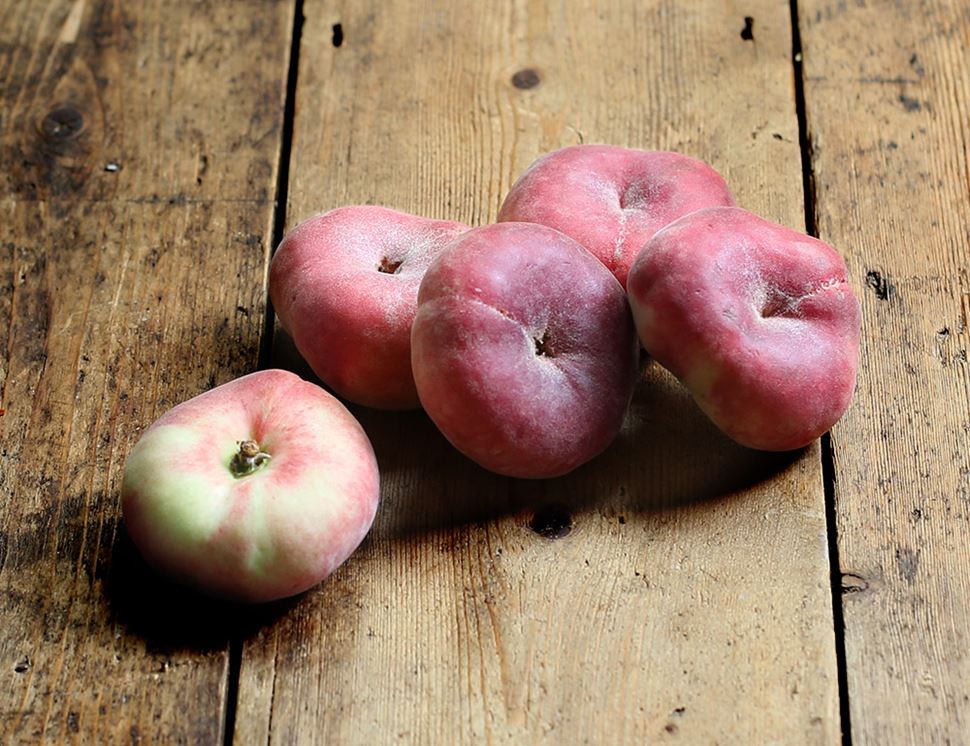 Flat Peaches, Organic (400g)
Sweeter and squatter than their round cousins, these organic flat peaches are a real treat. You can do all sorts with them – stack them up, post them to your friends (Flat Stanley style) or, our favourite, eat them. Thanks to their shape they're actually easier and less messy to eat than round peaches. It's a wonder no one thought of them sooner (though they've actually been around since the 19th century).

Country of Origin - Spain.
Class - Minimum Class 2

Variety - Roblecillo




We love to bring you all sorts of organic fruit & veg all year round, so we're thrilled to be working with Camposeven, a farming cooperative in Spain. Formed in 2007, by seven families, they grow some 35 different varieties of fruit & veg. David runs the show and is joined in the fields by the eldest of his six children. They've made organic farming their life's work and strongly believe that organic and sustainable practices are the future of farming. We think their stone fruit are the best we've ever tasted, so they obviously know their stuff.
Abel & Cole handles celery, celeriac and nuts on site. Due to our packing process and re-use of boxes there is a risk of cross-contamination from these, and all other allergens.
We tend to send out our fruit slightly under-ripe, to buy you some time with them. If you're unsure whether or not your peaches are ripe, smelling them is probably the easiest way to tell: if they smell the way you want them to taste, they're good to go. They'll be a bit softer to the touch too once they're ready to be eaten. If you feel they still need to ripen somewhat, just leave them out in your fruit bowl, there's no need to pop them in the fridge. Then just keep an eye on them!
Turn it into one of these
You might also like to try...