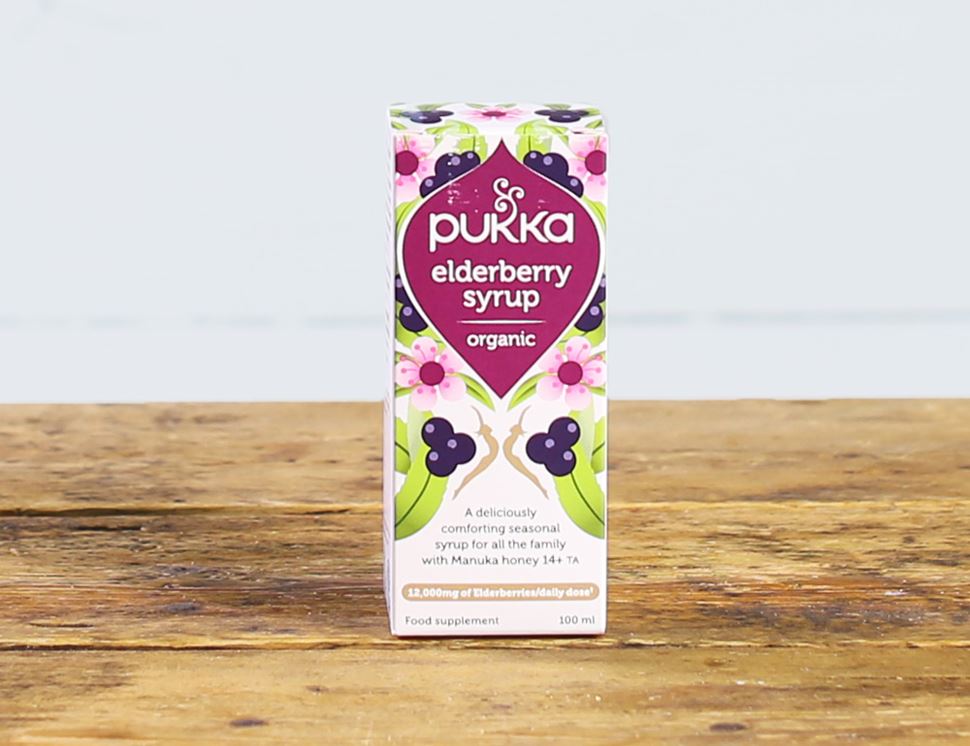 Elderberry Syrup, Organic, Pukka (100ml)
£12.65
(£12.65 per 100ml)
Elderberry Syrup is a natural blend of organic elderberry, Manuka honey, ginger and thyme – along with a few other herbs – making it quite the spoonful. While sweet, you'll feel a little bit of a fire in your belly not long after, but the wonderfully warming kind. Quite the delight.
In 2002, Tim Westwall put an ad in a local magazine, asking, 'Do you want to grow business in a healthy way?' He only got one reply, from Sebastian Pole. Sebastian is a qualified practitioner in Ayurveda (the ancient Indian art of living wisely), Chinese and Western herbal medicine. They set up business in Tim's spare room, making delicious teas from organic herbs with a focus on wellbeing. Pukka have grown their business by making sure their herbs are from organic and sustainable sources.
Pure vegetable source glycerine, elderberry juice concentrated to 6:1, Manuka Honey Active 14+, thyme leaf, aniseed, licorice root, horseradish root, pippali fruit, black pepper seed, ginger root, peppermint essential oil, alcohol w/v ‹1.2%. 100% organic, ethically sourced, suitable for vegetarians. No preservatives or flavourings.
Adults and children aged 12 or over: Take 1 teaspoon (5ml) up to 3 times a day.

Children 2 to 5 years: Take ¼ teaspoon (1.25ml) up to 3 times a day.

Children 6 to 12 years: Take ½ teaspoon (2.5ml) up to 3 times a day.

This remedy is best taken 15minutes before food with warm water. If digestion is weak then take after food.

Refrigerate after opening and use within 4 weeks. Store away from direct sunlight below 30C. Keep out of reach of young children. Seek professional help during pregnancy. Do not exceed the recommended daily intake. Do not use this product as a substitute for a varied diet.
You might also like to try...