Cheesy Chilli Stuffed Squash
4 people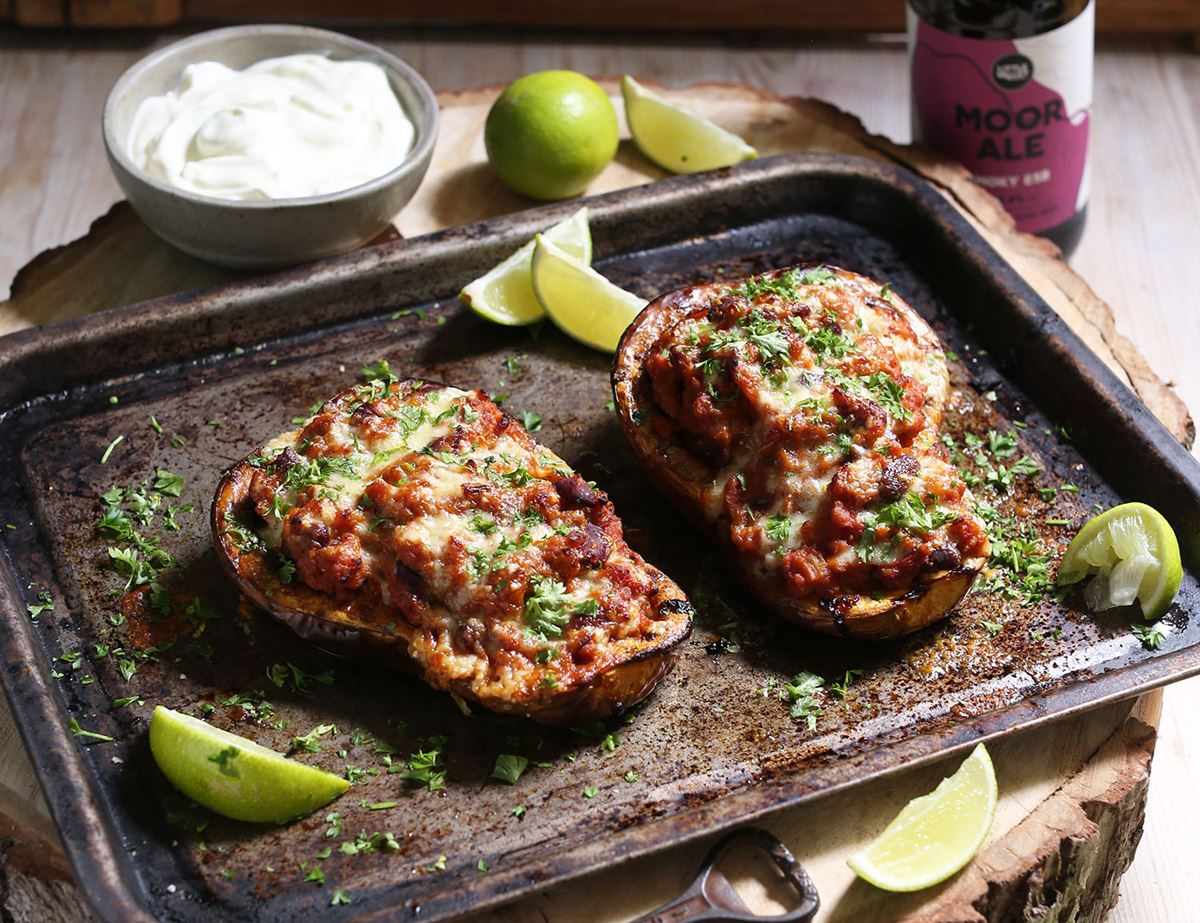 A butternut squash brimming with veggie chilli and topped off with melting cheddar and soured cream will keep you toasty and warm on winter nights. Serve in bowls around a bonfire for Guy Fawkes night or just cuddle up at home for a cosy sofa supper.
Ingredients
1 large butternut squash, or 2 small
2 tbsp olive oil
Sea salt
Freshly ground pepper
1 onion
3 garlic cloves
1 tbsp smoked paprika
1 tbsp ground cumin
1 tsp cocoa powder
A pinch of two of chilli powder (optional)
1 cinnamon stick
400g tin of red kidney beans
400g chopped tomatoes
400ml water
100g soya mince
1 tbsp Worcester sauce
100g cheddar
A handful of coriander leaves
4 tbsp soured cream
1 lime
Prep: 15 mins | Cook: 1 hr 5 mins

Method
1.
Warm your oven to 200°C/Fan 180°C/Gas 6. Slice the butternut squash in half lengthways and use a spoon to scoop out the seeds. Arrange the squash halves, cut-side-up, on a baking tray and drizzle with 1 tbsp olive oil. Sprinkle the squash with salt and pepper and slide into the oven to bake for 45 mins till well browned and soft all the way through.
2.
Meanwhile, peel the onion and finely chop it. Peel the garlic cloves and thinly slice them. Pour 1 tbsp oil into a large pan and warm to a medium heat. Slide in the chopped onion and garlic and add a pinch of salt and pepper. Fry the onion and garlic for 5-8 mins, storring often, till starting to soften.
3.
When the onion is glossy, add 1 level tbsp smoked paprika, 1 level tbsp ground cumin and 1 tsp cocoa to the pan, along with a pinch of cayenne pepper (cayenne is HOT, so use as much or little as you prefer) and a cinnamon stick. Stir the spices and veg together and cook for a further 2-3 mins.
4.
Drain the tin of kidney beans and add the beans to the pan. Tip in the chopped tomatoes, then fill the tin with water (around 400ml) and pour that in. Add 100g soya mince and 1 tbsp Worcester sauce and stir well till combined. Bring the sauce to the boil, then reduce to a gentle simmer. Pop a lid on and simmer for 20 mins, stirring occasionally, till nice and thick.
5.
Grate the cheddar. When the squash is tender, take it out of the oven and let it cool for a few mins. Drain off any excess liquid. Use a spoon to carefully scoop out the flesh from the squash middles, making sure to leave a 1cm-thick border around the edges. Mash the scooped squash flesh with a fork and stir it into the veggie chilli sauce. Stir half of the grated cheddar into the sauce. Taste, and add more salt and pepper if needed.
6.
Use a spoon to scoop the veggie chilli into the squash halves. Sprinkle the remaining cheddar over the top then slide the chilli stuffed squash back into the oven. Bake for 20 mins, till golden and bubbling. When the stuffed squash is cooked, carefully slice them and divide between 4 warm plates. Serve with fresh coriander, soured cream and wedges of lime on the side.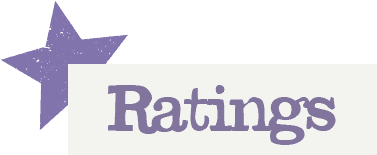 You'll need to log in to leave a rating & comment