An update on our B Corp journey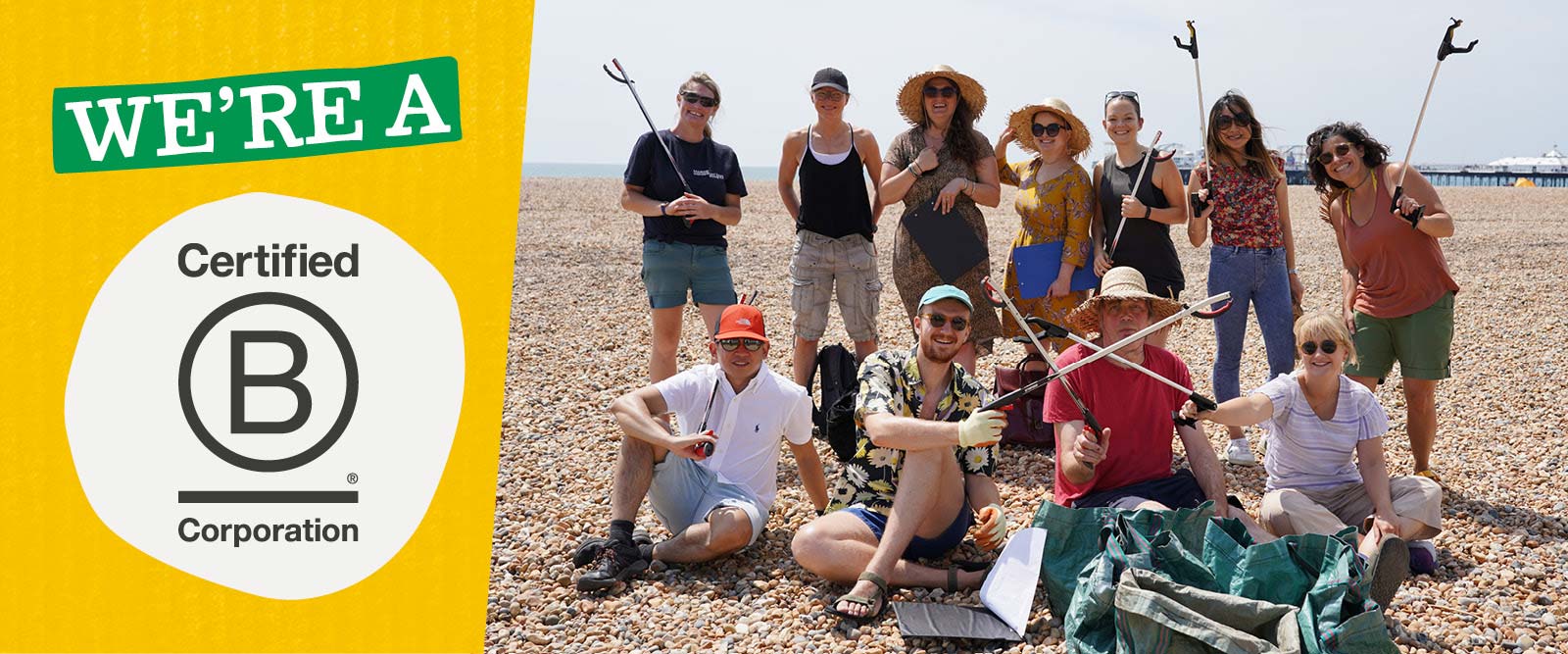 As one of 453 certified UK B Corps, we're dedicated to using business as a force for good, putting sustainability and social responsibility at the heart of everything we do.

We're so excited to share the results of our latest B Corp score and let you know about upcoming projects that we're really passionate about.
What does being a B Corp mean?
"A B Corp is a business that holds itself voluntarily accountable to a higher standard on social and environmental transparency," explains our Head of Sustainability, Stef. "As a B Corp, we continue to strive to become a better business for our society and planet."

B Corps are reaccredited every three years. To receive B Corp certification, a business must earn a minimum score of 80 points, out of a maximum of 200, on the B Impact Assessment. Most companies score somewhere between 40 and 100 points.






How does the B Impact Assessment work?


The B Impact Assessment for B Corp certification includes a series of comprehensive Operations and Impact Business Model questions. Operational questions focus on how sustainably a business is managed on a day-to-day basis, looking at areas like recycling waste and local purchasing policies.

Impact Business Models dive even deeper to identify and evaluate whether and how a business is creating positive social and environmental impact, for example by setting up a Fairtrade supply chain.


How do we score as a B Corp?


Over the last three years, we've been working hard to innovate and improve our impact, and we're excited to share that we've managed to increase our B Corp score from 88.4 in 2018 to 103.5 in 2021. This means that we're now ranked as 'Outstanding' on the B Corp impact score scale. We're incredibly proud of this score, and couldn't have done it without your support.






What have we achieved as a B Corp?


In terms of our social impact, we're proud of establishing an Anti-Racism Charter in 2020. From tackling unconscious bias in recruitment to ensuring that our marketing best represents the team and our organic community, we have a clear plan of action in place to continually improve representation wherever we can.

Our environmental impact includes measuring our carbon footprint from 2019. Since then, we've contributed to carbon sequestering projects and have made a long-term plan to reduce our carbon emissions to net zero. We'll be deepening our commitment later this year by publicly pledging our carbon reduction targets to the Science Based Targets initiative.

We've also been busy innovating sustainable packaging solutions, and relaunched Club Zero, our award-winning refillable deliveries, in 2020.








What's next for us?


When it comes to supporting our people and protecting our planet, we're always challenging ourselves to do more. Some of the projects we're really excited about include working with apprentices at our Andover site. We want to scale this up even further and we'll be setting ambitious targets to develop our brilliant teams.

To help you make the most planet-friendly decisions when you shop, we're also introducing innovative initiatives like eco-impact labelling. "We'd like to provide even more information on the environmental impact of our items," explains Stef.

We're also committed to learning more about our producers, their diversity, ownership structure, practices and needs, so we can find the best ways to support them and help them grow.

Our journey as a B Corp isn't over, and we'd never say that "our work here is done". We'll keep innovating and improving, but none of the progress we've made would be possible without you. With every box, you've helped make big changes bite-sized.




Published November 2021

We're proud to support a community of like-minded B Corps who balance purpose and profit. Discover our range of responsibly sourced products from fellow B Corps here.




Back to top