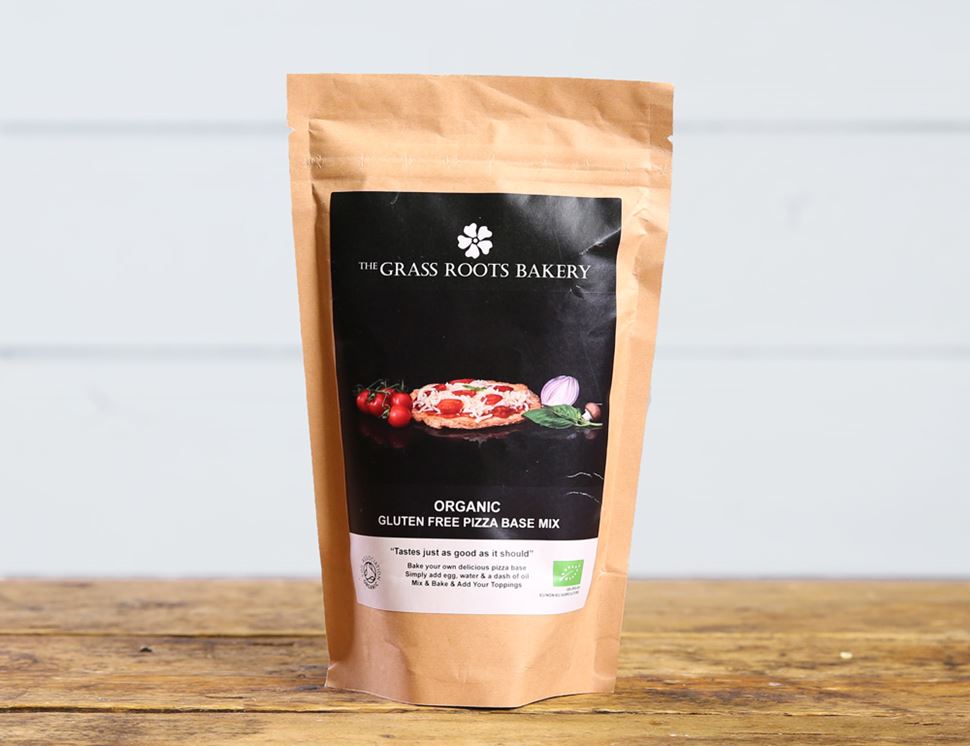 Pizza Base Mix, Gluten Free, Organic, The Grass Root Bakery (280g)
When the moon, hits your eye, like a big pizza pie, that's amore... It certainly will be once you use this brilliant pizza base mix to make your very own homemade pizza. Think of the topping possibilites...
Andrea and Steve Walsh are the clever minds behind The Grass Roots Bakery. They wanted to finally be able to eat bread that wouldn't make them feel wonky, and after a bit of detective work they realised that it was the preservatives used in gluten free foods that was the culprit. Andrea took matters into her own hands, quite literally. She began baking their own bread using her own bread mixes and her oven at home, so every morning there would be fresh loaves ready for the children to take to lunch for the schoolday. Soon it dawned on them that others might be having the same issues that they were having, and putting their heads together, started their own bakery, based in Surrey, built bespoke by Steve, an engineer (very handy). Everything is still done by hand, as it was back in Andrea's kitchen, but there's now Soil Association and Coeliac UK accreditation to go along with it all.


Potato Flour*, tapioca Flour*, Quinoa Flour*, Sugar*, Yeast*, Xanthan Gum, Fine dea Salt

*= produced to organic standards



Nutritional Information per 100g/ml
Energy (kJ): 1418.3
Energy (kcal): 334.3
Protein (g): 2.3
Carbohydrate (g): 78.1
of which sugars (g): 5.7
Fat (g): 0.8
of which saturates (g): 0.1
Salt (g): 1.7
Store in a cool, dry place. Once made, pizza bases are suitable for home freezing and stored for 6 months. Once defrosted, use within 2 days.

To bake:
1) Preheat your oven to 180 degrees (gas mark 4).
2) Empty the Grassroots Bakery Organic Gluten Free Pizza Base into a large mixing bowl.
3) Add an egg (30ml water if Vegan). A dessert spoon of oil (sunflower or olive to taste), and 250ml water.
4) Use an electric whisk, slowly combine and then increase the speed of the whisk until the pizza mixture is a smooth thick batter.
5) Place a sheet of baking paper on a baking tray and add a portion of the pizza mix batter. Using a spatula, spread the batter to a 6 inch diameter, thin round.
6) Place in the centre of the oven and blind bake for between 5 - 10 minutes. when the pizza base is light golden and can be lifted from the baking paper you will know it is ready.
7) Repeat steps 5 and 6 until you have used all of your batter mix and have the number of pizza bases you require.
8) Add the toppings of your choice and bake in the oven for approximately 10 minutes or until the toppings are cooked through.
You might also like to try...