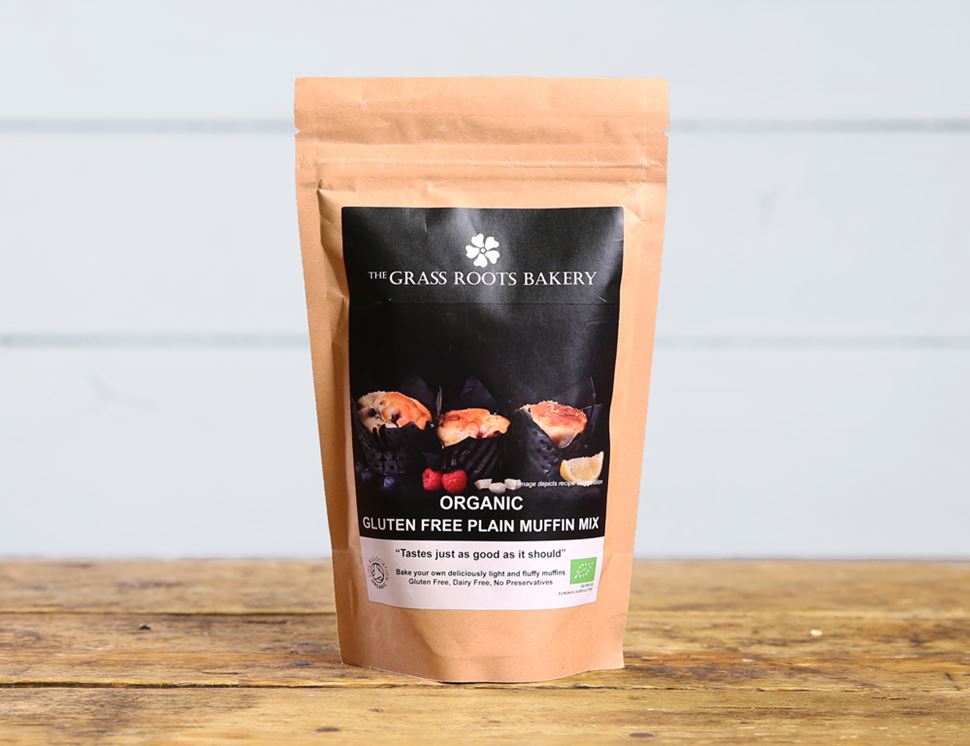 Plain Muffin Mix, Gluten Free, Organic, The Grass Roots Bakery (280g)
Fancy baking your own muffins from scratch? Well, look no further. With this here muffin mix you won't just be making the finest most delicious muffins around, but it'll be easy as pie, and they'll be gluten free too. Brilliant all round.
Andrea and Steve Walsh are the clever minds behind The Grass Roots Bakery. They wanted to finally be able to eat bread that wouldn't make them feel wonky, and after a bit of detective work they realised that it was the preservatives used in gluten free foods that was the culprit. Andrea took matters into her own hands, quite literally. She began baking their own bread using her own bread mixes and her oven at home, so every morning there would be fresh loaves ready for the children to take to lunch for the schoolday. Soon it dawned on them that others might be having the same issues that they were having, and putting their heads together, started their own bakery, based in Surrey, built bespoke by Steve, an engineer (very handy). Everything is still done by hand, as it was back in Andrea's kitchen, but there's now Soil Association and Coeliac UK accreditation to go along with it all.
Rice Flour*, Sugar*, Gram Flour*, Coconut Flour*, Tapioca Flour*, Baking powder*, Xanthan Gum

*= produced to organic standards
Nutritional Information per 100g/ml
Energy (kJ): 1531.0
Energy (kcal): 365.1
Protein (g): 6.9
Carbohydrate (g): 75.8
of which sugars (g): 26.4
Fat (g): 2.9
of which saturates (g): 1.2
Salt (g): 0.7
Store in a cool, dry place.
Once made, muffins are suitable for home freezing. After baking, leave to cool and then freeze. Suitable to be frozen for up to 6 months.

To bake:
1. Preheat oven to 180° / gas mark 4 (fan-oven).
2. Melt 50g butter (or dairy free equivalent) and leave to cool slightly.
3. Empty The Grassroots Bakery Plain Muffin mix into a large mixing bowl.
4. Measure 350ml of milk (or dairy free equivalent) in a separate jug and add 2 eggs. Whisk together with a fork.
5. Add any liquid flavourings you may be using to the milk/egg blend (for example: vanilla essence, lemon juice, etc).
6. Pour the egg/milk blend into the mixing bowl with The Grassroots Bakery Plain Muffin Mix and stir gentl with a wooden spoon until combined. It should look lumpy but should not have floury patches.
7. Add the slightly cooled melted butter (or dairy-free equivalent).
8. At this stage, add the ingredients you wish to flavour your plain muffins. For raspberry and white chocolate, add 100g fresh/frozen raspberries and 100g white chocolate chunks. For lemon drizzle muffins, add the zest and juice of one large unwaxed lemon. For blueberry muffins, add 100g of fresh or frozen blueberries.
9. Stir carefully until there are no floury patches but do not over stir otherwise the muffins will be tough. Share the mixture equally between 6 large tulip muffin cases.
10. Bake in the centre of the oven preheated to 180 degrees for 25 minutes or until an inserted cake skewer comes out clean.
11. Remove and cool completely on a wire rack.
You might also like to try...