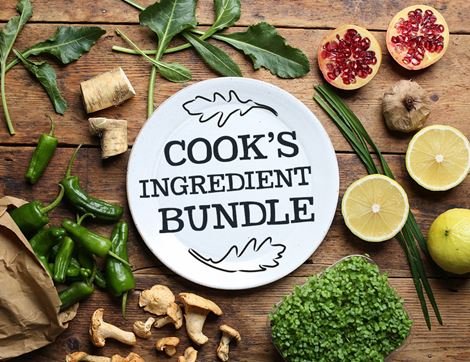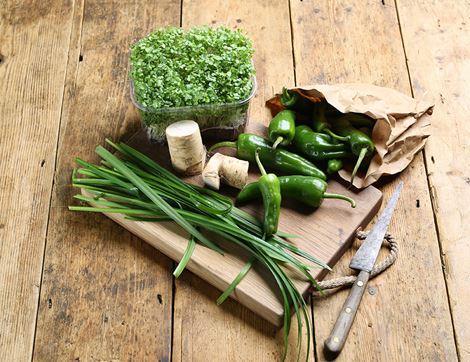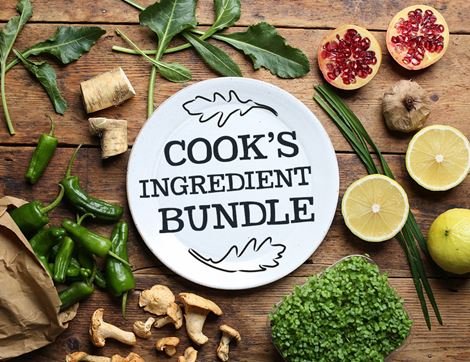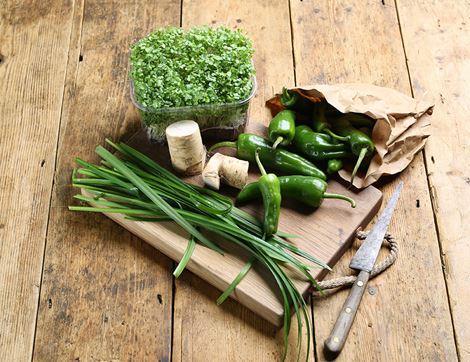 Cook's Ingredient Bundle, Organic
Say hello to our Cook's Ingredient Bundle, a collection of lesser-known fruits, veggies, herbs and spices, all fresh from our top organic growers. This bundle celebrates speciality ingredients that will interest and challenge keen cooks looking for something new to play with. It celebrates the best of the season and shines a spotlight on a few foodie secrets you might not be so familiar with…
Monday 25th October
Monday 1st November
Originally known as the Chinese Gooseberry, it was only renamed "Kiwi Fruit" back in the 1950s for export reasons. This delicious fruit is wonderful when scooped out of its skin with a spoon but it also makes for great juice and the perfect accompaniment for ice cream.
All the umami flavours of exotic mushrooms are brought together in this mix. Our delicious shiitake, nameko and golden oyster mushrooms are from the biodynamic Brambletye Farm in Sussex.
If you're not all too familiar with this wild foraged vegetable, we can fill you in. It's an ancestor of beetroot and chard, and likes to grow on marshland and rough coastal areas, giving it a lovely natural saltiness. The leaves are crisp and juicy, and being similar to spinach, has a creaminess to it too. FYI: as this is wild sea beet, it can't be officially classified as organic.
Don't be put off by its peculiar appearance as this can really add flavour to a risotto or bake. With a delicate, aniseed flavour it can also work well in soups and stews. Another of its virtues is that it's apparently detested by fleas and some people use it in powdered form to protect kennels and stables.

Country of Origin - UK/Spain/Italy
Class - Minimum Class 2
Steve Collis grows our watercress on his farms in Dorset. Watercress has been growing on the farms since the 1850s, and it's still all planted by hand (not all Steve's hand - he has a few helpers, too). Some of these friends are furry. They work with bat conservation charities so that both the bats and your watercress are happy. Watercress beds are a rich and diverse source of insects, this natural challenge that can affect quality instead feeds hundreds of bats. They also have farms in Jerez, Spain where our watercress comes from during the winter months.
Allergen information: Abel & Cole handles celery, celeriac and nuts on site. Due to our packing process and re-use of boxes there is a risk of cross-contamination from these, and all other allergens.
You might also like to try...