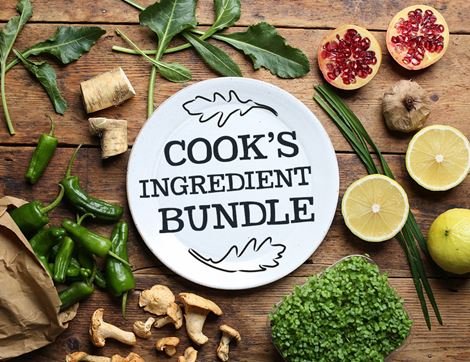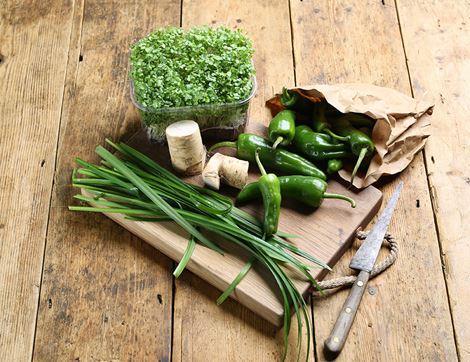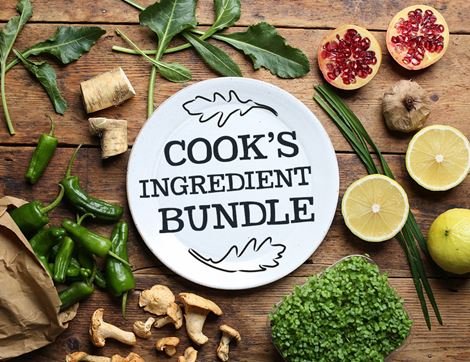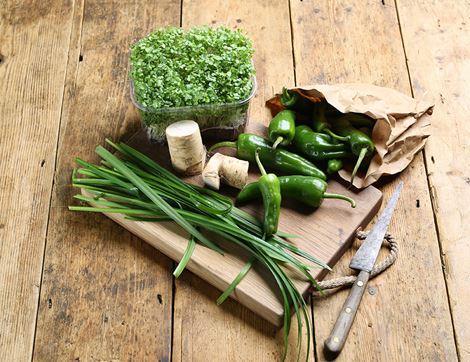 Cook's Ingredient Bundle, Organic
Say hello to our Cook's Ingredient Bundle, a collection of lesser-known fruits, veggies, herbs and spices, all fresh from our top organic growers. This bundle celebrates speciality ingredients that will interest and challenge keen cooks looking for something new to play with. It celebrates the best of the season and shines a spotlight on a few foodie secrets you might not be so familiar with…
Monday 16th May
Monday 23rd May
We only get fresh organic rhubarb for a short time every year so we recommend adding it to your order now. Nowadays, we are perhaps more used to having our rhubarb in a pie or crumble, but it used to be more common in other ways: children in the UK and Sweden were once given sticks of rhubarb dipped in sugar as a treat in the days before the mars bar!

Country of Origin - UK
Class - Minimum Class 2
Shallots are similar to onions but slightly sweeter and milder. Shallots are great in stir-fries, as well as in creamy pasta sauces. If you are roasting a joint of meat, pop a few whole shallots in the roasting pan too, they'll go soft and sweet - perfect with red meat and roast potatoes! Country of Origin - France
Steve Collis grows our watercress on his farms in Dorset. Watercress has been growing on the farms since the 1850s, and it's still all planted by hand (not all Steve's hand - he has a few helpers, too). Some of these friends are furry. They work with bat conservation charities so that both the bats and your watercress are happy. Watercress beds are a rich and diverse source of insects, this natural challenge that can affect quality instead feeds hundreds of bats. They also have farms in Jerez, Spain where our watercress comes from during the winter months.
Gorgeous, creamy flavoured, much beloved asparagus. It's good for us and so easy to cook. Don't be intimidated if you've never cooked it before - this veg needs minimal preparation and quickly serves up a treat of a side dish. Simply slice off the woody ends and discard; then cut the stalks into 2.5cm lengths. Keeping the tips to the side for a bit, drop the other pieces into a pan of boiling salted water and cook 5 minutes. Add the tips and cook 3-5 minutes or until they're tender. Now drizzle with butter or oil and add some pepper and Parmesan on top. Perfection!

Country of Origin - UK
Our fresh organic garlic is so full of flavour it will give a real boost to any meal. Garlic can be added to almost any meal - just make sure you have some mints to hand.
Turmeric has long been used in Ayurvedic (traditional Indian herbal) medicine to help maintain healthy body processes and prevent degenerative disease. The amount of scientific knowledge to back up this ancient knowledge is ever increasing in the Western world today.
If you're not all too familiar with this wild foraged vegetable, we can fill you in. It's an ancestor of beetroot and chard, and likes to grow on marshland and rough coastal areas, giving it a lovely natural saltiness. The leaves are crisp and juicy, and being similar to spinach, has a creaminess to it too. FYI: as this is wild sea beet, it can't be officially classified as organic.
Allergen information: Abel & Cole handles celery, celeriac, peanuts and nuts on site. Due to our packing process and re-use of boxes there is a risk of cross-contamination from these, and all other allergens.
You might also like to try...
(£14.25 each)

7 varieties of British organic veg. (This is a set box so we can't offer any replacements to the planned contents)