Samphire & Broad Bean Bowl with Cheesy Polenta Croutons
2 people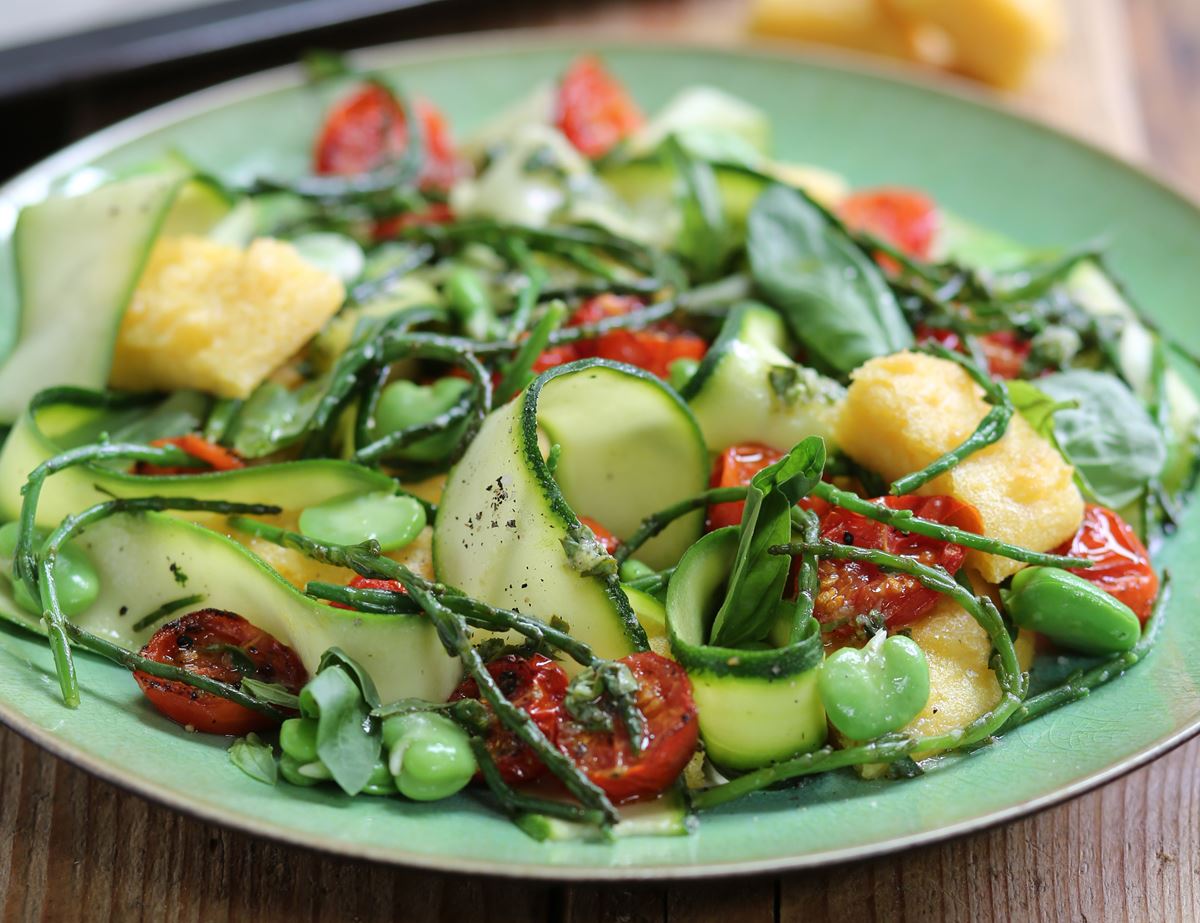 First-of-the-season wild samphire mixes it up with fresh, vibrant broad beans and ribbons of courgettes, tossed with a tangy basil dressing and served with juicy roast cherry tomatoes and cheesy polenta croutons.
Ingredients
100g polenta
100g cheddar
250g cherry tomatoes
1 garlic clove
A handful of basil, leaves only
1 lemon
500g broad beans
100g samphire
2 courgettes
50g rocket
300ml boiling water
Sea salt
Freshly ground pepper
2 tbsp olive oil
Prep: 25 mins | Cook: 25 mins - Tip: Rock samphire is quite different to marsh samphire and can have a very strong flavour, so if using this instead, you'll only need a little bit of it in your recipe or you can use it as a garnish.

Method
1.
Preheat your oven to 180°C/Fan 160°C/Gas 4. Line a small baking tray with greaseproof paper.
2.
Pour 300ml boiling water into a pan and return to the boil. Sprinkle in a good pinch of salt. Pour in the polenta while stirring continuously, to beat out any lumps. Cook for 2 mins, till the grains thicken and start to pull away from the pan. Grate the cheddar and stir it in.
3.
Scoop the polenta into the lined roasting tin and flatten out to about 3cm thick. Slide into the oven for 25 mins, till crisp and golden on top.
4.
While the polenta bakes, halve the cherry tomatoes and arrange in a second roasting tin. Sprinkle with a little salt and pepper and drizzle with 1 tbsp oil. Pop into the oven to roast, on the shelf below the polenta, for 20 mins.
5.
Peel and grate the garlic clove into a small bowl. Roughly chop most of the basil leaves. Add to the garlic along with the zest and juice of the lemon, a pinch of salt and pepper and 1 tbsp oil.
6.
Fill a small pan with boiling water and return to the boil. Pop the broad beans out of their pods and give the samphire a rinse. Tumble the beans into the water. Blanch for 1 min, then add the samphire. Simmer for a further 1 min, then drain and cover with cold water. Drain again and shake dry. You'll notice the broad beans have pale, wrinkled skins. These are edible, but for greener, sweeter beans, pinch the ends of the skins and squeeze. The tender beans will pop out.
7.
Top and tail the courgettes. Use a vegetable peeler to create long ribbons, finely slicing the seeded cores when you get down to them. Tip into a large bowl. Add the rocket and the broad beans and samphire. Drizzle in most of the basil and garlic dressing and toss together.
8.
Slice the polenta into chunks and arrange on a couple of plates. Top with the dressed green salad, roast tomatoes and the remaining basil leaves and garlicky dressing.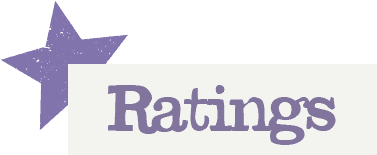 You'll need to log in to leave a rating & comment