Golden Pork Schnitzel with Tomato & Basil Spaghetti
2 people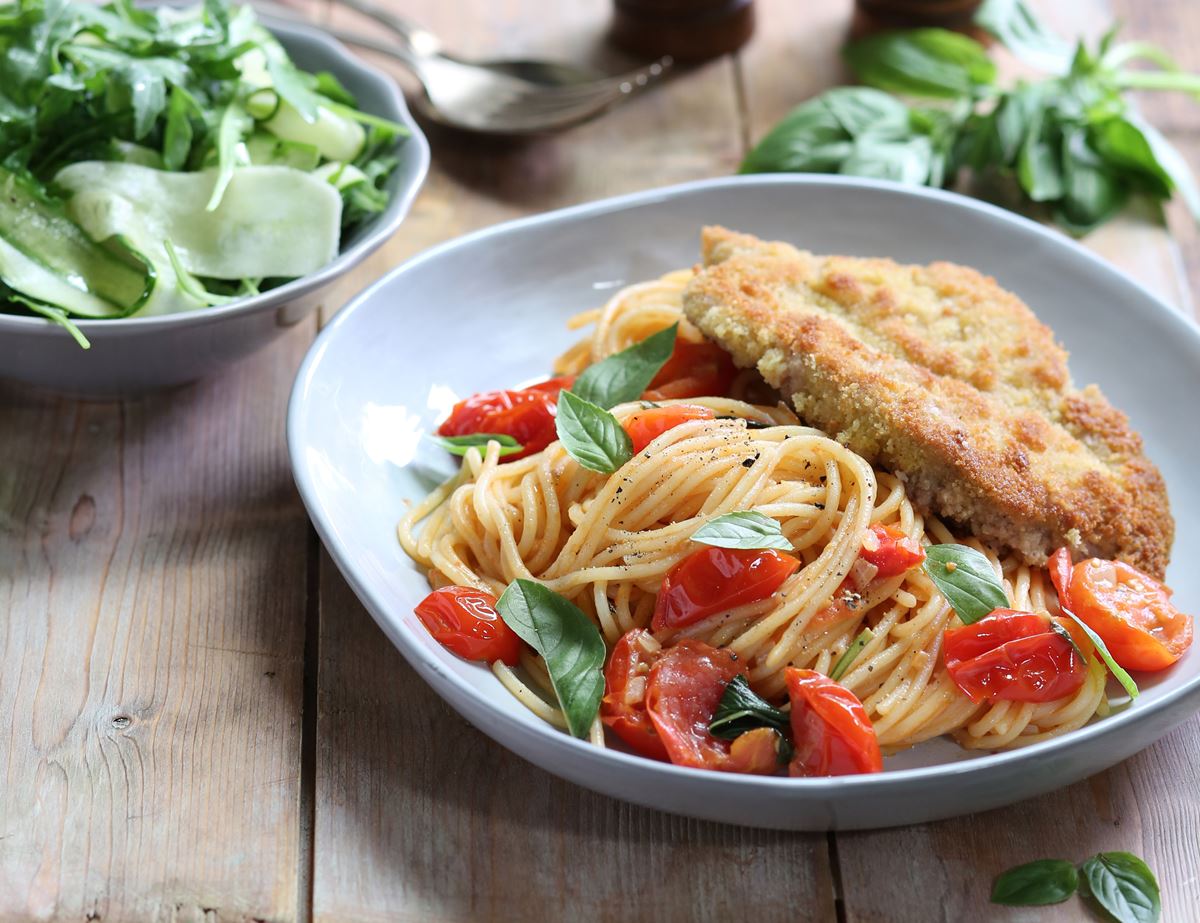 For this dish we've put a spin on a couple of classics and piled them onto one plate – organic British pork escalopes are coated in breadcrumbs and fried until golden, then served on a summery nest of garlic-scented strands of tomato and basil spaghetti.
Ingredients
2 pork escalopes
2 tbsp flour
1 egg
50g breadcrumbs
1 onion
2 garlic cloves
250g cherry tomatoes
1 courgette
50g rocket
45g butter
A handful of basil, leaves only
200g spaghetti
Sea salt
Freshly ground pepper
1 tbsp + 1 tsp olive oil
Prep: 20 mins | Cook: 20 mins

Method
1.
Place the pork escalopes between 2 sheets of cling film or baking paper. Bash with a rolling pin till they are about 1cm thick.
2.
Tip 2 tbsp flour onto a plate and mix with a good pinch of salt and pepper. Beat the egg in a shallow bowl. Pour the breadcrumbs onto a separate plate. Dip the pork escalopes in the flour, then the egg, then in the breadcrumbs to coat them. Set aside.
3.
Peel and finely chop the onion. Peel and grate the garlic cloves. Slice the cherry tomatoes in half.
4.
Tumble the rocket into a large bowl. Trim the courgette, and use a vegetable peeler to create ribbons. Add to the rocket.
5.
Melt the butter in a large pan over a medium heat. Slide in the onion and garlic and fry gently, stirring occasionally, for 3-4 mins. Stir in the cherry tomatoes, half the basil leaves and a good pinch of salt and pepper. Reduce the heat to low and cook gently for 8 mins.
6.
While the sauce cooks, fill a pan with boiling water and add a good pinch of salt. Return to the boil, then drop in the spaghetti and cook for 8 mins. When cooked, drain well, reserving half a cup of the pasta water. Add the spaghetti and water to the tomatoes and stir well, till the liquid thickens and coats the strands. Keep warm.
7.
Pour 1 tbsp oil into a large frying pan and bring to a medium-high heat. Add the breaded pork escalopes and fry for 3-4 mins on each side, till golden and crispy.
8.
Toss the rocket and courgette ribbons with a pinch of salt and pepper and 1 tsp olive oil. Pile the spaghetti into 2 warm bowls and scatter over the remaining basil. Top each bowl with a golden pork schnitzel and serve.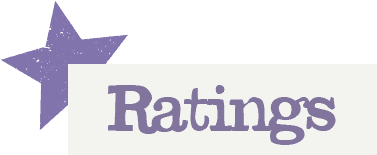 You'll need to log in to leave a rating & comment