Spice Crusted Steak with Coriander Salsa
2 people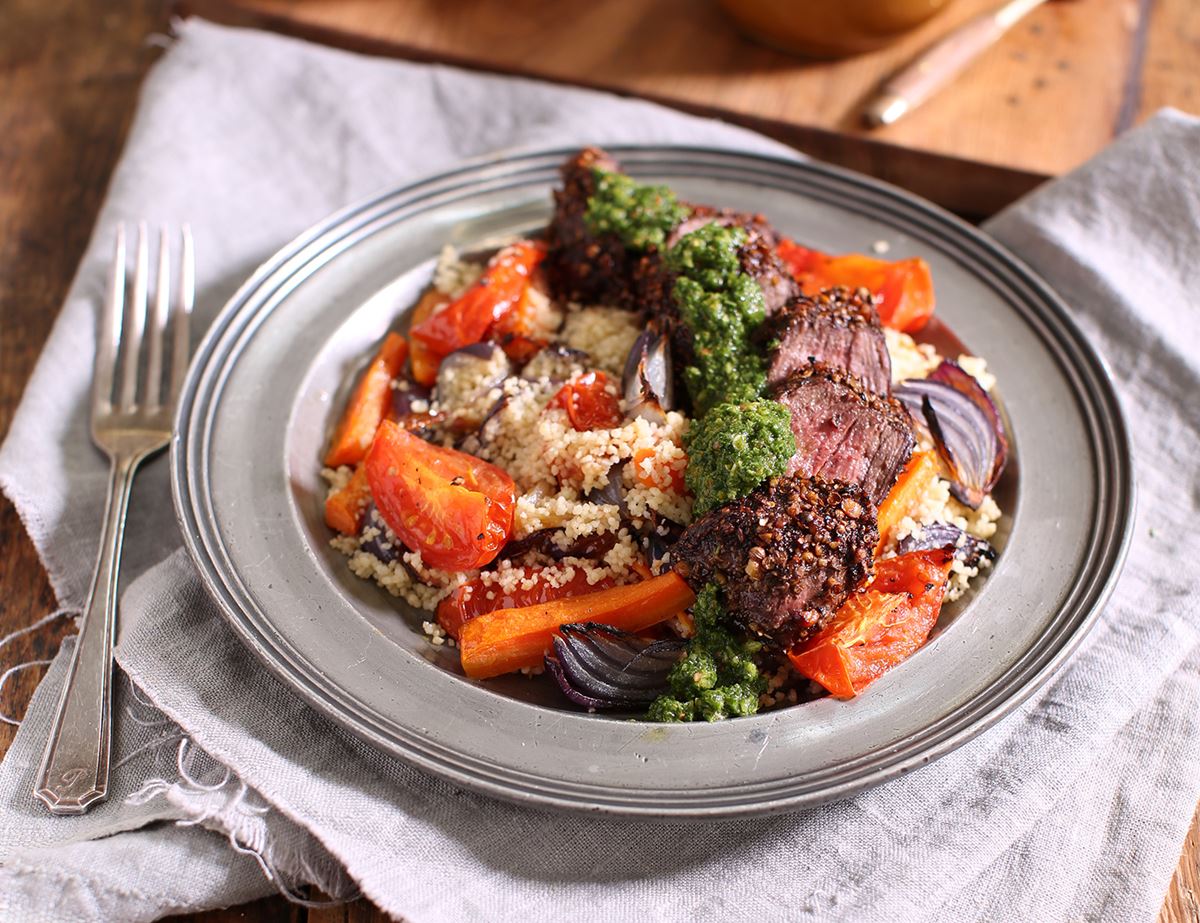 Parlez-vous onglet? We hope so, because this dinner is worth talking about. It features organic onglet steaks, pan fried in a crunchy dukkah crust and served with couscous and a fresh, kicky kale, coriander and chilli salsa.
Ingredients
2 red onions
2 carrots
2 vine tomatoes
3 tbsp olive oil
Sea salt and freshly ground pepper
150g wholewheat couscous
A handful of coriander
100g kale
1 chilli
1 garlic clove
1 lemon
20g dukkah
2 onglet steaks

Method
1.
Preheat your oven to 200°C/Fan 180°C/Gas 6. Peel the onions and slice them into wedges. Trim the carrots and cut them into long batons (no need to peel them, unless you want to). Slice the tomatoes into wedges. Pop all 3 into a roasting tin, drizzle with 1 tbsp olive oil and season with pinch of salt and pepper. Toss to coat, then slide into the oven for 25 mins, till softened and lightly coloured.
2.
While the veg roast, fill your kettle and boil it. Tip the couscous into a heatproof bowl and pour in 300ml boiling water from the kettle. Stir, cover the bowl with a plate and set aside for 10 mins to soak. The couscous will absorb the water and become tender.
3.
Meanwhile, slice the kale leaves off their cores and pop them in a food processor. Add the coriander and chilli (use half if you prefer less heat). Peel and grate in the garlic. Grate in the lemon zest and squeeze in the juice from 1 half. Add 1 tbsp oil and a pinch of salt and pepper.
4.
Blend into a smooth salsa, then transfer to a bowl and set aside. If you don't have a food processor, use a pestle and mortar to crush everything together, or finely chop all of the ingredients and stir to make a chunkier salsa.
5.
Scatter the dukkah onto a large plate. Add the onglet steaks to the plate and roll in the dukkah, pressing the spices into the meat to coat it all over.
6.
Pour 1 tbsp olive oil into a frying pan and warm to a high heat. When the pan is smoking hot, add the onglet steaks. Fry for 10-12 mins, turning every couple of mins, till well browned. Add a couple more mins to the cooking time if you prefer your steak well done. Transfer the cooked steaks to a plate and allow to rest for 4-5 mins.
7.
When the couscous is cooked, fluff it up with a fork. Squeeze in the juice from the remaining lemon half. Fold through the roasted veg and add a pinch of salt and pepper. Divide the couscous between a couple of plates. Slice the steaks and arrange on top. Spoon over any resting juices, and serve with dollops of the coriander salsa.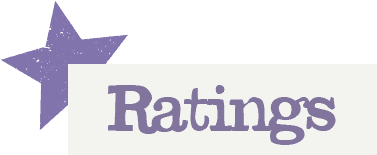 You'll need to log in to leave a rating & comment