Golden Roast Cauliflower & Chickpea Soup
2 people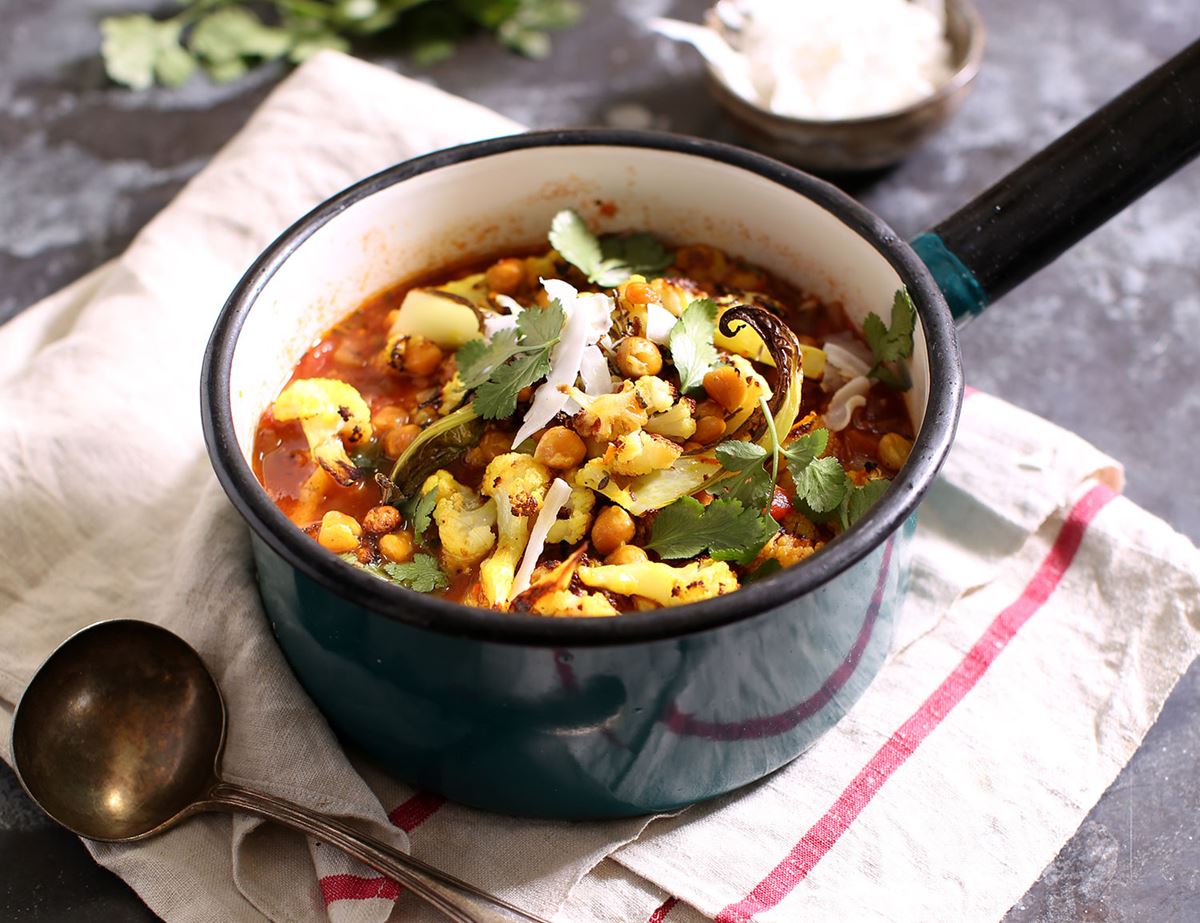 This beautifully spiced soup brims with florets of caramelised cauliflower and nutty chickpeas that have been tumbled with fresh turmeric, cumin seeds and garlic before roasting. It makes a hearty lunch, full of fragrant flavours and finished with a sprinkle of desiccated coconut for crunch.
Ingredients
400g tin of chickpeas
1 caulliflower
A thumb of turmeric
4 garlic cloves
2 tsp cumin seeds
2½ tbsp olive oil
Sea salt
Freshly ground pepper
1 onion
1 chilli
1 tsp ground cinnamon
400g chopped tomatoes
600ml boiling water
A handful of coriander
A few pinches of desiccated coconut
Prep: 15 mins | Cook: 35 mins

Method
1.
Preheat your oven to 200°C/Fan 180°C/Gas 6. Drain and rinse the chickpeas. Tip them into a large mixing bowl. Slice the leaves off cauliflower and set them to one side. Cut the cauliflower into 1-2cm-thick pieces and add to the chickpeas. Peel and finely grate the turmeric (see our tip, below, on how to prepare turmeric cleanly) and 2 garlic cloves (keep the remaining garlic for later). Add to the bowl.
2.
Add 2 tsp cumin seeds and 2 tbsp olive oil to the bowl with a good pinch of salt and pepper. Mix to coat everything in the spices. Tumble the spiced veg onto a baking tray and slide into the oven for 30 mins, till the cauliflower is tender and lightly caramelised at the edges. Remove from the oven when cooked, and set aside.
3.
While the veg roast, finely chop the cauliflower leaves. Peel and finely chop the onion. Place a medium pan on a medium heat to wamr up, then pour in ½ tbsp olive oil. Add the chopped cauliflower leaves and onion and fry for 10 mins, stirring occasionally, till softened.
4.
Meanwhile, peel and grate the remaining 2 garlic cloves. Finely chop the chilli, flicking out the white pith for less heat. Fill and boil the kettle.
5.
Add the garlic and chilli to the pan and fry, stirring, for 2 mins. Stir in 1 tsp ground cinnamon. Pour in the chopped tomatoes and 600ml hot water from the kettle. Add a pinch of salt and pepper, then pop on a lid and simmer for 15 mins.
6.
Roughly chop the coriander stalks and leaves, keeping them separate. When the soup has simmered for 15 mins, add ¾ of the roast cauliflower and chickpeas to the pan with the chopped coriander stalks and stir. Taste and add more salt and pepper if you think it needs it.
7.
Ladle the soup into warmed bowls and top with the remaining roast cauliflower and chickpeas, coriander leaves and a pinch of desiccated coconut to serve.
8.
Yellow Alert
Turmeric likes to stain everything yellow. prepare it on a glass chopping board, a plate or a board you can wash up straight away and wear gloves and an apron to protect your hands and clothes.
9.
Keep It Smooth
If you prefer a silkier soup, blitz the soup in a blender or use a hand-held blender till smooth and creamy. You cna blend in all the cauliflower and chickpeas or keep ¼ back to spoon over the soup just before serving.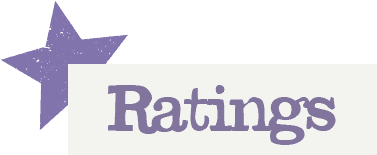 You'll need to log in to leave a rating & comment