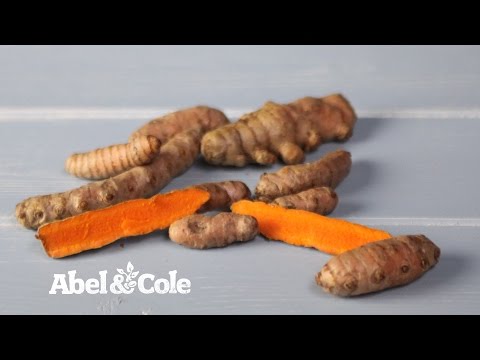 Turmeric, Organic (100g)
Order now for deliveries from 3rd May
Turmeric has long been used in Ayurvedic (traditional Indian herbal) medicine to maintain healthy body processes and prevent degenerative disease, and the amount of scientific knowledge to back up this ancient knowledge is ever increasing in the Western world today. The powerful benefits of turmeric root include its anti-inflammatory and anti-oxidant properties.
Add the vibrant orange turmeric to bring an earthy, citrussy, fiery quality to your food.

Fresh turmeric stains easily, so this veg can turn your kitchen yellow. But lemon juice should work magic if that happens.

Country of Origin - Peru
Class - Minimum Class 2
Our magical turmeric comes from the Peruvian co-operative La Grama. They're passionate about delivering the best fresh products and work together with a wide range of local communities, from up in the Andes highlands down to the Amazon rainforest. La Grama experiment with all sorts of organic farming techniques on their own farm (they sow under biodynamic principles) and share the best ones with their farmers to apply on their own land. They're always on hand to offer free training and assistance too, so farmers are armed with the right tools and as much valuable knowledge as possible. They feel nature is one of Earth's most valuable treasures. We agree whole-heartedly.


Turn it into one of these
You might also like to try...