Asparagus & Cashew Quinoa Pilaf
2 people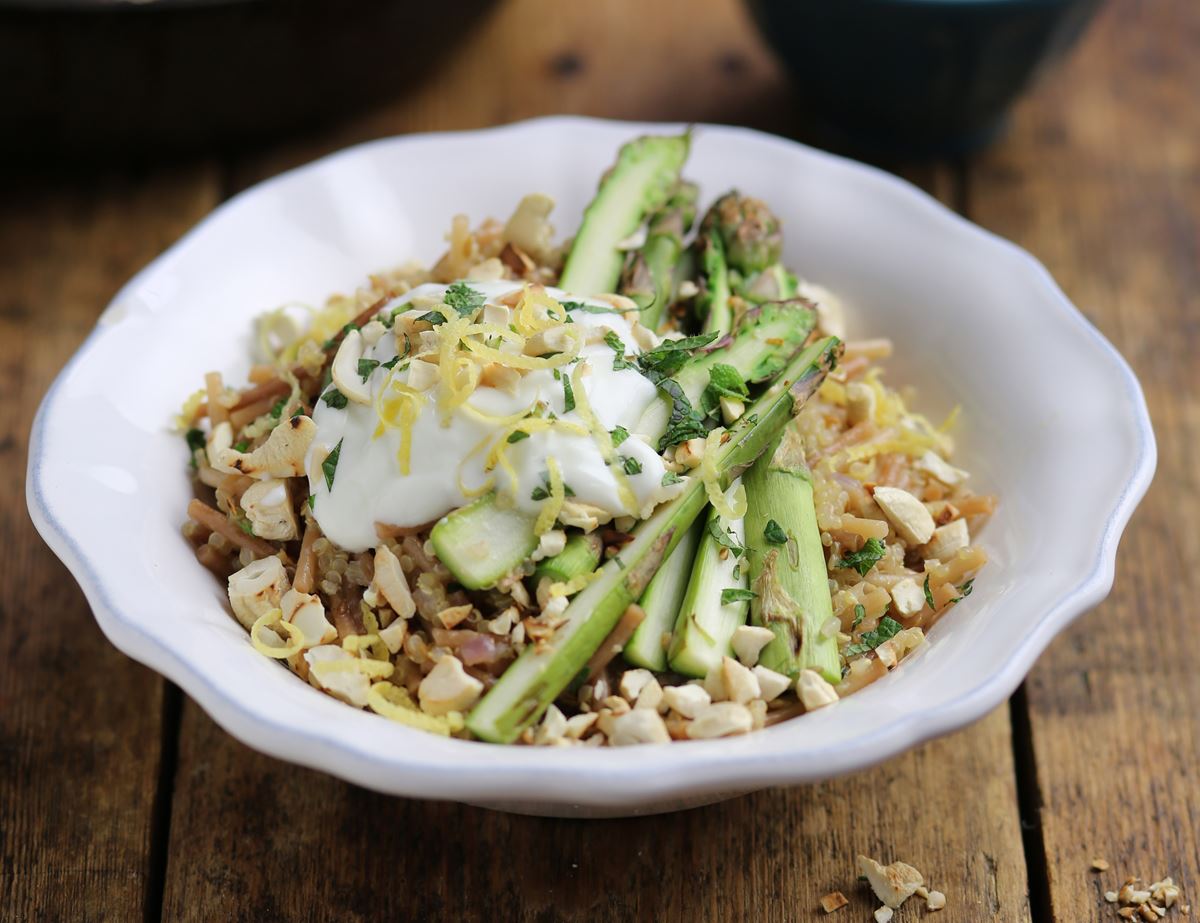 Based on an Armenian pilaf, this dish combines pasta and rice for ultimate heartiness. The pasta is browned for a rich, toasty flavour, and we've used quinoa for extra protein. Topped with pan-fried asparagus, toasted cashews and plenty of mint and lemon for freshness.
Ingredients
1 red onion
2 garlic cloves
75g spaghetti
1 vegetable stock cube
450ml boiling water
150g quinoa
½ tbsp olive oil
2 tbsp water
Sea salt
Freshly ground pepper
1 tsp cumin seeds
200g asparagus
35g cashews
A handful of mint, leaves only
1 lemon
150g 0% fat Greek yogurt
Prep: 10 mins | Cook: 25-30 mins

Method
1.
Peel and finely chop the onion. Peel and grate or crush the garlic. Break the spaghetti into small lengths, around 2-3cm long. Crumble the stock cube into a heatproof jug and stir in 450ml boiling water to dissolve it. Tip the quinoa into a sieve and rinse under a cold tap for 1-2 mins.
2.
Warm a medium pan over a medium heat for 1 min. Add ½ tbsp olive oil and the spaghetti. Gently fry for 2-3 mins, stirring occasionally, till the spaghetti is browned.
3.
Add the onion to the pan with 2 tbsp cold water. Season with a pinch of salt and pepper. Cook, stirring a few times, for 5 mins till the onion is soft and has picked up a little colour.
4.
Stir in the garlic with 1 tsp cumin seeds. Cook and stir for 1 min, then add the quinoa. Cook and stir for another 1 min.
5.
Pour in the stock. Pop a lid on the pan, turn up the heat and bring to the boil. Once it's boiling, turn the heat down and simmer for 12-15 mins, stirring occasionally, till all the water has been absorbed.
6.
While the pilaf simmers, snap the woody ends off the asparagus spears (the spears will bend and snap at the right spot). Halve the spears. Roughly chop the cashews. Finely chop the mint leaves. Finely grate the zest from the lemon.
7.
Warm a dry frying pan over a medium heat. Add the asparagus and dry fry for 5 mins, stirring occasionally, till browned and tender. Scoop the asparagus out of the pan and add the cashews. Tast them for 2 mins, till browned, then take the pan off the heat and set aside.
8.
When the quinoa pilaf is tender and all the water has been absorbed, take it off the heat. Add a squeeze of lemon juice and most of the chopped mint. Fluff the pilaf with a fork, taste and add a pinch more salt or pepper if you think it needs it.
9.
Divide the pilaf between 2 warm bowls. Top it with the asparagus, cashews and yogurt. Garnish with the last of the mint and the lemon zest and serve straight away.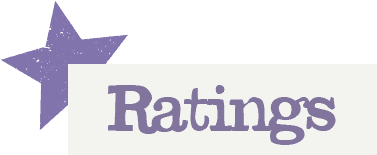 You'll need to log in to leave a rating & comment