Vegan Chocolate & Beetroot Cake
8-10 people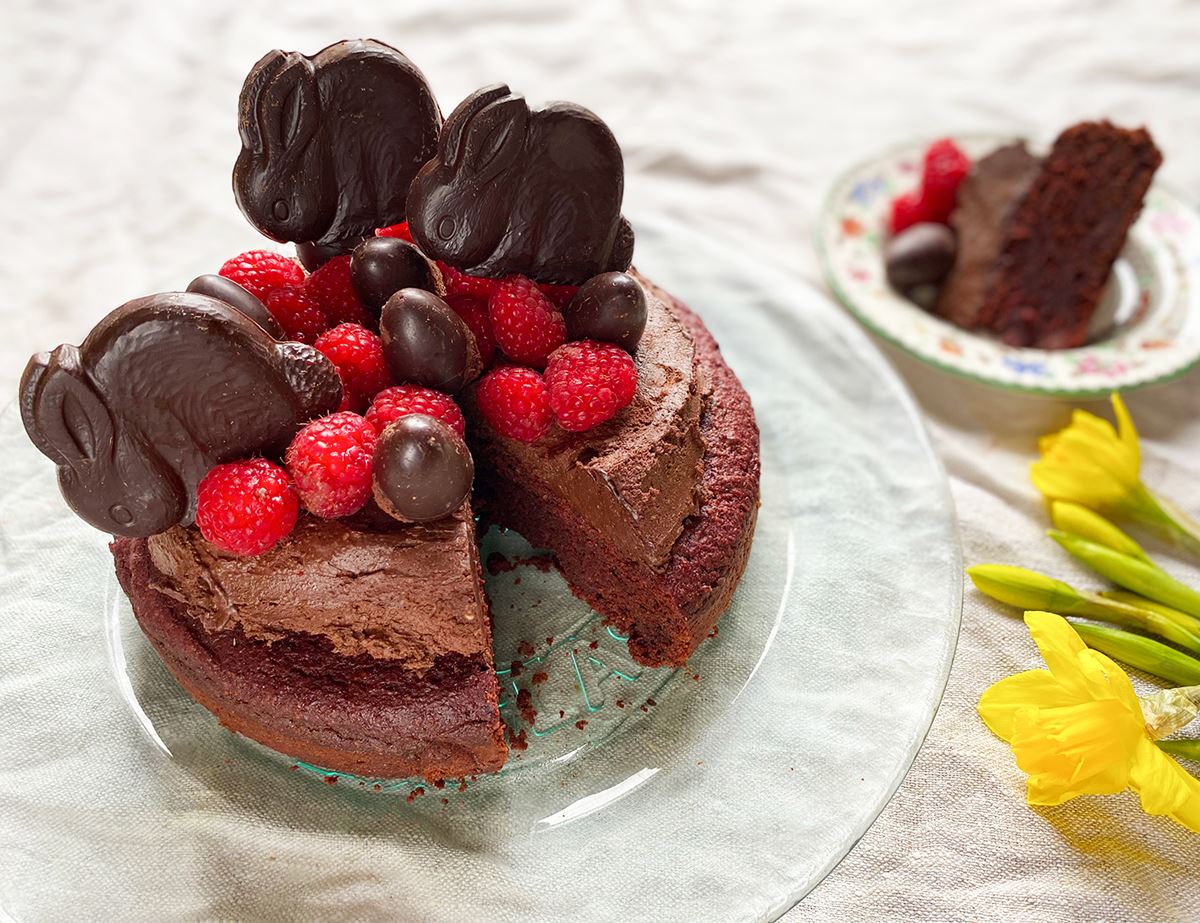 This rich and indulgent vegan chocolate cake has a red heart, thanks to a swirl of beetroot purée, and is luxuriously iced with a coconut cream and dark chocolate ganache. Delicious for any special occasion, but it's especially good served as part of an Easter tea.
Ingredients
For the cake:
4-5 large beetroot (approximately 500g)
40g ground flaxseed
275g plain flour
50g cocoa powder
1 tsp bicarbonate of soda
1 tsp baking powder
60ml olive oil
200g raw cane sugar
175ml oat milk
2 tsp vanilla extract
For the ganache topping:
200g dark chocolate buttons
200g coconut whipping cream
To decorate:
Dark chocolate bunnies
Dark chocolate mini eggs
Dark chocolate Easter egg shards
Raspberries
Orange zest
Prep: 40 mins | Cook: 70 mins

Method
1.
Fill and boil your kettle. Peel and chop the beetroot into small chunks. Pop them in a pan and cover with boiling water from the kettle. Simmer for 10-20 mins till the beetroot are tender when pierced with a sharp knife or skewer. Drain, saving some of the cooking water. Pop the soft beetroot into a food processor or blender and blitz till you have a smooth purée, adding a little of the cooking water if you need to. Weigh out 250g of beetroot purée and set to one side (see our tip below on what to do with any leftover purée).
2.
Preheat your oven to 180°C/Fan 160°C/Gas 4. Lightly grease and line a deep cake tin, approximately 20cm in diameter, with baking paper.
3.
In a medium-sized mixing bowl, combine the ground flaxseed with 70ml cold water and let stand for 10 mins till it thickens.
4.
Sift the flour, cocoa powder, bicarbonate of soda and baking powder into a large mixing bowl. Add the sugar and a pinch of salt. Make a well in the centre and set aside.
5.
Add 250g cooled beetroot purée, 60ml olive oil, the oat milk, vanilla and a pinch of salt to the soaked flaxseed and beat well to combine. Pour the beetroot mixture into the flour and stir till just combined.
6.
Pour the batter into the prepared cake tin and smooth the top with a spatula. Slide the cake into the oven and bake for 45-50 mins. Check the cake is cooked by inserting a skewer into the centre of the cake. It should come out clean, with no wet mix sticking to it. If not, bake for an extra 5-10 mins and test again.
7.
While the cake is cooking, make the chocolate ganache. Tip the chocolate buttons into a heatproof bowl and set to one side. Mix the can of coconut cream well to combine the solids and water, then pour it into a small pan and heat till steaming but not boiling. Pour the hot coconut cream over the chocolate buttons and stir till melted. Set to one side and leave to thicken at room temperature. This should take about 1 hr.
8.
Remove the cake from the oven and leave it to cool in the tin for 10 mins. Carefully remove it from the tin and leave to cool completely on a wire rack.
9.
When you're ready to serve, place the cake on a serving plate. Give the ganache a good stir and it will set. Trickle in a little boiling water and whisk vigrously to make it smooth and spreadable again. Generously spread the chocolate ganache on top of the cake and decorate with chocolate bunnies, mini chocolate eggs, Easter egg shards, raspberries and orange zest.
10.
Great Ganache
As the ganache cools, it may set a little too hard. Whisk it vigorously, trickling in a tbsp of boiling water and it will come back together. It will also be lighter and fluffier.
11.
Eat Me, Kep Me
The cake will keep in a sealed container for up to 3 days.
12.
Beet It
This recipe will make more beetroot purée than you need for this cake. Any leftover beetroot purée can be popped in a sealed container in the fridge for 3 days or in the freezer for up to 3 months. The purée can be used to make more cake, stirred through risottos, or mixed with hummus for a delicious pink dip.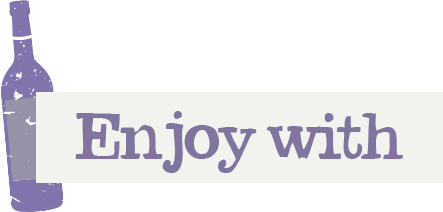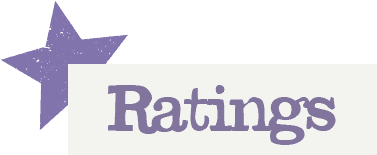 You'll need to log in to leave a rating & comment