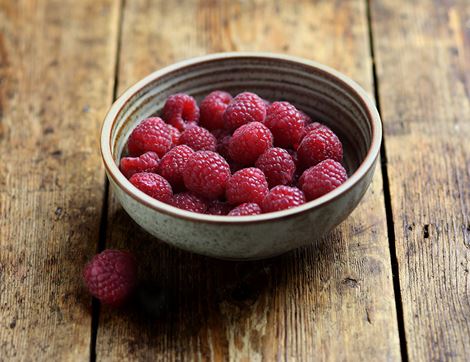 Our raspberries are so delicious it's almost criminal to do too much to them. Pile atop a cream-capped meringue or simply pluck them from straight from the box. Country of Origin - England Class - Minimum Class 2
Our Raspberries hail from Herefordshire where, in 1987, Angus Davison started Haygrove by planting a hectare of berries on rented land as part of his degree thesis. Haygrove is passionately committed to measuring its business impact across a Triple Bottom Line of People, Planet and Profit. Their British berries are grown on carbon-neutral farms. They've also developed a program to deliver community gardens, accessed by people in the local community who seek additional support.
As raspberries are so soft it's best to do little to them before serving. If you want to wash them be as gentle as possible or they'll easily get mis-shapen. Raspberries are fragile fruit and don't keep well, so eat them within a couple of days. Keeping them in the fridge will make them last a little bit longer. You can also freeze them by spreading them out on a tray to allow them to freeze without sticking to each other. Once they're frozen through you can transfer them to a different container.
Turn it into one of these
You might also like to try...