Sesame Minute Steak Sushi Bowls
2 people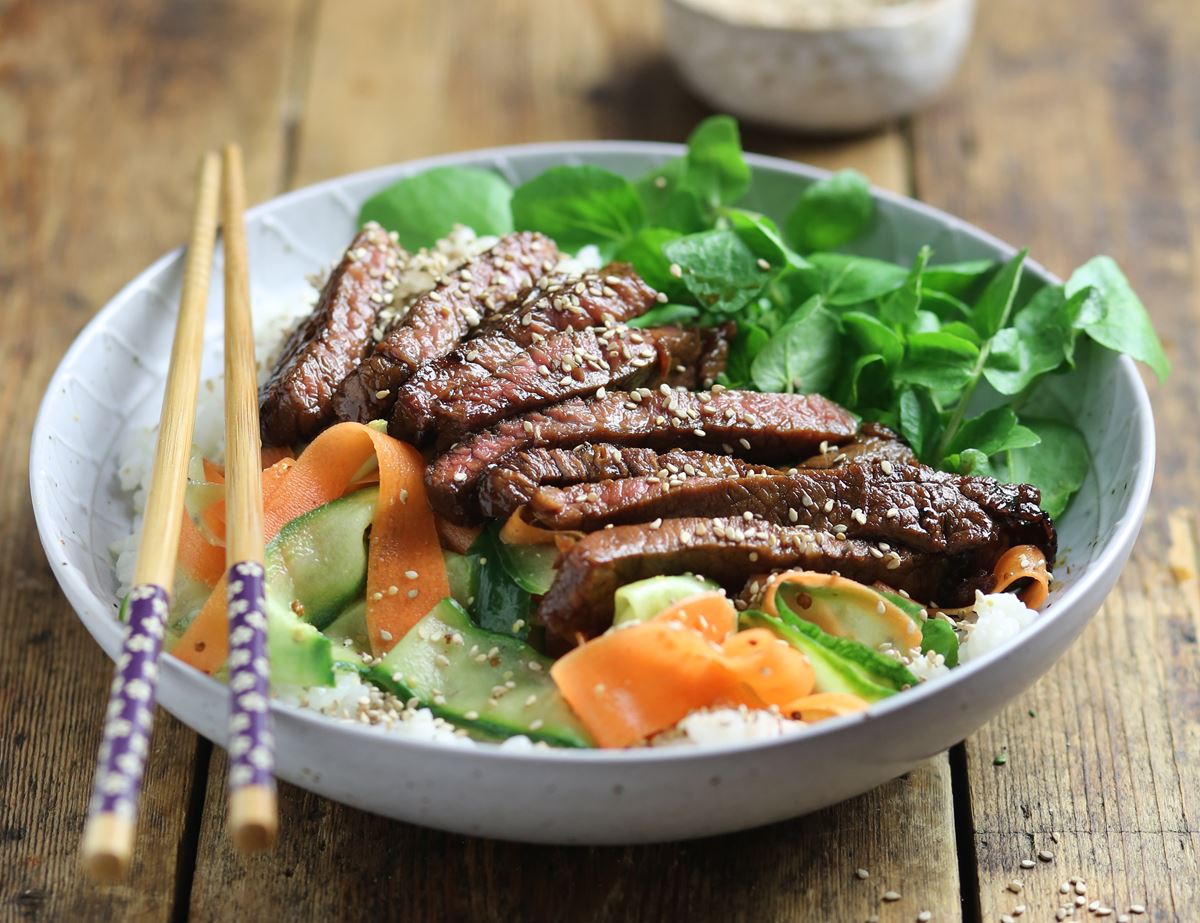 Take one bowl of sticky rice, top with ginger and mustard pickled veg, peppery watercress, and organic minute steaks marinated in honey and tamari and what do you have? A bowl brimming with brilliance. Take a bow: dinner is served.
Ingredients
2 tbsp honey
50g tamari
2 top rump minute steaks
200g risotto rice
A thumb of ginger
1 tbsp wholegrain mustard
1 tbsp caster sugar
2 tbsp brown rice vinegar
½ cucumber
1 carrot
25g sesame seeds
50g watercress
½ tbsp olive oil
400ml boiling water
Sea salt
Prep: 25 mins | Cook: 20 mins

Method
1.
Pour 2 tbsp honey, the tamari and ½ tbsp oil into a shallow bowl and mix well. Lay the steaks in the marinade and turn a few times to coat them. Set aside to marinate for 10-15 mins.
2.
While the steaks marinate, tip the rice into a small pan. Pour in 400ml boiling water. Add a pinch of salt. Cover. Bring to the boil, then turn the heat down and very gently cook for 15-20 mins till the water has been absorbed and the rice is sticky. Take off the heat.
3.
While the rice is cooking, peel and grate the ginger into a medium bowl. Add 1 tbsp mustard, ½ tbsp sugar, 1 tbsp rice vinegar and a pinch of salt. Using a veg peeler, peel ribbons off the cucumber and carrot (trim and peel the carrot first). When you get to the middle cores, stop and finely chop them. Mix the veg and gingery mixture together and leave to pickle.
4.
Place a frying pan on a medium heat. Tip in the sesame seeds and toast for 2-3 mins till golden. Transfer to a small bowl.
5.
When the rice has cooked, stir through the rest of the caster sugar and brown rice vinegar. Place the lid back on and leave to rest. The rice will stay warm in the pan.
6.
Place the frying pan you toasted the sesame seeds in on a high heat till it's smoking hot. Shake most of the marinade off the steaks. Lay them in the hot pan and cook for 20 seconds on each side. Lift out of the pan and place on a plate. The steaks will be mediumrare. Cook a little longer in the sauce if you prefer your steaks more well cooked.
7.
Pour the marinade into the pan and bring to a bubble. Simmer for 2 mins then place the steaks back into the pan. Sprinkle in most of the sesame seeds. Cook for 15 seconds on each side. Take off the heat. Lift out the steaks and thinly slice.
8.
Spoon the sticky rice into a couple of bowls. Top with a handful of watercress each, then top with the pickled vegetable ribbons, pouring over the marinade. Top off with the sliced steak. Drizzle with any sauce from the pan and sprinkle over the remaining sesame seeds to serve.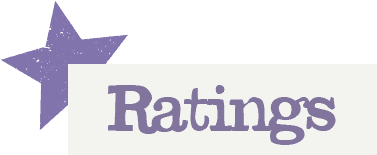 You'll need to log in to leave a rating & comment