Porcini Minute Steak, Chips & Quick Bearnaise Sauce
2 people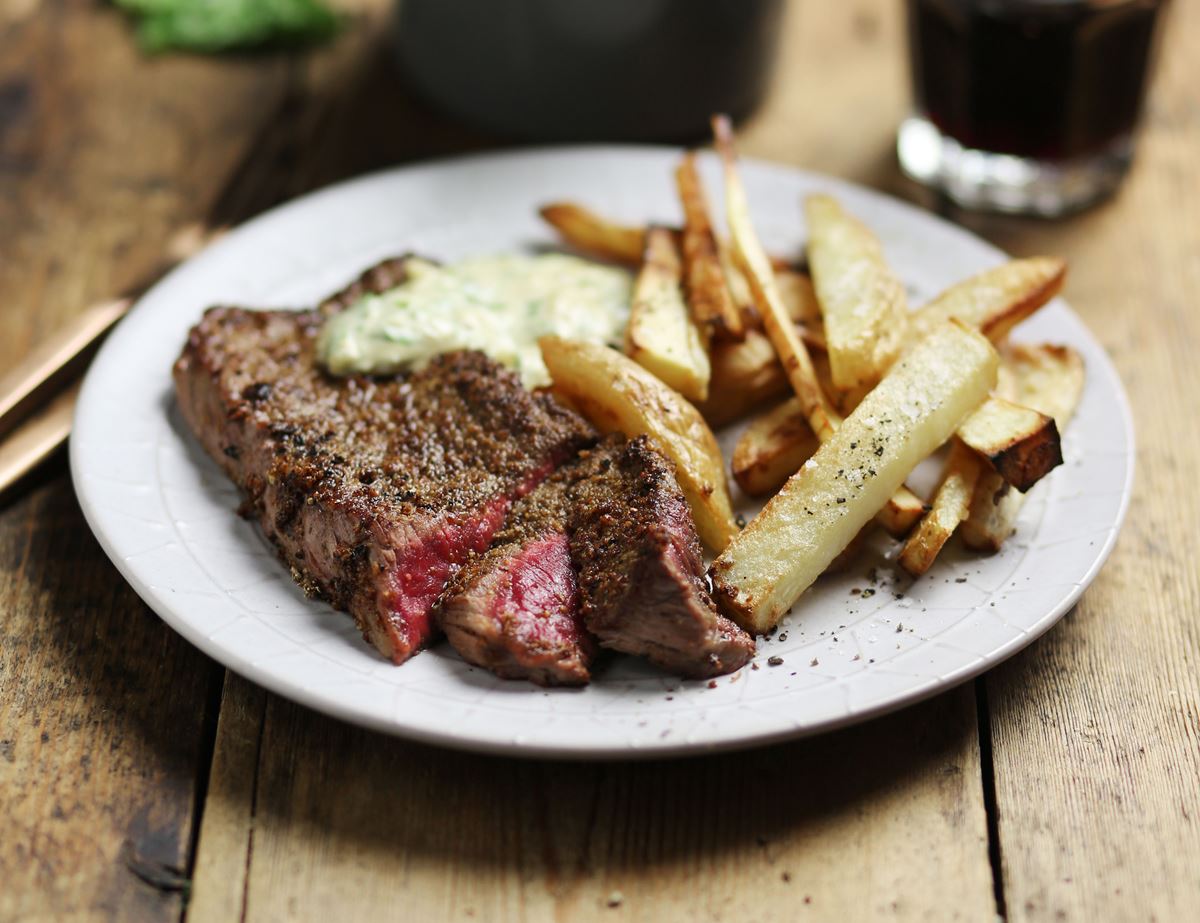 Flash fry truffly porcini-dusted rump minute steaks and serve with golden chips on the side and a speedy but sophisticated bearnaise sauce to dunk, drizzle and smother the lot.
Ingredients
250g parsnips
250g potatoes
12g dried porcini mushrooms
2 rump minute steaks
2 shallots
1 egg
1 tbsp cider vinegar
1 tbsp Dijon mustard
1 tsp caster sugar
100g crème fraîche
A handful of flat leaf parsley
1 lettuce
1½ tbsp + 4½ tsp olive oil
Sea salt
Freshly ground pepper
Prep: 20 mins | Cook: 30 mins

Method
1.
Preheat your oven to 200°C/Fan 180°C/Gas 6. Scrub and trim the parsnips and potatoes. Cut into slim finger-sized lengths. Place on a baking tray and drizzle with ½ tbsp olive oil. Season well. Slide into the oven to roast for 30 mins, flipping the veg over halfway through.
2.
Tip the porcini mushrooms in to a high-speed blender or spice blender. Blitz till you have a fine powder. If you have larger chunks left after blending, pass through a sieve to remove the larger pieces. Tip the porcini powder onto a plate.
3.
Rub the steaks with 2 tsp oil each. Season. Then place the steaks on the plate with the porcini powder and turn them to coat thoroughly, using as much of the powder as possible. Set to one side.
4.
Peel and finely chop the shallots. Heat 2 tsp oil in a small saucepan. Add the shallots and cook for 5 mins till softened. Turn off the heat and set aside.
5.
Separate the egg, placing the yolk in a bowl. Add 1 tsp cider vinegar, 1 tbsp Dijon mustard, ½ tsp oil and a pinch of sugar. Mix together. Spoon in the crème fraîche. Finely chop the parsely leaves and stalks and add to the bowl.
6.
Roughly tear the lettuce. Whisk 1 tbsp cider vinegar with 1 tbsp olive oil. Add 1 tsp sugar and seasoning. Mix well. This is your dressing for the lettuce. Keep separate and toss together when ready to serve.
7.
When the chips have 10 mins left to cook. Place a frying or griddle pan on a high heat. When hot, place the porcini dusted steaks into the pan and cook for 30sec on each side for rare steaks. Cook a little longer if you prefer you steaks more well done. Place on a plate and cover with foil to rest.
8.
Place the pan with the cooked shallots back on the heat. Tip in the egg yolk and crème fraîche mix. Cook on a gentle heat for 5 mins till bubbling.
9.
Place the steaks and chips on to a couple of plates. Serve with a good dollop of Bearnaise sauce and the dressed lettuce.
10.
TIP: Your left over egg white will keep covered in your fridge for 2 days. How about whipping up some roasted spiced nuts using your egg whites? Whisk till light and fluffy. Sprinkle in some smoked paprika, ground cumin and fennel seeds. Add a couple of handfuls of your favourite nuts , some chopped rosemary leaves and a good pinch of salt. Fold together. Spread in a single layer on lined baking tray. Roast for 20 mins or so till golden and crunchy.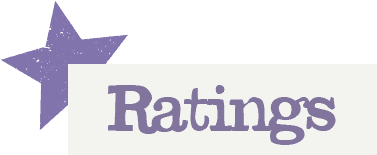 You'll need to log in to leave a rating & comment