Big Chips Loaded with Goat's Cheese, Pickled Onions & Honey
4 people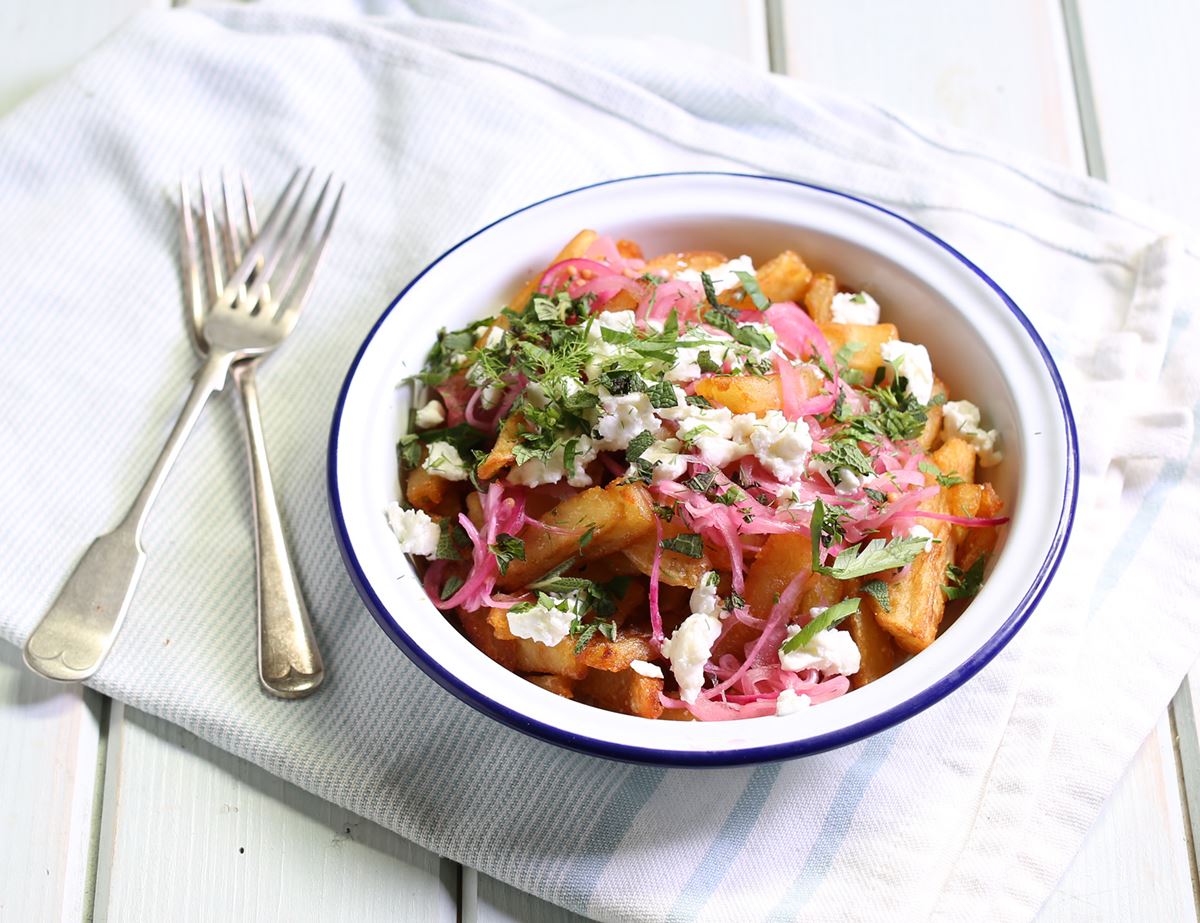 Salt and vinegar are the classic flavour enhancers for chips. These big chips take it one step further, topping double-fried chips with sweet and sour pickled red onions spiked with mustard seeds for a pop of heat. Creamy goat's cheese adds richness while honey is the surprise secret ingredient that ties all the flavours together. A pinch of soft garden herbs, such as parsley, basil, mint and chives, adds a touch of summertime freshness.
Ingredients
For the pickled red onion:
1 red onion
50ml cyder vinegar
30g caster sugar
½ tbsp sea salt
1 tsp yellow mustard seeds
For the chips:
1 tsp sea salt
1.6kg potatoes
5 ltrs rapeseed oil
To serve the chips:
A handful of mixed garden herbs, such as dill, mint, flat leaf parsley, chives
100g soft goat's cheese
4 tsp wildflower honey
Prep: 30 mins | Cook: 30-40 mins

Method
1.
Start by making the pickled red onion: peel and finely slice the red onion – use a mandolin set to the lowest setting to get the slices as thin as possible. In a large bowl, mix together the vinegar, sugar, salt and mustard seeds. Add the onion and stir to mix. Cover and set aside. This pickle is ready in 1 hr and can be made up to 1 week in advance. Store in a sealed tub or jar in the fridge.
2.
Make the chips: fill a large pan with water. Add 1 tsp sea salt, cover and bring to the boil. crub the potatoes and slice them into finger-length chips. When the water in the pan is boiling, add the chips to the pan. Bring the pan back to the boil and simmer for 1 min. Drain the chips and spread them out on a board or tray lined with kitchen paper. Leave them to dry and cool completely.
3.
Heat 5 ltrs rapeseed oil in a deep fat fryer to 130°C/270°F. Put the chips into a fryer basket and sink them into the fat (if your fryer is small, do this in batches to avoid crowding the fryer). Fry for around 8 mins till the chips look like they are forming a skin. Lift them out, drain and then spread out on a board or tray again. Let them cool completely. This can be done 24 hrs before you want to serve the chips - store them in a tub in the fridge.
4.
Before you fry your chips for the final time, roughly chop the herbs, discarding any tough or woody stalks.
5.
Heat the oil to 180°C/Fan 360°F in the deep fat fryer. Put the chips back into the fryer basket and fry for around 5 mins till they are golden brown. Drain, tip into a bowl and toss with a pinch of salt. If your fryre is small and you need to cook the chips in batches, then keep the cooked chips warm in a heatproof dish in your oven, set to its lowest setting.
6.
Tip the chips into 4 serving dishes. Dot each serving with 25g goat's cheese, 1 tbsp pickled red onions (but not the juices), 1 tsp honey and the chopped herbs. Serve straight away.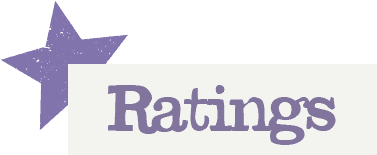 You'll need to log in to leave a rating & comment