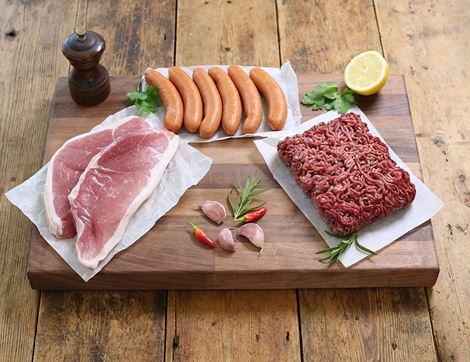 Enjoy a weekly organic meat box delivery with our Marvellous Meat Box, packed with three delicious, changing cuts of free-range, high-welfare meat.

All of the meat in our organic meat subscription boxes comes from trusted farms with exceptionally high welfare standards, where animals can roam freely, and are treated with care and respect. Our organic, British pork is from Daylesford, where Carole Bamford has been committed to sustainable, organic farming for more than 35 years. Our grass-fed beef and lamb comes from Daylesford and from Eversfield Organic's Mark Bury (with the help of his son Hamish and daughter Anna) at Ellacott Farm in Devon. Our organic, British chicken is raised on Chris Labdon's award-winning Devonshire farm.

We guarantee that you'll always have three days, including delivery day, before the expiry dates on your meat, and everything is suitable for freezing. You'll even save when choosing our organic meat boxes compared to buying individual cuts, and your weekly box will be delivered sustainably to your door.

Sometimes, we may be short of certain cuts of meat. If that ever happens, we'll be sure to pop something similar into your box.
Monday 17th January
Monday 24th January
Hot Dogs, Organic, Helen Browning (250g)
Helen Browning's award winning organic hot dogs are miles away from the supermarket stuff. They're made from organic free range British pigs, are full of flavour and as meaty as they come. Gluten free and brilliant for kids (of all ages).

Ingredients: pork*, spices* (ginger*, garlic*, coriander*, nutmeg*, paprika*, pepper*, onions*, carraway*), dextrose*, salt, sodium nitrite, ascorbic acid, sodium citrate
Lamb Mince, Organic, Daylesford (400g)
Stewing Steak, Diced, Organic, Eversfield Organic (400g)
Slow and steady wins this race when it comes to this delicious organic stewing steak. That way you can coax all the deep flavours out of it. These brilliant cuts of organic beef will enrich any stew you have simmering on the hob.


Country of Origin - England
Chicken Drumsticks, Organic, (500g avg, pack of 4)
Drum roll, please. These four juicy chicken drumsticks are the stuff picnics and barbecues were invented for. Tender and lean the meat just falls off the bone.
Country of Origin - England
Fajita Beef Strips, Organic (400g)
Pork Mince, Organic, Abel & Cole (400g)
Pork mince is much softer and lighter than beef or lamb and it's wonderfully rich. We've all had it in a lasagne but take advantage of its versatility. You could make everything from your own burgers to Chinese dumplings to Swedish meatballs with the lovely stuff.
Country of Origin - England
Allergen information: Abel & Cole handles celery, celeriac and nuts on site. Due to our packing process and re-use of boxes there is a risk of cross-contamination from these, and all other allergens.
On occasion we may be left short of certain meat and fish. If that ever happens, we'll be sure to pop something similar into your box.
You might also like to try...