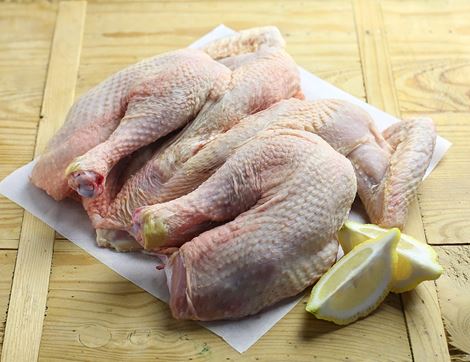 Spatchcock Chicken, Organic, Abel & Cole (1.36kg avg)
Please note: This chicken is priced by weight. The values listed are averages, and the product you receive may weigh up to 20% more or less than stated. We will adjust the price accordingly, and if you receive a product that weighs over this 20% the charge will be capped at an added 20% of that shown. If it falls under 20% we will charge accordingly.

Here's a very different way to enjoy a whole organic chicken. This chicken has been spatchcocked, which is just an amusing way to say that it's been flattened out. It's really quite brilliant, as this means you still get all the juicy flavours of cooking a whole chicken, but it takes just half the time. Great for the bbq but just as good in your oven.
Both our organic and high welfare, non-organic chicken comes from Wood Green Farm in Devon – famed for its high-welfare practices. Farm owner, Chris Labdon, rears his flocks with a real focus on their wellbeing. Chris has even won the Compassion in World Farming Good Chicken Award for his efforts. His birds live in low-density colonies. With plenty of space to roam and grow slowly. All of which makes for a succulent and tender taste.
Food Contact Material: PLASTIC - Other (Not Currently Recyclable)Contains BPA: No - does not contain BPA
Turn it into one of these
You might also like to try...