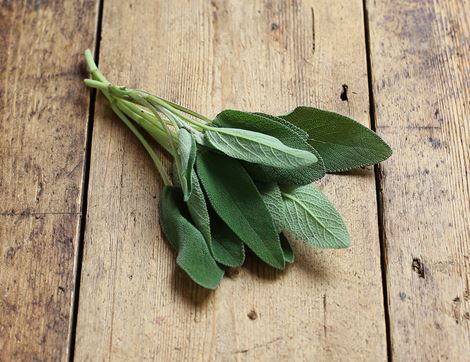 With a slightly peppery flavour, sage works perfectly with meat dishes, sprinkle it on a steak or joint of beef. It also works well with cheese and we particularly recommend combining it with our Abergavenny goat's cheese in a risotto or pasta dish.

Country of Origin - Italy
Class - Minimum Class 2
Simon Weir, of Turfcroft Herbs, grows most of our herbs, in a small farm in the New Forest. He has been growing herbs for nearly 30 years now, and has always shied away from using chemicals and pesticides.

During the winter season, we source some of our herbs from a family-run farm set up by Francesco Barduca in 1977 on the outskirts of Borgoricco in Italy. Francesco Barduca has always combined a love for the soil with an awareness of the need for environmental protection.
Sage is the ideal ingredient to add to dressings and sauces and holds well with roasts that require long cooking. This great herb can also be used in soups, beans and meat or sprinkled fresh over salads. Sage is also one of the best herbs for seasonings. Keep wrapped up in a plastic bag, in your fridge. This will retain moisture and keep it fresh for you.
Turn it into one of these
You might also like to try...