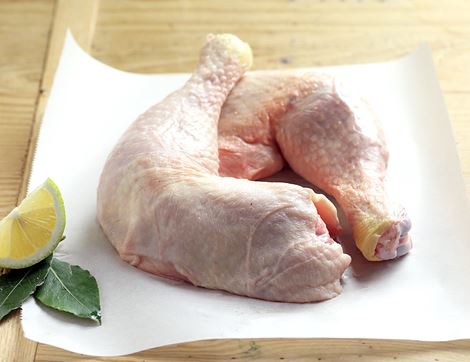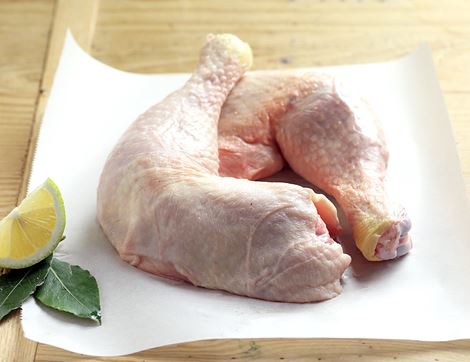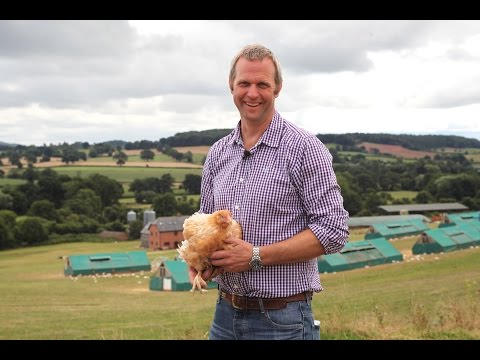 Chicken Legs, Bone In, Organic, Abel & Cole (640g avg, pack of 2)
From free-range coops. With room to roam. Our organic chicken legs add richness and tenderness to any dish you choose.

What makes me special?

- Raised on the award-winning Wood Green Farm in Devon – famed for its high-welfare principles
- Farm owner, Chris Labdon, was awarded The Good Chicken Award by Compassion in World Farming because of his passionate focus on his flock's welfare
- The organic chickens on this farm grow at a natural rate, developing slowly with plenty of room to roam
- They receive only organic feed, alongside what they find when foraging
- Perfect for one-pot recipes, casseroles and roasting
- Please note these chicken legs are priced by weight. We'll adjust the price accordingly. This extra charge will be capped at an added 20% of that shown. If it falls under 20%, we'll charge accordingly.
Both our organic and high welfare, non-organic chicken comes from Wood Green Farm in Devon – famed for its high-welfare practices. Farm owner, Chris Labdon, rears his flocks with a real focus on their wellbeing. Chris has even won the Compassion in World Farming Good Chicken Award for his efforts. His birds live in low-density colonies. With plenty of space to roam and grow slowly. All of which makes for a succulent and tender taste.
Chicken should be kept refrigerated, wrapped and away from other foods in the bottom of the fridge. Chicken can be frozen, but should be thoroughly defrosted before cooking. Our meat and poultry is vac-packed, which keeps the packaging to a minimum. Upon opening, vac-packed meat can sometimes have a strong smell and be darker in colour, but don't worry, remove the plastic & let the meat rest for 10-15 minutes & the odour will disappear and the colour will return to normal. To roast your drummers, place them on a baking tray in a preheated oven at 190C/374F/gas 5 for 30-35 minutes. To barbecue, place on a preheated barbecue for 25-30 minutes, turning occasionally. Cook thoroughly until the juices run clear when pierced with a fork and there is no pink meat. Cooked chicken should not be reheated once it has cooled.
Food Contact Material: PLASTIC - Other (Not Currently Recyclable)Contains BPA: No - does not contain BPA
You might also like to try...
(£2.90 per 100g)

10% off

Approx 7-8 per pack. Minimum 3 day shelf life

(£2.50 per 100g)

Save compared to buying separately

(87.9p per 100g)

Better value - larger pack. This price is an average and may vary with weight