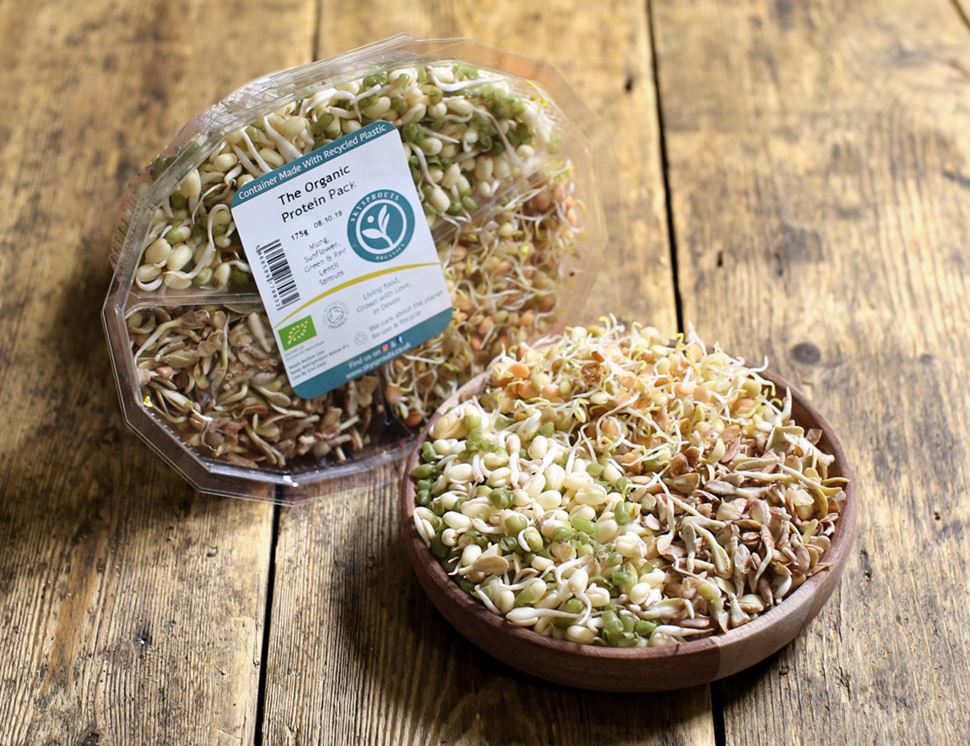 Protein Pack, Organic, Sky Sprouts (175g)
A trio of brilliant organic sprouts that each bring a unique flavour to the table and are healthy to boot. Sweet mung sprouts, a staple of Asian cuisine, are right at home in stir-fries, curries and soups. Sprouted lentils are plump and have a slightly nutty taste, making them great in salads and sauces. And sunflower seeds are an easy snack – add some to your morning smoothie or scatter on your salad.

Just a little note on your sprouts. As they're a living plant they keep growing once packed. That means, sometimes the root of the sprout grows tiny root hairs, as the sprout searches for water. Often mistaken for a white mould, these 'rootlets' in fact mean your sprouts are alive and well, and they're perfectly safe to still eat. If you want the rootlets to disappear though, just give the punnet a little shake.


SkySprouts was founded in 1984 by Brett and Kathy Kellett. Everyone thought they were having a hippie phase when they bought an acre of land and moved to Devon to grow organic veg, long before organic food became popular. Kathy read about the health benefits of sprouts and started sprouting seeds on the kitchen windowsill in jars. Local people couldn't get enough, and before they knew it, SkySprouts was born! 30 years later, daughter's Ellisha and Kelda are the second generation of sprout growers and are still growing their tasty superfood sprouts on the same organic farm in Devon.
Organic Mung Sprouts* (33.3%), Lentil Sprouts* (33.3%) (18.3% Crimson Lentil, 12% Green Lentil), and Sunflower Seed Sprouts* (33.3%)

*= produced to organic standards

Abel & Cole handles celery, celeriac and nuts on site. Due to our packing process and re-use of boxes there is a risk of cross-contamination from these, and all other allergens.
Use by expiry date. Oce opened can be resealed and used until best before date. Keep refrigerated. Not suitable for freezing. Can be eaten raw. Don't forget to wash your fruit and veg before use.
Food contact material: PET (Recyclable)
Contains BPA: No
You might also like to try...