15 essentials for a healthy food shopping list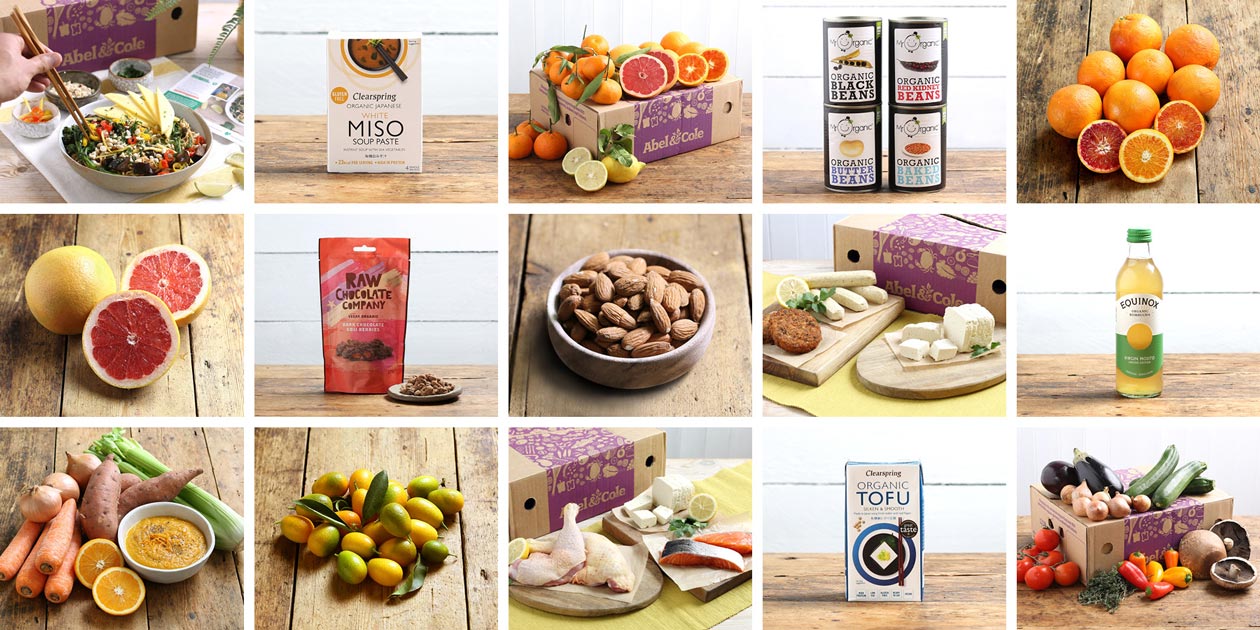 Finding it hard to plan a health-conscious weekly shop? Deciding what to pop on your list can be tricky, especially when balancing simple, speedy meal prep with sourcing sustainable, top-quality ingredients. So, to help lend a hand, we've brought together a healthy food shopping list, and recipes that you can whip up in a pinch.
Boxes and Bundles
Getting your weekly shop delivered right to your door can make a big difference to your regular routine, but our reliable boxes and handy bundles go one step further. As well as being a convenient way to shop, they're packed with sustainably-sourced food and drink that's full of natural goodness. Every one of our ingredients comes from expert organic farmers or accredited wild foragers, bringing you fresh crops that are grown alongside nature, not against it. That means that every forkful boasts bold, natural flavours, unaltered by artificial pesticides and fertilisers. So, which box should go on your healthy food shopping list?
The perfect way to begin our list, Nothing takes the hassle out of home cooking more easily than our new Meat-Free Meal Kits. Dreamt up by our amazing recipe experts, the 12 weekly dishes put six vegan and six veggie choices on your menu. Each recipe features wild or organic ingredients that have been pre-measured to help fight food waste, as well as a handy recipe guide that makes meal prep a breeze. What's more, we discovered that our Meal Kits emit 63% less carbon on average, compared to their equivalent meat dishes. Check out this week's menu and add your favourites to your healthy food shopping list, to enjoy planet-friendly food that's easy to cook.




Looking to cut back on the meat in your weekly menu? Our Eat Less Meat Box is here to help make that sustainable switch simpler. You can easily add more plant-based goodness to your cooking with our changing, weekly selection. Every week, you'll receive one free-range meat cut, one responsibly-sourced portion of fish and one delicious veggie option. Perfect for mixing it up in the kitchen and switching a meat-free meal into your week.




Want the secret to easy, vegan meal planning? Then our organic Plant-Powered Favourites Box is the box for you. Each week you'll receive a changing, weekly selection of tofu, burgers and other vegan treats. You can whip up delicious dinners like tofu stir fries and plant-powered burgers, for a totally plant-based menu that's full of potential. A perfect addition to any healthy vegetarian food shopping list.




Bring the Mediterranean sunshine to you, with our All Med Veg Box. Bursting with the tastes and colours of the Med, this box enriches your cooking with healthy crops from our favourite growers. Inside you'll find six generous portions of fresh, organic veg, as well as a specially selected, flavoursome additions like garlic, chillies or herbs. This selection is perfect for adding more hearty, wholesome veg to your family-friendly roasts and tray bakes.




Enjoy the very best, seasonal, organic citrus fruits, delivered to your doorstep each week. Our new Citrus Fruit Favourites Box packs in four delicious portions, including three types of eating citrus and one flavouring citrus, all grown by our trusted farmers. The citrus selection is perfect for creating bitter-sweet breakfasts, juicing, and organic snacking. The single flavouring citrus helps add a zesty twist to salad dressings, teas and everything in between. For a naturally vitamin-rich boost to your weekly menu, this selection ticks all the boxes.




Whip up a warming, winter soup with a handy bundle of organic ingredients that makes writing your healthy food shopping list much easier. With our bundle, you'll enjoy a rotating collection of four fresh fruits or veggies as well as one bunch of herbs, grown by our fantastic farmers. You can rely on this hearty selection to serve up fresh, new flavours, so you can eat with the seasons. There's never been an easier way to experience the natural, organic goodness that fills our fields throughout the winter.




Pick up this versatile pack of Mr Organic's beans and a whole host of recipes are right at your fingertips. Mr Organic grow all their beans in fertile fields using carefully monitored, organic standards so that each one has a rich, natural flavour without any added sugar. In each pack, you'll find a tin of organic baked beans, red kidney beans, black beans and butter beans, perfect for cooking up cosy comfort dishes as well as protein-rich meat alternatives. Whether you're spooning beans onto toast, stirring up a hearty veggie chilli or a wholesome stew, this four-pack is an essential for any healthy food shopping list.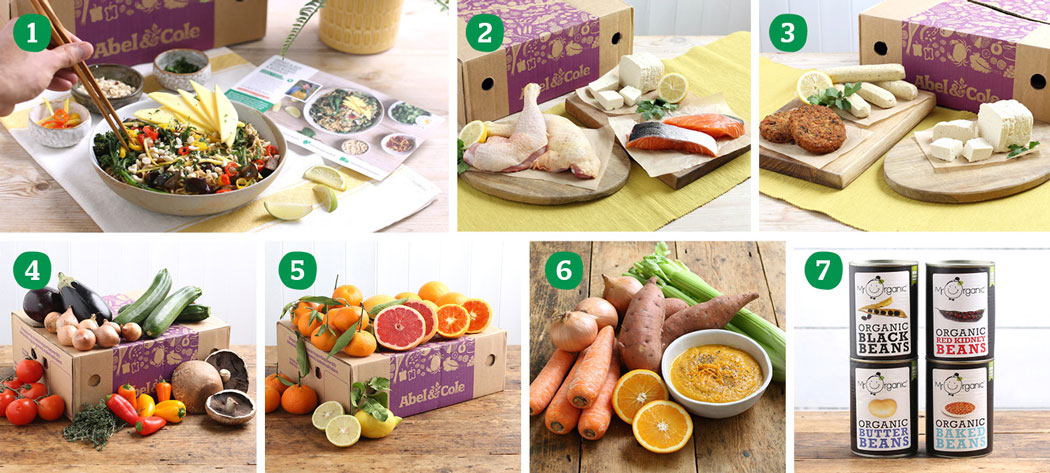 Healthy January Stars
Looking for something new to change up your healthy eating habits? We added a variety of new finds to our store this January, from seasonal fruit & veg to fresh flavours from our favourite makers and crafters. If your healthy food shopping list needs a refresh, we're here to help with a few recommendations.
Our crop of organic blood oranges are a seasonal, Sicilian treat from long-time farmer Giangiacomo Borghese. The blush of these tangy, scarlet fruits deepens during the cool nights of the winter season, darkening to a rich red that matches the sunsets over Mt Etna where they grow. Their deliciously sweet juice is perfect for breakfast while the flesh makes for an incredible, vibrant guac dip.




Fresh, organic grapefruit is a healthy breakfast favourite like no other, providing plenty of Vitamin C per juicy portion. The notoriously bitter fruit has a powerful taste but adding a sprinkling of sugar gives it a refreshingly sweet flavour that'll pep up your morning routine. Try poaching chicken breasts in grapefruit juices for a plate of bright flavours with a sweet and sour kick.




The winter crop of organic kumquats is another seasonal favourite that we source sustainably from the Mediterranean coast. Our kumquats come from Francisco Espinosa's farm near Malaga in southern Spain, where these bite-sized, citrussy gems have been grown for generations. Just remove the leaves and enjoy them all in one go as a bitter-sweet snack that'll add zesty flavour to your day.




When it comes to your healthy food shopping list, there's still room for something to snack on. Take the Raw Chocolate Co.'s organic Chocolate Goji Berries for example. These sweet and sour super berry gems make for a moreish treat that's free of refined sugars and synthetic sweeteners. Instead, the berries are simply smothered in the Raw Chocolate Co.'s signature 72%, sun-dried cacao. The berries are never heat treated, keeping them as close to nature as can be, so that every bite bursts with flavour.




Almonds are delicious things, but they're also packed with vitamins and fibre too. Just a handful of whole almonds, toasted, sprinkled over yogurt or eaten out of the packet, can give your day a nutritious boost, in the place of less healthy snacks. Start your day the right way by enjoying chopped almonds in a bowl of fruity, crunchy granola and bananas.




Every cook will find something to love in Clearspring's organic Japanese Silken Tofu. This endlessly versatile staple may be made with only three simple ingredients, but it's taken decades to perfect the creamy, smooth and delicate texture that makes it beloved the world over. Try it raw in salads or added to a hearty miso soup with earthy mushrooms full of umami flavours.




An instant organic miso soup paste with a distinctive difference. During the 18 years he lived in Japan, Clearspring's founder Christopher Dawson became an expert on miso quality and the Clearspring range is his selection of the finest traditionally fermented Japanese miso. Which means, it's the best around. The good people at Clearspring have blended the mellow flavour of sweet white miso with exotic sea vegetables to bring you a milder, lighter taste. It's a perfect boost of umami flavour to add to your healthy eating menu.




Freshen up your healthy food shopping list with a vibrant bottle of Equinox's Virgin Mojito Kombucha. This delicious drink combines cooling mint, zesty lime and Equinox's award-winning kombucha, to create a wonderfully refreshing mocktail. Every 100% vegan bottle is a perfect, sophisticated alternative to heavy alcoholic beverages. Take a sip and experience a bright burst of freshness.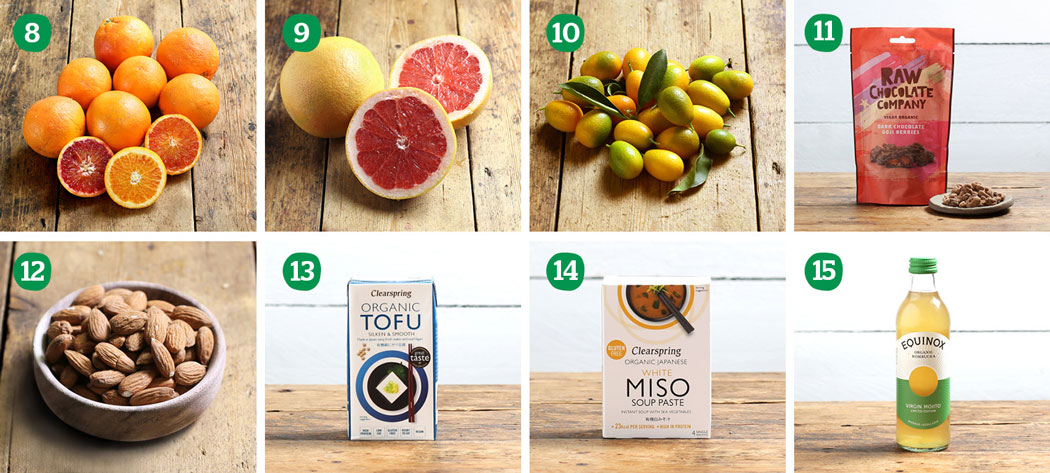 Published January 2022
Just a handful of these wholesome picks can help make writing your healthy food shopping list a little easier. We're all about discovering new organic delights and eating with the seasons and you can always find new, exciting additions to our store, here.


Back to top