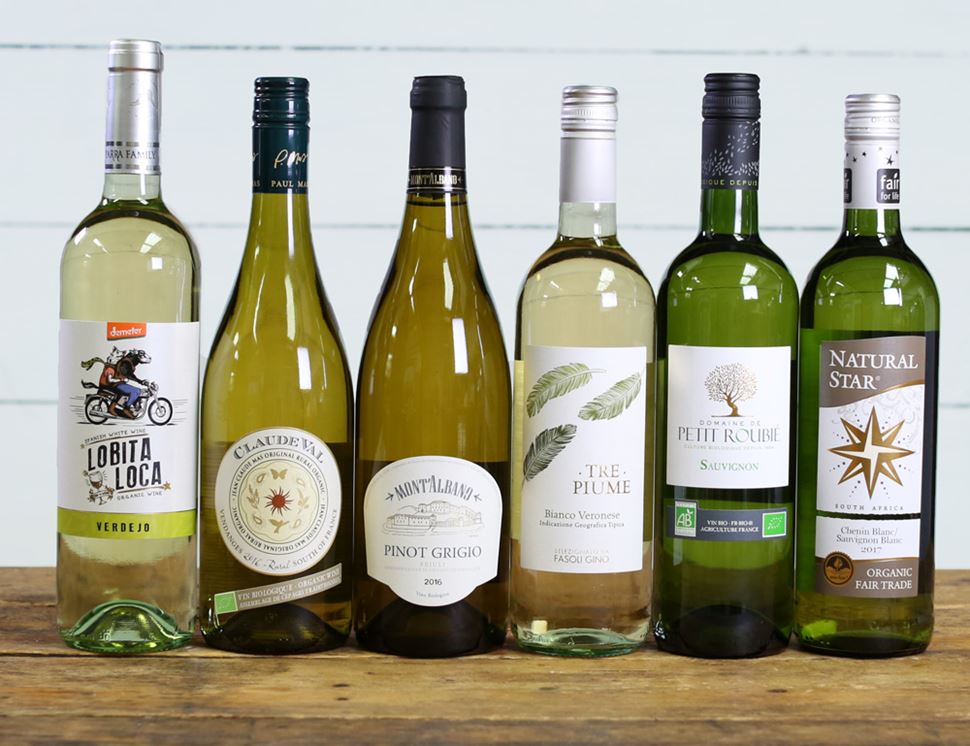 White Wine Collection, Organic (6 bottles)
A case of six fresh, incredible wines carefully chosen by the award-winning folks at Vintage Roots. There's wines from France, Spain and Italy, a mix of light organic grapes and floral notes. A staple for dinner parties.

Lobita Loca Verdejo (Spain) 2018
Trust Spain's veteran white variety Verdejo to deliver here in this biodynamic package from La Mancha, South of Madrid. Expect notes of ripe lime skins, cantaloupe melon and white peach.

Natural Star Chenin/Sauvignon (South Africa) 2018
From organic wine and fair trade powerhouse Stellar in the Western Cape of South Africa comes this dry, easy drinking Chenin Blanc with a dash of Sauvignon Blanc donating a touch of extra gooseberry picant freshness to the mix.

Mont'Albano Pinot Grigio (Italy) 2018
Located to the North of Venice in the region of Fruili-Grave; Pinot Grigio reigns supreme and for good reason. The marginal climate and well-drained stony soils result in wonderfully fresh whites with personality and balance to boot. Look out for rose petals, Comice pears and apricot.

Petit Roubie Sauvignon Blanc (France) 2018
A total Summer refresher from France's land of bounty and beauty; the region of Languedoc. Situated by the coast, veteran winemaker Olivier Azan delivers cut grass, crisp green apple and wonderfully lively acidity from the world's favourite refresher variety, Sauvignon Blanc.

Claude Val Blanc (France) 2018/19
A wonderfully textural blend of varieties indigenous to France's South-East region, such as Grenache Blanc, Vermentino, Mauzac, Chenin Blanc and a touch of Sauvignon Blanc. A lemon rind and honeyed nose gives way to a fantastically rich and vivid palate. Fantastic both with food or as an aperitif.

Tre Piume Bianco (Italy) 2018
From the rolling green hills of Veneto in North-East Italy; a crisp but balmy white made withlocal characters Gargegena (the key proponent of Soave), Trebbiano and a dash of international luminary, Chardonnay. The result is a fresh, peachy number with a subtle almond curve on the finish.
You might also like to try...