Warm Halloumi Salad with Tahini Dressing
Prep: 15 mins
Cook: 5 mins
A crunchy chopped salad dressed in a creamy tahini sauce and topped with golden brown nuggets of melting halloumi cheese and a refreshing scattering of mint. Sounds good. You don't mind if we share, do you?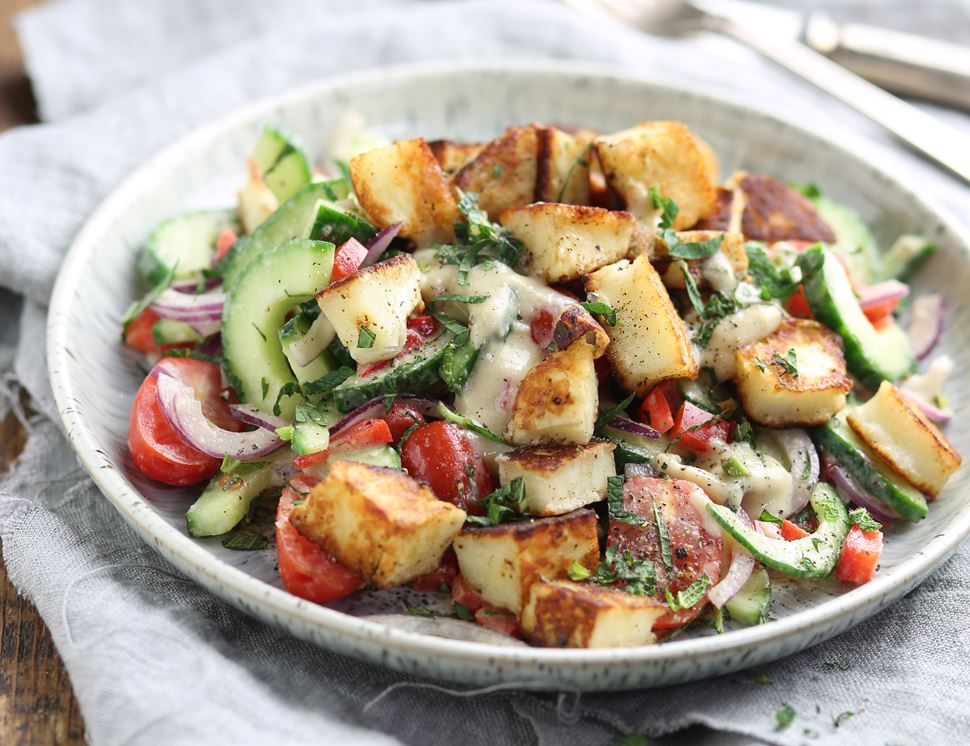 Ingredients you'll need
1 cucumber
1 red pepper
1 red onion
250g baby plum tomatoes
A handful of mint, leaves only
1 lemon
1 garlic clove
40g tahini
150g halloumi
From your kitchen
2 tbsp olive oil
2 tbsp cold water
Sea salt and ground pepper
Step by step this way
1.

Halve the cucumber and scoop out the seeds with a teaspoon. Slice the cucumber into half-moons, around ½cm thick. Pop in a large bowl.

2.

Halve, peel and thinly slice the red onion. Add to the cucumber. Halve the baby plum tomatoes and add them too. Halve the pepper, scoop out the seeds and white pith and then finely chop it. Add it to the bowl.

3.

Pick the mint leaves off their stems. Finely slice and add most of them to the bowl, keeping a little back for garnishing.

4.

Juice half the lemon into a smaller bowl. Peel and grate or crush the garlic, Add to the bowl with 2 tbsp olive oil, 2 tbsp cold water and a good pinch of salt and pepper. Whisk together till combined, then add the tahini and stir to make a smooth sauce. Add half the sauce to the veg and toss to coat. Divide the veg between 2 plates and set aside.

5.

Warm a dry frying pan over a medium heat for 2 mins. While the pan warms, chop the halloumi into dice, around 1cm thick. Add them to the pan and fry for 3-4 mins, turning now and then, till golden brown all over. Top the salads with the halloumi. Drizzle over the remaining tahini sauce and scatter over the last of the mint to serve.
Tip

This goes well with...
The mix of hot, salty halloumi and cool, refreshing salad is a treat by itself. But if you'd like to make it go further, toast some pitta breads and serve them on the side for scooping. This salad's also a great side dish for grilled lamb chops or roast lamb. Add couscous with plenty of chopped coriander, mint and parsley, and crisp green lettuce leaves dressed with lemon juice and olive oil and you'll have a real feast.