Very Vegetable Stir-Fry
Prep: 25 mins
Cook: 30 mins
Hunan, in Southern China, they know how to make the most of their cabbages. The Hunanese dish of hand torn cabbage has a mouthwatering mix of heat from chillies and sour from vinegar. We've added meaty chestnut mushrooms for extra umami, along with aromatic garlic and ginger. Perfect for celebrating Chinese New Year.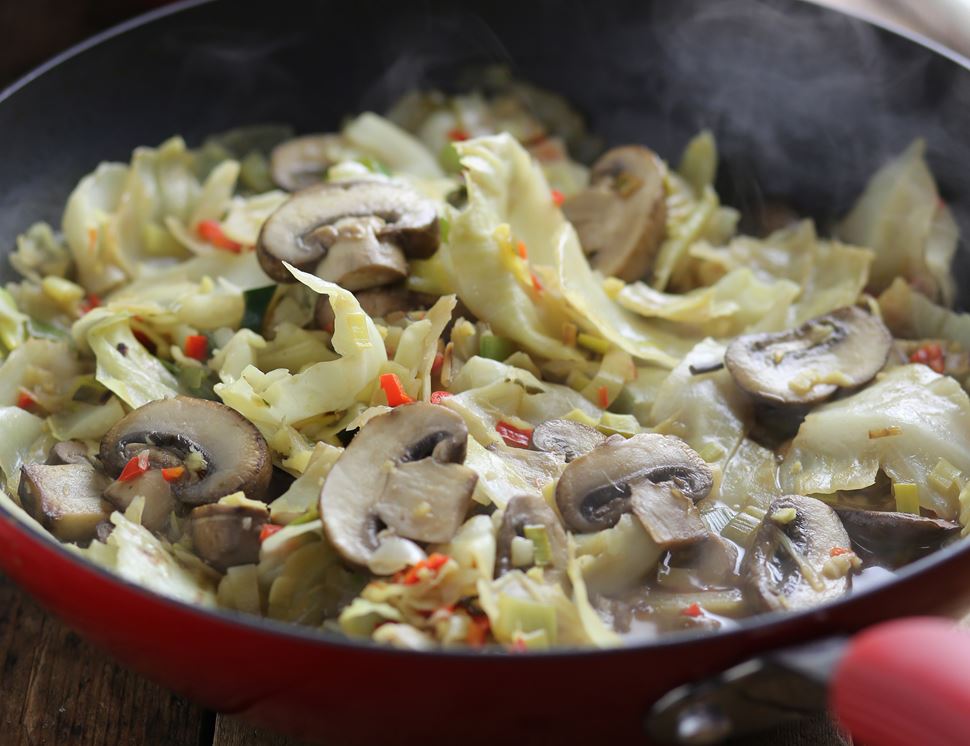 Ingredients you'll need
500g white basmati rice
1 white cabbage
1 leek
400g chestnut mushrooms
3 garlic cloves
A thumb of ginger
2 chillies
1 vegetable stock cube
50g Worcester sauce
2 tbsp red wine vinegar
From your kitchen
Sea salt
500ml + 1 ltr boiling water
2 tbsp olive, coconut or sunflower oil
Step by step this way
1.

Cover the rice with water and set aside to soak. Bring a wok or deep frying pan of salted water to a boil.

2.

Halve the cabbage and tear the leaves into bite-size pieces. Finely slice any thick cores. When boiling, add the cabbage to the water and simmer for 5 mins. Drain, rinse under cold water and set aside.

3.

Trim, halve, rinse and finely slice the leek. Thickly slice the mushrooms. Peel and finely chop the garlic and ginger. Finely chop the chillies. Dissolve the stock cube in 500ml boiling water.

4.

Drain the rice and tip into a pan. Add 1 ltr boiling water with a pinch of salt. Cover, boil then turn the heat down. Cook for 10 mins till the water is absorbed, then take off the heat and set aside, lid on, for 5-10 mins.

5.

Warm the wok over a high heat. Add 1 tbsp oil and the mushrooms. Stir-fry for 8 mins till golden brown. Lift out onto a plate. Add 1 tbsp oil to the wok with the leek and cabbage. Stir fry for 5 mins and add back the mushrooms along with the garlic, ginger, chilli, Worcester sauce and vinegar. Stir fry for 1 min.

6.

Add the veg stock to the wok. Cover and simmer for 5 mins. Taste the stock, add a pinch of salt if needed.

7.

Fluff the rice with a fork and spoon into bowls. Divide the stir-fry between them and serve straight away.
Tip

An added extra
For meat eaters, stir-fry diced bacon or lardons in the wok at the start of step 7 till golden. Add the cabbage and stir-fry for 1-2 mins, then follow the recipe.

Tip

Ready to serve
This stir-fry is best eaten on the day it is made, but it will keep for 1-2 days in the fridge. Divide into portions, cool, then cover and store in the fridge. Reheat till piping hot before serving.

Tip

Be a rice master
If you don't want to eat the rice all in one go, cook as many portions as you need as it's better to cook rice fresh rather than try to reheat it. A good rule of thumb is 75g per rice person and double the volume of boiling water to cook it in. So for 75g rice, use 150ml boiling water. Just follow the recipe instructions - the timings will stay the same.