Root Vegetable & Green Lentil Stew
Prep: 15 mins
Cook: 55 mins
We've dug deep for this dish, making a sweet, earthy and hearty stew with more root veg than you can shake a parsnip at (put that down, please, you'll be slicing it in a sec).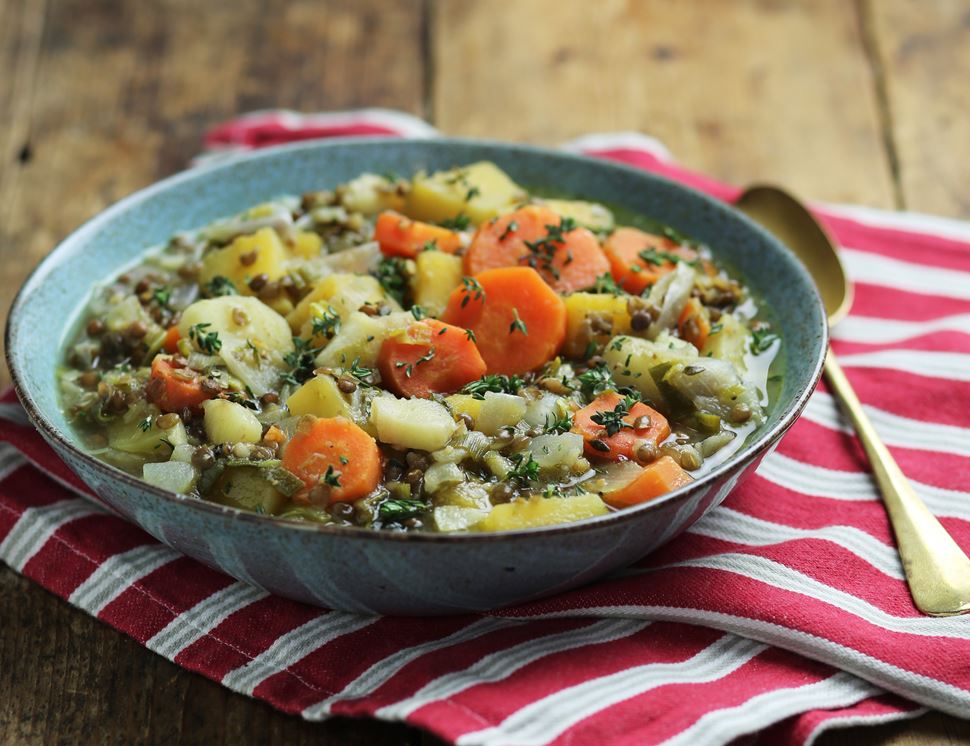 Ingredients you'll need
1 leek
1 onion
6 shallots
2 parsnips
400g carrots
1 swede
2 garlic cloves
2 x 400g tins of green lentils
1 bouquet garni
2 vegetable stock cubes
From your kitchen
1 tbsp olive oil
Sea salt
Freshly ground pepper
2 tbsp water
1 ltr boiling water
Step by step this way
1.

Trim the roots and top 3cm off the leek. Halve it, rinse out any grit and finely slice it. Peel and finely slice the onion. Peel and halve the shallots.

2.

Warm a large pan over a medium-low heat for 1 min, then add 1 tbsp oil, the leek, onion and shallots. Add a pinch of salt and pepper. Cook, stirring occasionally, for 8 mins till the veg are soft but not too browned. If they start to turn colour, turn the heat down.

3.

While the veg sweat, peel the parsnips and slice them in rounds approximately 1cm across. Peel the carrots and chop them to match. Add them to the pan with 2 tbsp water. Carry on cooking the veg, stirring now and then, for 10 mins.

4.

While the veg cook, peel the swede. Chop it into dice around 1cm across. Peel and crush the garlic. Drain and rinse the lentils. If you have heatproof kitchen string, use it to tie the bouquet garni together (this isn't essential, but makes it easier to get out of the stew at the end of the cooking).

5.

Stir the swede, garlic and lentils into the pan. Drop in the bouqet garni. Crumble in the stock cubes. Pour in 1 ltr boiling water. Pop a lid on the pan, turn the heat up and bring to the boil. When the stew is boiling, turn the heat down and simmer for 30-35 mins till the veg are tender when pressed with a fork.

6.

Fish the bouquet garni out of the pan (or pick out any woody herb sprigs or bay leaves you can easily see). Taste the stew and add a pinch more salt and pepper if you think it needs it. Ladle the stew into warm bowls and serve.

7.

8.
Tip

Keep & Eat
You can keep the stew in the fridge for up to 3 days or freeze for up to 3 months. Simply divide the stew into individual portions, cool and then chill in sealed containers. Defrost completely and make sure it is piping hot when you reheat it.