Roast Stuffed Squashes with Christmas Spices
Prep: 30 mins
Cook: 1 hr 15 mins
Squashes and spices and all things nices. Christmas and spices go hand in hand and in this Middle Eastern-inspired recipe they go hand in squash. Warm ginger, fragrant cardamom, sweet fennel and cinnamon, together in organic harmony.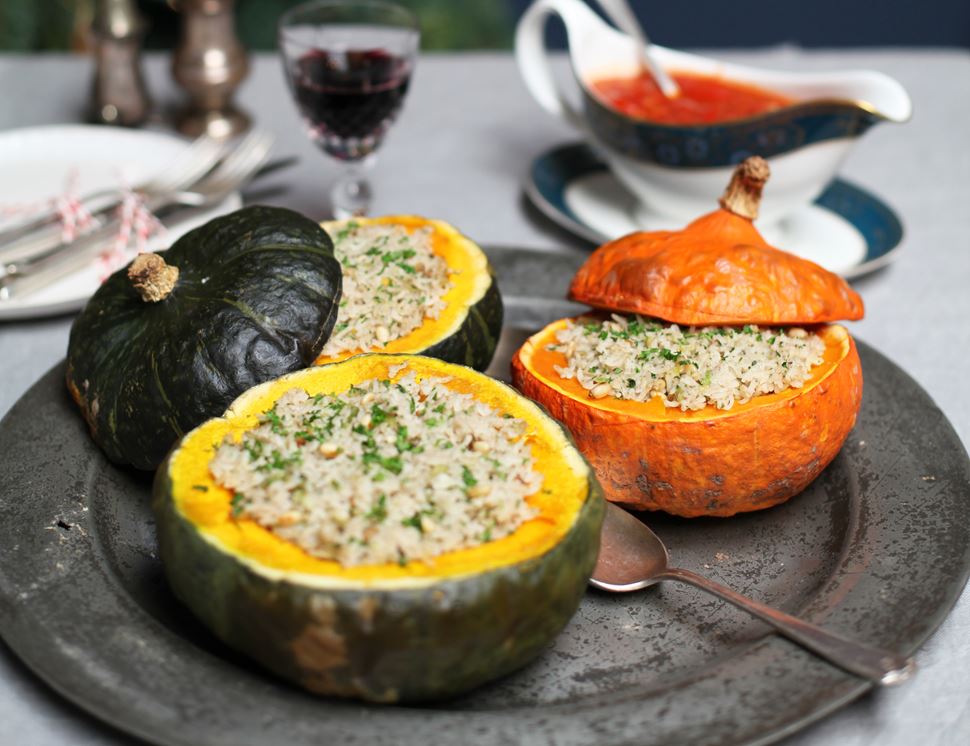 Ingredients you'll need
A bag of white basmati rice
A bag of pine nuts
1 leek
2 garlic cloves
A thumb of fresh ginger
A handful of flat leaf parsley
6 cardamom pods
2 tsp fennel seeds
1 tsp ground cinnamon
3 large winter squashes
From your kitchen
A splash of olive oil
Sea salt
Freshly ground pepper
750ml hot water
You'll need
A couple of bowls
Large pan with a lid
Bowl
Chopping board
Knife
Garlic crusher (optional)
Vegetable peeler
Grater
Wooden spoon
Colander or sieve
Measuring jug
Large baking tray or roasting tin
Step by step this way
1.

Tip the rice into a bowl. Pour in enough cold water to cover it. Put it aside to soak for 10-15 mins. Warm a dry pan over a medium heat. Add the pine nuts. Toast for 2 mins till golden. Keep shaking the pan so they don't catch and burn. Tip into a bowl.

2.

Trim and rinse the leek. Finely slice it. Peel and grate or crush the garlic. Peel and grate the ginger. Finely chop the parsley leaves and stalks. Heat your oven to 200°C/Fan 180°C/Gas 6. Fill a kettle and boil it.

3.

Warm a splash of olive oil in the pan. Add the leek. Season with salt and pepper. Fry over a medium heat for 5-8 mins till the leek is soft and glossy. Keep stirring it while it cooks.

4.

Stir the garlic and ginger into the leek. Stir and fry for 1 min. Add the cardamom pods and 2 tsp each fennel seeds and cinnamon. Drain the rice and stir it into the pan.

5.

Pour in 750ml hot water from the kettle. Pop on the lid. Bring to the boil. Turn the heat down. Simmer for 5 mins till the rice is almost cooked and still a little wet.

6.

Slice the tops off the squashes to make lids. Scoop out the seeds. Stir the pine nuts and parsley into the rice. Taste and adjust the seasoning. Divide between the three squashes.

7.

Place the squashes on a baking tray or in a roasting tin. Put the lids back on the squashes. Roast in the middle of the oven for 50 mins till the squashes are tender when you pierce them with a skewer.

8.

Carefully move the squashes onto a platter or board. Serve them in slices with the Hot Chilli Tomato Sauce.