Apple, Chickpea & Potato Curry
Prep: 25 mins
Cook: 1 hr 5 mins
Warm up with a bowl of this sweet and spicy vegetable curry. The apples melt into the sauce, which is spiced with an organic mix of aromatic coriander, cumin, turmeric, allspice, chilli and garam masala.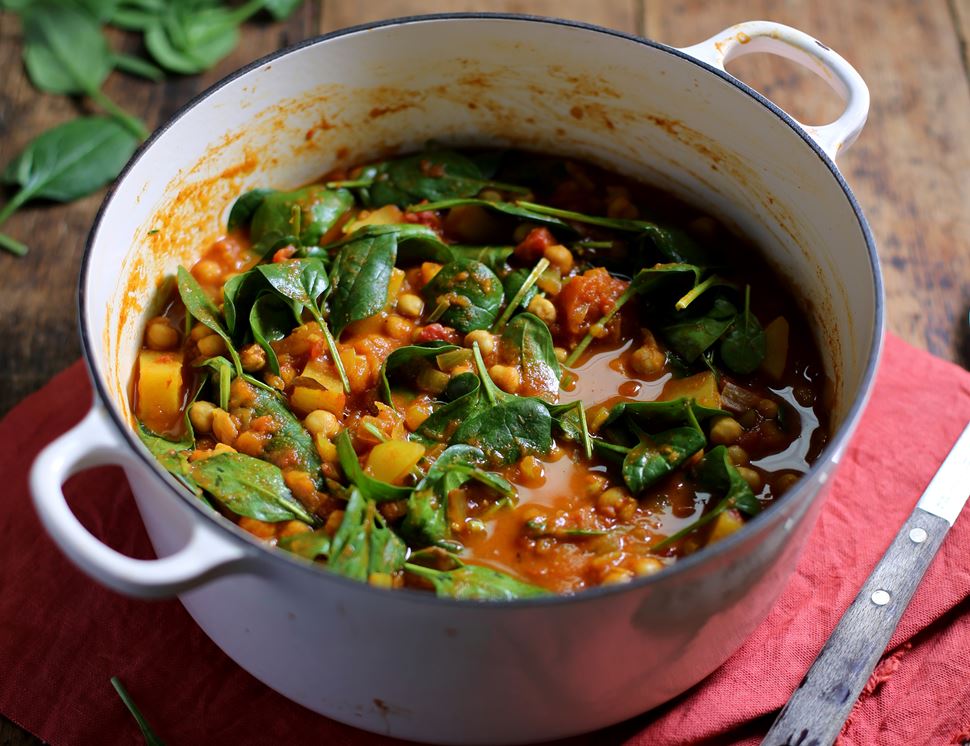 Ingredients you'll need
2 onions
500g potatoes
2 apples
2 garlic cloves
A thumb of ginger
A thumb of turmeric
2 x 400g tins of chickpeas
1-2 tbsp tikka masala spices
6 curry leaves
2 x 400g chopped tomatoes
50g baby leaf spinach
From your kitchen
2 tbsp olive oil
Sea salt
Freshly ground pepper
2 tbsp cold water
400ml boiling water
Step by step this way
1.

Peel and finely chop the onions. Warm a large pan over a medium-low heat for 2 mins. Add 2 tbsp oil and the onions. Season with a pinch of salt and pepper. Cook for 8 mins, stirring occasionally, till the onions are soft and slightly browned.

2.

While the onions cook, peel the potatoes and chop them into chunks around 2cm across. Peel the apples, quarter them, slice out the cores then halve each quarter. When the onions have softened, add the apples and potatoes to the pan with 2 tbsp water. Season with a little more salt and pepper. Cook for 8 mins, stirring occasionally.

3.

While the apples and potatoes cook, peel and grate or crush the garlic cloves. Peel and grate the ginger and turmeric (the turmeric will stain things, so it's best grated onto a plate rather than a wooden or plastic board). Drain the chickpeas and rinse them.

4.

Stir the garlic, ginger and turmeric into the pan. Add 1-2 tbsp tikka masala spices (use more or less, depending on how aromatic you'd like the curry to be) and the curry leaves. Cook and stir for 1 min.

5.

Add the chickpeas and the chopped tomatoes. Pour in 400ml boiling water. Cover and bring to the boil. Once it's boiling, turn the heat down and simmer for 45 mins till the potatoes are tender. Stir every so often, and add a splash more water if it looks dry.

6.

Tip the baby leaf spinach into the pan and stir till the leaves have wilted. Taste the curry and add a pinch more salt and pepper if needed. Ladle into warm bowls and serve.
Tip

Keep & Eat
Cool the curry, then store it in the fridge for up to 3 days. You can also freeze it in portions for up to 3 months.

Tip

Side ideas
This curry is great in bowls by itself, or serve with rice or chapatis to make it go even further. It's delicious topped with a spoonful of yogurt. For a spicier curry, add 1-2 tsp chilli powder or chop up a couple of chillies and add them with the garlic, ginger and turmeric.