Mushroom, Rosemary & Sweet Potato Hotpot
Prep: 15 mins
Cook: 50 mins
A rich, warming stew of herby mushrooms, soft sweet potatoes and nutty green lentils, all nestled under a golden blanket of tender potato slices, this is a brilliant, super seasonal one-pot will keep you cosy all week long.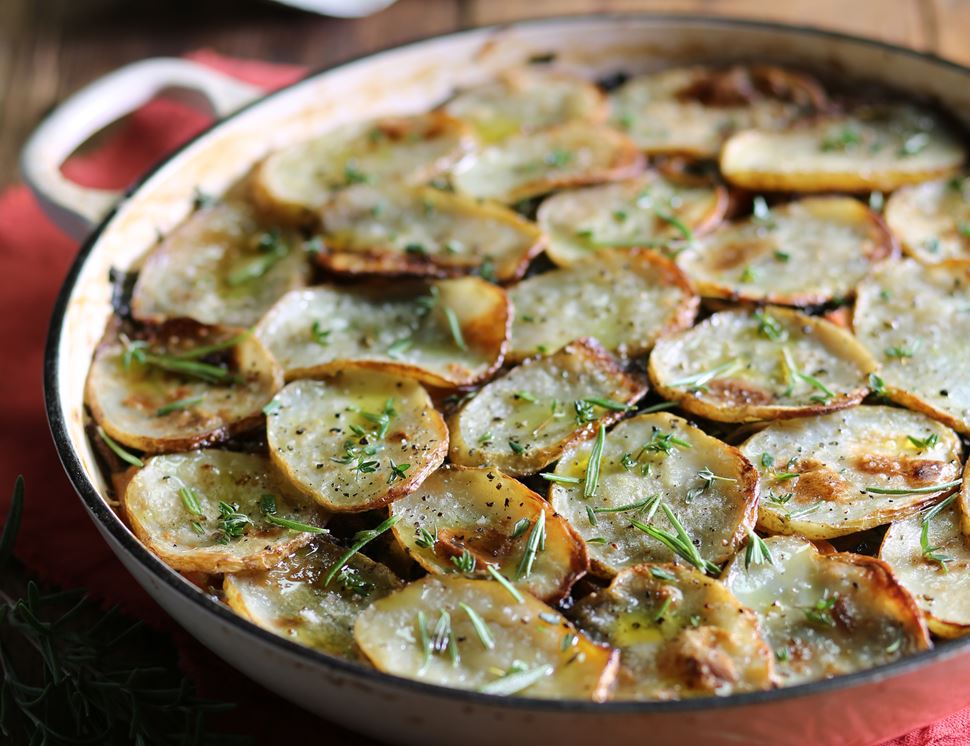 Ingredients you'll need
3 onions
3 garlic cloves
2 carrots
500g sweet potatoes
400g souping mushrooms
200g cavolo nero
A handful of rosemary, leaves only
A handful of thyme, leaves only
400g tin of green lentils
1 vegetable stock cube
500g potatoes
From your kitchen
2 tbsp olive oil
Sea salt
Freshly ground pepper
500ml boiling water
Step by step this way
1.

Heat your oven to 200°C/Fan 180°C/Gas 6. Peel the onions and thinly slice them. Peel the garlic cloves and crush or finely chop them. Scrub the carrots and the sweet potatoes and chop into small chunks. Slice the mushrooms. Trim any tough stalks away from the cavolo nero and roughly shred the leaves. Pick the rosemary and thyme leaves from their stalks and roughly chop them.

2.

Pour 1 tbsp oil into a large, ovenproof pan (no ovenproof pan? See our tip below) and bring to a medium heat. Slide in the onions, garlic, carrots, rosemary and thyme along with a pinch of salt and pepper. Fry for 5 mins, stirring occasionally. Add the mushrooms and continue to cook for a further 5 mins.

3.

Stir the chunks of sweet potato into the pan. Drain the lentils and fold into the pan along with the cavolo nero leaves.

4.

Crumble the stock cube into a jug and pour in 500ml boiling water. Stir to dissolve, then pour the stock over the vegetables. Bring to a simmer.

5.

Meanwhile, scrub the potatoes clean and slice as thinly as possible into rounds. Slide into a large bowl and pour in 1 tbsp oil and sprinkle in a good pinch of salt and pepper. Toss well till all pieces are coated. Lightly press the vegetables in the pan down till level. Arrange the slices of potato on top of the vegetables in an even layer.

6.

Slide the pan into the oven and cook for 35-40 mins, till the potatoes are golden on top and the vegetables are tender and cooked. Dig down with a serving spoon and pile the hotpot into bowls and serve.
Tip

Out of the pan and into the oven
No overproof pan? No problem. Simply cook the recipe till the end of step 5, then pour the vegetables into a large ovenproof dish. Layer the potatoes on top and cook as directed.

Tip

Eat & keep
This warming stew will keep in the fridge for up to 3 days or you can freeze it for up to 3 months. Simply divide it into individual portions, cool completely then freeze in freezerproof tubs. Defrost thoroughly and reheat till piping hot.

Tip

Sideshow super stars
This dish will provide a hearty meal for 6 on it's own, but a few extra bits on the table will make it go even further. A simple side of crusty bread and butter will help you mop up all the juices, while a crunchy green salad will keep your plate feeling fresh.