Mexican Rice & Beans
Prep: 15 mins
Cook: 35-45 mins
A classic Mexican dish with plenty of perks – kidney beans are little protein powerhouses, and the deceptively simple combination of rice and beans makes a delicious, filling meal when loaded with organic veg and spices.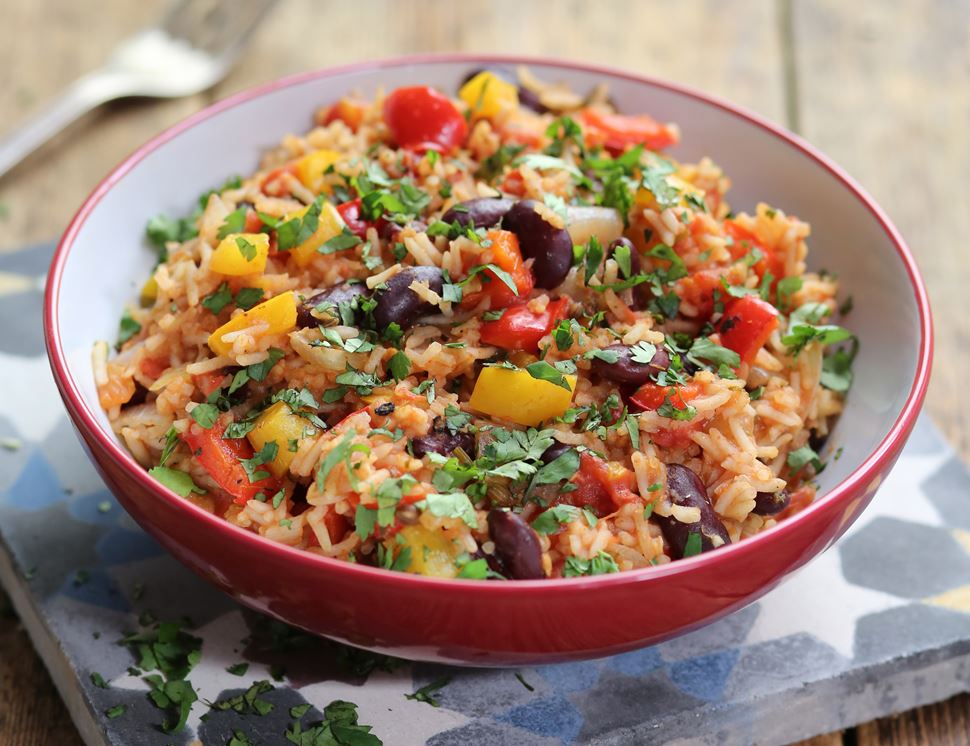 Ingredients you'll need
500g white basmati rice
2 onions
1 red pepper
1 yellow pepper
2 garlic cloves
A handful of coriander, leaves only
2 x 400g tins of red kidney beans
2 tsp ground cumin
2 tsp coriander seeds
2 tsp dried oregano
1-2 tsp chilli powder
2x 400g chopped tomatoes
From your kitchen
2 tbsp olive oil
Sea salt
Freshly ground pepper
1 ltr boiling water
Step by step this way
1.

Tip the rice into a bowl and cover with cold water. Set aside to soak.

2.

Peel and finely chop the onions. Halve the peppers. Scoop out the seeds and white pith. Finely chop them to match the onions.

3.

Warm a large pan or casserole dish over a medium heat for 2 mins. Add 2 tbsp olive oil and the chopped veg. Season with a good pinch of salt and pepper. Cook for 10 mins, stirring occasionally, till the veg have started to soften but not picked up too much colour. If they start to brown, turn the heat down and add a splash of water.

4.

While the veg sweat, peel and crush or grate the garlic. Finely chop the coriander stalks (keep the leaves for later). Drain the kidney beans and give them a good rinse.

5.

Stir the garlic and coriander stalks into the veg. Add 2 tsp each ground cumin, coriander seeds and dried oregano. Add 1-2 tsp chilli powder, or more if you prefer. It's spicy, so add as much or as little to get the level of heat you like. Add the kidney beans. Give everything a good stir to mix them together.

6.

Drain the rice and tip into the pan. Stir to mix. Tip in the tins of tomatoes. Add 1 ltr boiling water. Pop a lid on the pan and turn the heat up so the rice comes to the boil, then turn the heat right down. Gently cook for 10-15 mins till the rice has absorbed all the water. Turn off the heat and let it sit in the pan, lid on, for 10 mins to steam. This will finish cooking the rice.

7.

While the rice cooks, roughly chop the coriander leaves.

8.

Taste the rice and beans and add a pinch more salt and pepper if you think it need sit. Spoon the rice and beans into warm bowls and serve garnished with the coriander.