Fresh Apricot & Spice Roasted Carrot Salad
Prep: 15 mins
Cook: 25 mins
It's apricot season – but not for long, so we're making the most of these beauties by mixing them up with ingredients that really show them off. There's spices and crunchy dukkah to offset their soft sweetness, an orangey dressing to highlight their tart edge, roasted carrots for depth and creamy tanginess from yogurt to tie everything together.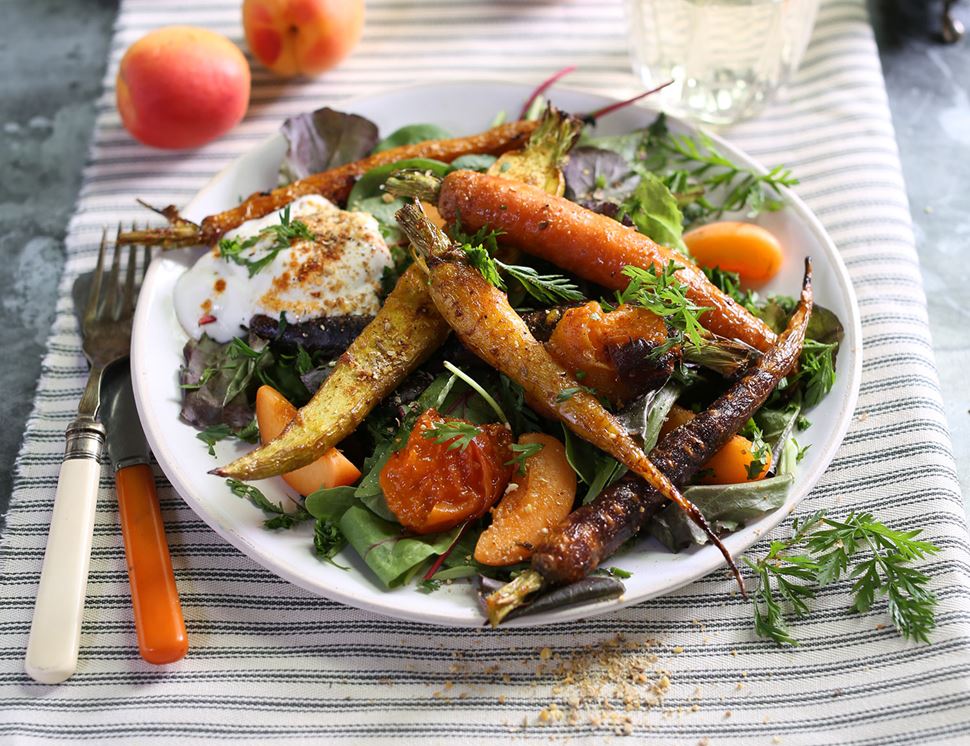 Ingredients you'll need
500g bunched rainbow carrots
250g apricots
1 orange
2 tbsp cider vinegar
2 tsp ras al hanut
50g peppery salad leaves
150g Greek style yogurt
1 tbsp dukkah
From your kitchen
2 tbsp olive oil
Sea salt
Freshly ground pepper
Step by step this way
1.

Preheat your oven to 200°C/Fan 180°C/Gas 4. Trim the leaves and stalks off the carrots, and set the leaves aside. Scrub the carrots and halve or quarter them. If really skinny, leave them whole.

2.

Pop the carrots on a baking tray and toss with 1 tbsp olive oil and a pinch of salt and pepper. Slide into the oven and roast for 15 mins till the carrots are nearly tender and beginning to colour.

3.

While the carrots roast, make the dressing. Squeeze the orange into a jug. Whisk with 2 tbsp cider vinegar and 1 tbsp olive oil. Add a good pinch of salt and pepper. Whisk into a dressing. Set aside.

4.

Halve the apricots and scoop out the stones. Cut half the apricots into 3-4 wedges each., setting the remaining halves aside. Finely chop a small handful of the carrot leaves, making sure to rinse them well and pat dry with kitchen paper.

5.

When the carrots have roasted for 15 mins, remove from the oven and add the apricot halves (keep the wedges for later). Sprinkle over 2 tsp ras al hanut and half the orange dressing. Toss gently to coat. Slide back into the oven for 7-8 mins. The carrots should be tender and the apricots soft and jammy. Remove from the oven and cool for 2 mins.

6.

Arrange the salad leaves and most of the chopped carrot leaves on a platter, or divide between a couple of plates. Drizzle over the orange dressing and toss. Lay the carrots and roasted and unroasted apricots on top. Dot over the Greek style yogurt, sprinkle over 1 tbsp dukkah and scatter over the remaining chopped carrot leaves to serve.
Tip

Hey pesto!
Use the remaining carrots leaves to make a fabulous pesto. Whizz the washed leaves with a good handful of toasted nuts (cashews or almonds are good here) and a chopped garlic clove. Add a good glug of olive oil, salt and pepper and a generous squeeze or two of lemon juice.Voila!