Creamy Pineapple Crush
Prep: 15 mins
We've got a crush – on a smoothie of all things. It's made with rich coconut cream and sweet golden pineapple, and gently spiced with crushed cardamom, all swirled with a splash of dairy-free mylk for a creamy, dreamy crushworthy smoothie.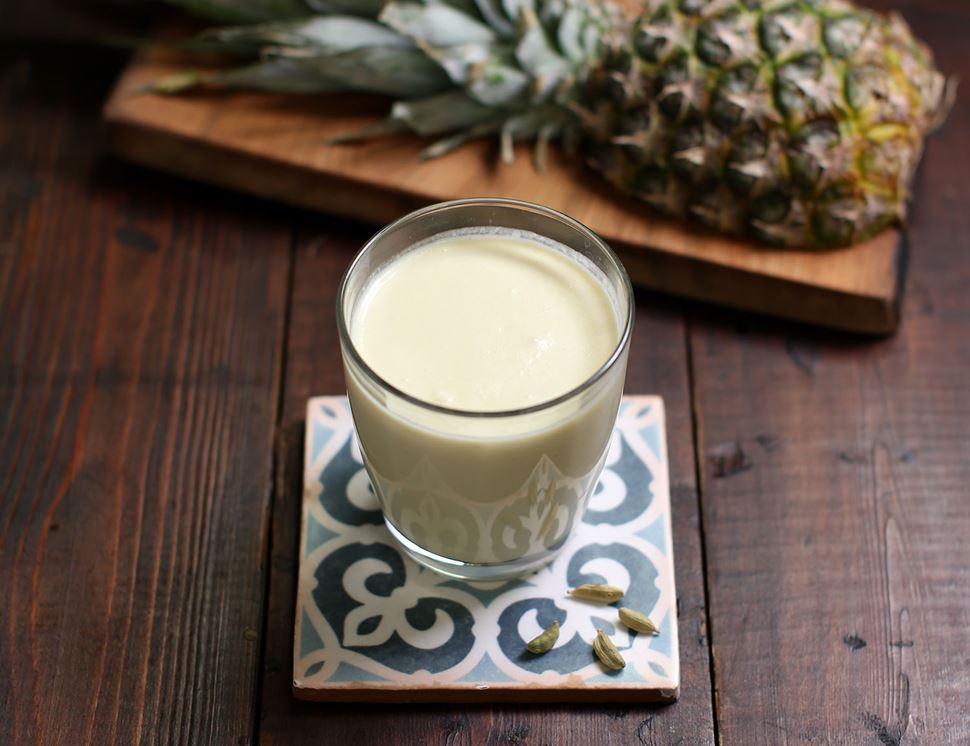 Ingredients you'll need
1 pineapple
50g coconut cream
2 cardamom pods
330ml Dairy Free Whole Mylk
From your kitchen
You'll need
Step by step this way
1.

Slice the leaves off the pineapple and halve it. Wrap 1 half and set aside in the fridge for another day (see our tip below on what to do with it). Take the remaining half and slice off the skin. Use the tip of your knife to scoop out any tough 'eyes' left behind in the pineapple. Roughly chop the pineapple, discarding any woody bits of core. Add the chopped pineapple to your blender.

2.

Crumble the coconut cream into the blender. Press 2 cardamom pods open with the back off a spoon and shake in the black seeds. Pour in 330ml Dairy Free Whole Mylk (save the rest for this week's other smoothies). Add a handful of ice cubes. Blitz till smooth and pour into glasses.
Tip

Pineapple express
If you have a big blender, you can use all the pineapple in your smoothie although this will affect the nutritional information. Why not caramelise your leftover pineapple to make a stunning pud? Slice the skin off and cut out the eyes, then slice it into 1-2cm thick slices. Fry in a hot frying pan for a few mins each side till caramelised, then pop on warm plates. Add a few spoonfuls of butter and sugar to the pan and melt together. Swirl in a little cream and add a pinch of salt. Stir together to make a sauce and pour over the pineapple to serve.