Banana & Chocolate Chai Spiced Smoothie
Prep: 10 mins
Inspired by fragrant Indian chai, this smoothie whizzes up a warming mix of spices with creamy bananas and dairy-free chocolate mylk.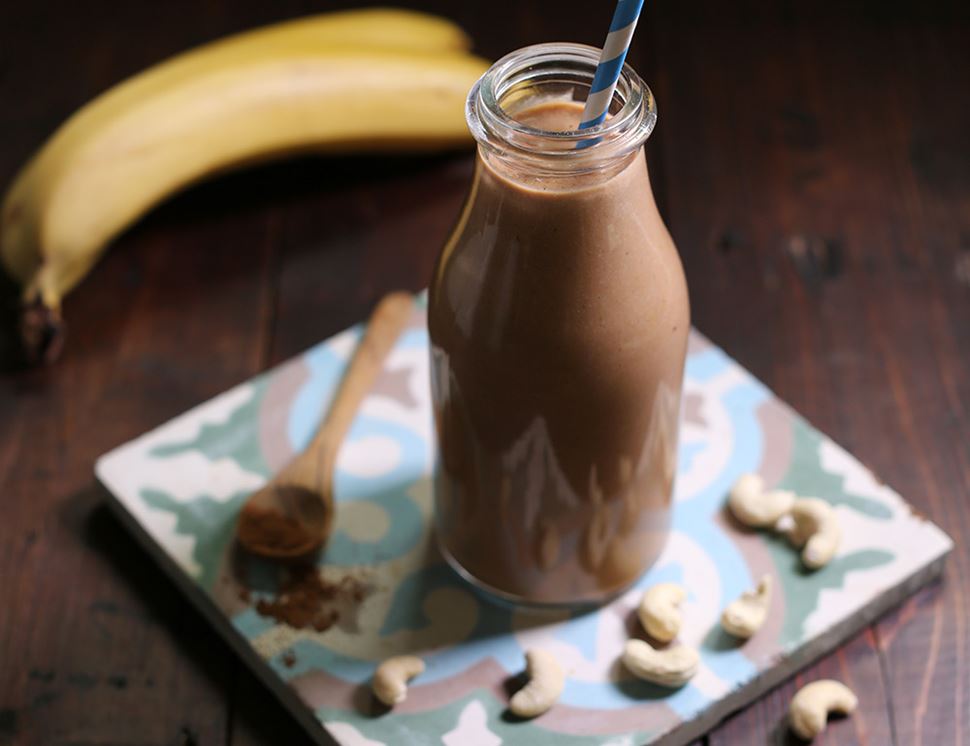 Ingredients you'll need
2 bananas
2cm slice of turmeric
35g cashews
2 cardamom pods
4 black peppercorns
½-1 tsp mixed spice
½ tsp ground ginger
330ml chocolate mylk
From your kitchen
Sea salt
A handful of ice cubes
Step by step this way
1.

Peel the bananas and break into your blender. Slice a 2cm chunk off the turmeric and peel it. Roughly chop the turmeric and add to the blender (see our turmeric tip, below). Tip in the cashews.

2.

Place 2 cardamom pods on your chopping board and use the back of a spoon to break them open. Shake the black seeds into a pestle and mortar and add 4 peppercorns. Grind as finely as you can – or use a small, sturdy bowl and the bottom of a jar or the end of a rolling pin to crush the spices.

3.

Scrape the crushed spices into the blender and add ½ tsp each mixed spice and ground ginger. Add a little pinch of salt. Pour in the chocolate mylk and add a few ice cubes. Blitz for 1-2 mins till creamy. Pour into two glasses and dust with a little extra mixed spice to serve.
Tip

Top turmeric tips
Golden yellow turmeric adds an earthiness spiciness to your smoothie, as well as a bit of colour. Be warned: turmeric likes to dye everything yellow, so chop it on a plate or glass chopping board (or wash your chopping board straight away) and use gloves to protect your hands. The leftover turmeric will keep in the fridge for a few days and it's great in curries and soups, or slice it and pop in a pan with any leftover cardamom pods and peppercorns and add milk (almond, coconut, oat, dairy - whatever you prefer) and gently warm till it's steaming hot and aromatic. Strain into a mug and drink before bed.

Tip

A nice long soak
If you have time, soak your cashews in cold water overnight, then drain before using in this smoothie. Soaking them makes them easier to blend and may help make them easier to digest.