Autumn Spiced Stir-Fry
Prep: 20 mins
Cook: 30 mins
An easy stir-fry that's packed with a rainbow of beautiful organic veg and has a delicate hint of China 5 spice.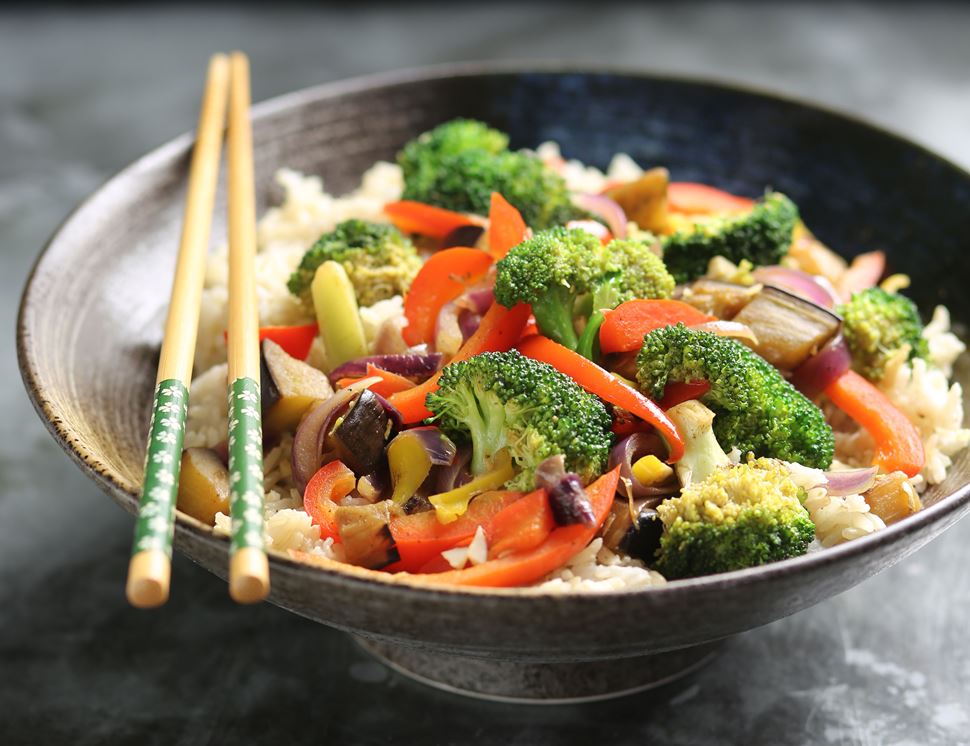 Ingredients you'll need
500g brown basmati rice
1 aubergine
2 red onions
2 red peppers
A head of broccoli
4 garlic cloves
A thumb of ginger
2 chillies
1 vegetable stock cube
2 tsp China 5 spice
50g tamari
From your kitchen
300ml + 1 ltr boiling water
Sea salt
2 tbsp olive, coconut or rapeseed oil
Step by step this way
1.

Tip the rice into a large pan. Cover with cold water. Set aside to soak. Trim the aubergine. Chop into 2cm cubes. Peel and finely slice the onions. Halve the peppers. Scoop out the seeds and pith. Finely slice them. Break the broccoli into very small florets. Thinly slice the stalk into matchsticks.

2.

Peel and grate the garlic and ginger. Finely slice the chillies, flicking out the seeds and white pith for less heat. Dissolve the stock cube in 300ml boiling water.

3.

Drain the rice. Tip back into the pan. Pour in 1 ltr boiling water. Add a pinch of salt. Cover. Bring to the boil, then turn the heat right down. Gently simmer for 25 mins till all the water is absorbed and the rice is tender. Take off the heat and set aside, lid on, to keep warm. It will steam in the pan and finish cooking.

4.

Warm a large wok or deep frying pan over a high heat for 2 mins. Add 1 tbsp oil and the aubergine. Stir fry for 8 mins till browned and soft. Pop on a plate.

5.

Add another 1 tbsp oil to the pan with the onions, peppers and broccoli. Stir fry for 8-10 mins till the veg have started to soften. Add the aubergine back to the pan.

6.

Stir in the garlic, ginger and chillies. Add 2 tsp China 5 spice and the tamari. Pour in the stock. Cover and simmer for 5 mins till the veg are tender but still with some bite.

7.

Taste the stir-fry and add a pinch of salt if you think it needs it. Serve with the rice.

8.
Tip

Be a rice master
If you don't want to eat the rice all in one go, cook as many portions as you need as it's better to cook rice fresh rather than try to reheat it. A good rule of thumb is 75g per rice person and double the volume of boiling water to cook it in. So for 75g rice, use 150ml boiling water. Just follow the recipe instructions - the timings will stay the same.

Tip

An added extra
For meat eaters, stir-fry diced chicken in step 5 instead of the aubergine. Pop on a plate and stir-fry the aubergine with the veg. For vegetarians, you can use tofu.