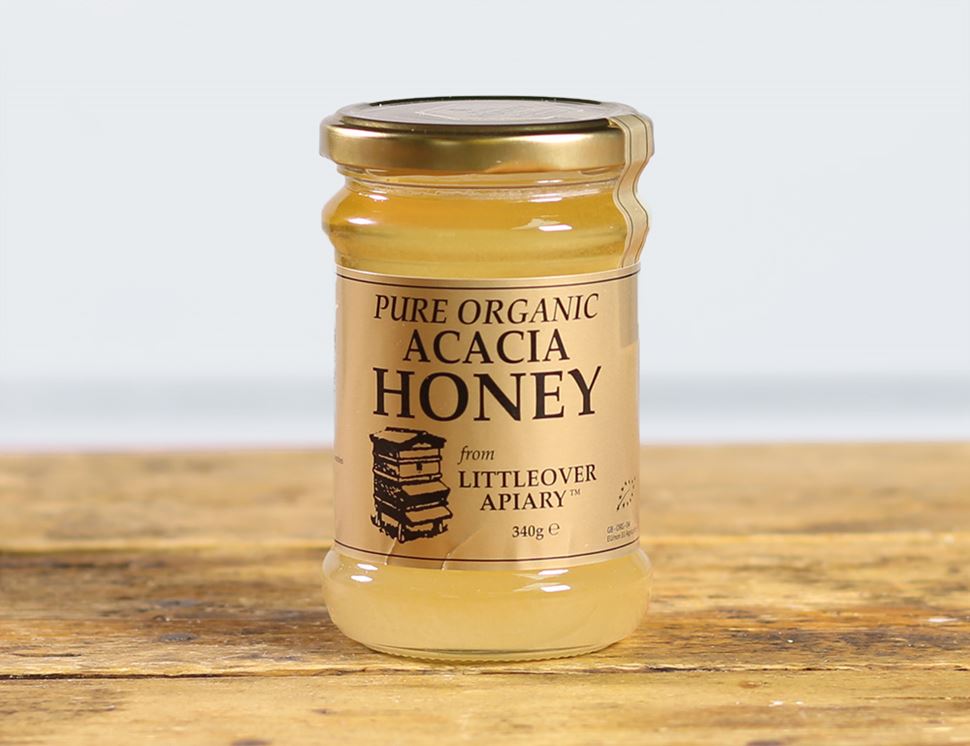 Acacia Honey, Organic, Littleover Apiary (340g)
This honey is the bees knees. Clear and golden, with a light taste, it's brill for baking, replacing sugar for a buzzing sweetness. It's not heat treated or blended so you might see some granulation. Keep it warm to make it a clear liquid again.
We were delighted when we found Tony and his Littleover Apiaries honey making business. Organic honey is hard to come by, it took us a very long time to find some that met our ethical and quality standards; the most stunning thing we found out is that English organic honey does not exist. For honey to be certified as organic the bee-keeper has to have certified all land within a four mile radius from the hives as organic. This is why you'll find most organic honey comes from New Zealand, as they have the kind of space there to do this. Whilst Tony's non-organic honey bees live mostly in Kent, his organic bees live a little closer to home than NZ, in Bulgaria. Tony is the only British honey maker to make certified organic honey and we are delighted to be working with a British producer, even if his bees live a bit further away.
Acacia Honey* * = produced to organic standards.
The perfect addition to a slice of toast or a bowl of porridge, our clear honey should be stored away from direct sunlight. Always ensure the jar is properly sealed. Not suitable for home freezing.
Turn it into one of these
You might also like to try...