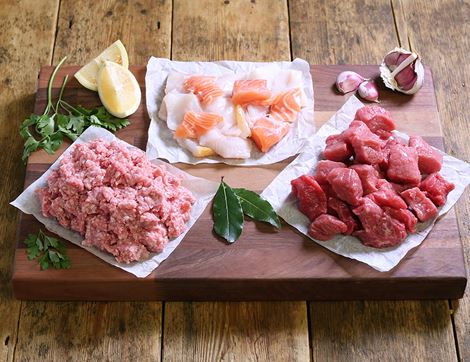 Each week will feature a portion of delicious fresh fish that's sustainably caught as well as two portions of meat from livestock reared on organic or wild organic British farms. A different package each week that's perfect for plating up delicious meals.

These cuts of meat and fish will be packed alongside your other chilled produce. On occasion we may be left short of certain cuts of meat. If that ever happens, we'll be sure to pop something similar into your box. Our photos don't show the actual quantities or contents
Monday 20th September
Monday 27th September
Chicken Sausages, Organic, Daylesford (340g)
Made with succulent chicken thighs – from Daylesford's own flock of Hubbard chickens which roam about freely on their Wootton estate – these are sausages with a difference. They're super juicy, and seasoned to perfection. These brilliant bangers are great for switching things up, and will go down an absolute treat.
Plaice fillets, Celtic Coast (320g min)
Plaice is delicious grilled, with a little lemon juice. It comes filleted with the light skin on, to hold it together during cooking.
Our plaice is demersal otter trawled, and comes from Cornwall/Devon. It has an MCS rating of 2. Caution: Although every care has been taken to remove bones, some may remain.
Pork Rib Rack, Organic (500g)
Fish Pie Mix, Celtic Coast (340g)
In this fish pie mix you'll get a helping of white fish, smoked haddock and organic salmon. Our fish pie mix changes ever so slightly with the seasons and salmon may very occasionally be replaced with another white fish.
Lamb Mince, Organic, Daylesford (400g)
Stewing Steak, Diced, Organic, Daylesford (400g)
Allergen information: Abel & Cole handles celery, celeriac and nuts on site. Due to our packing process and re-use of boxes there is a risk of cross-contamination from these, and all other allergens.
On occasion we may be left short of certain meat and fish. If that ever happens, we'll be sure to pop something similar into your box.
You might also like to try...